Truckers seeking to cross the southern Sierra Nevada Mountains to Bakersfield just before the reopening of State Route 58 on Sunday, in the wake of a powerful storm that brought snow to unusually low elevations near Mojave, California. Photo: David McNew/Getty Images
California is facing more extreme weather, while the powerful winter system that had earlier triggered record rainfall, heavy snow and flooding in the Golden State was threatening the Plains with powerful winds and tornadoes Sunday night.
The big picture: The National Weather Service Sacramento tweeted Sunday evening that the first of two new storm systems hitting northern California with rain and snow was causing "dangerous travel conditions," with blizzard warnings to take effect early Monday in the Sierra Nevada — where 4 to 7 feet of snow was set to fall this week.
Threat level: "Travel will be extremely dangerous to impossiblewith extended road closures likely," NWS Sacramento said in its blizzard warning, which will remain in effect until 4am Wednesday.
Power outages, downed trees and white-out conditions were expected due to gusty winds along with heavy and blowing snow — and "very high snow rates" of2 to 4 inches an hour were possible for Monday through Tuesday, according to the local NWS office.
The NWS Los Angeles office noted another weaker storm would impact the area with more rain and snow over Sunday night through Wednesday.
Meanwhile, the NWS Storm Prediction Center warned parts of the southern Plains of a dangerous, fast-moving thunderstorm system known as a derecho event.
"Widespread damaging winds and embedded swaths of significant severe gusts from 80-110 mph may still occur, mainly over parts of Oklahoma this evening," said the NWS SPC — noting that embedded tornadoes were anticipated "especially over southwest Oklahoma."
The NWS Norman office confirmed a tornado had struck eastern area of the Oklahoma city on Sunday night, as it urged people in the area to "seek shelter." It tweeted that this tornado "will impact I-40 very near Shawnee/McLoud/Dale" and added, "Stay off the roads!"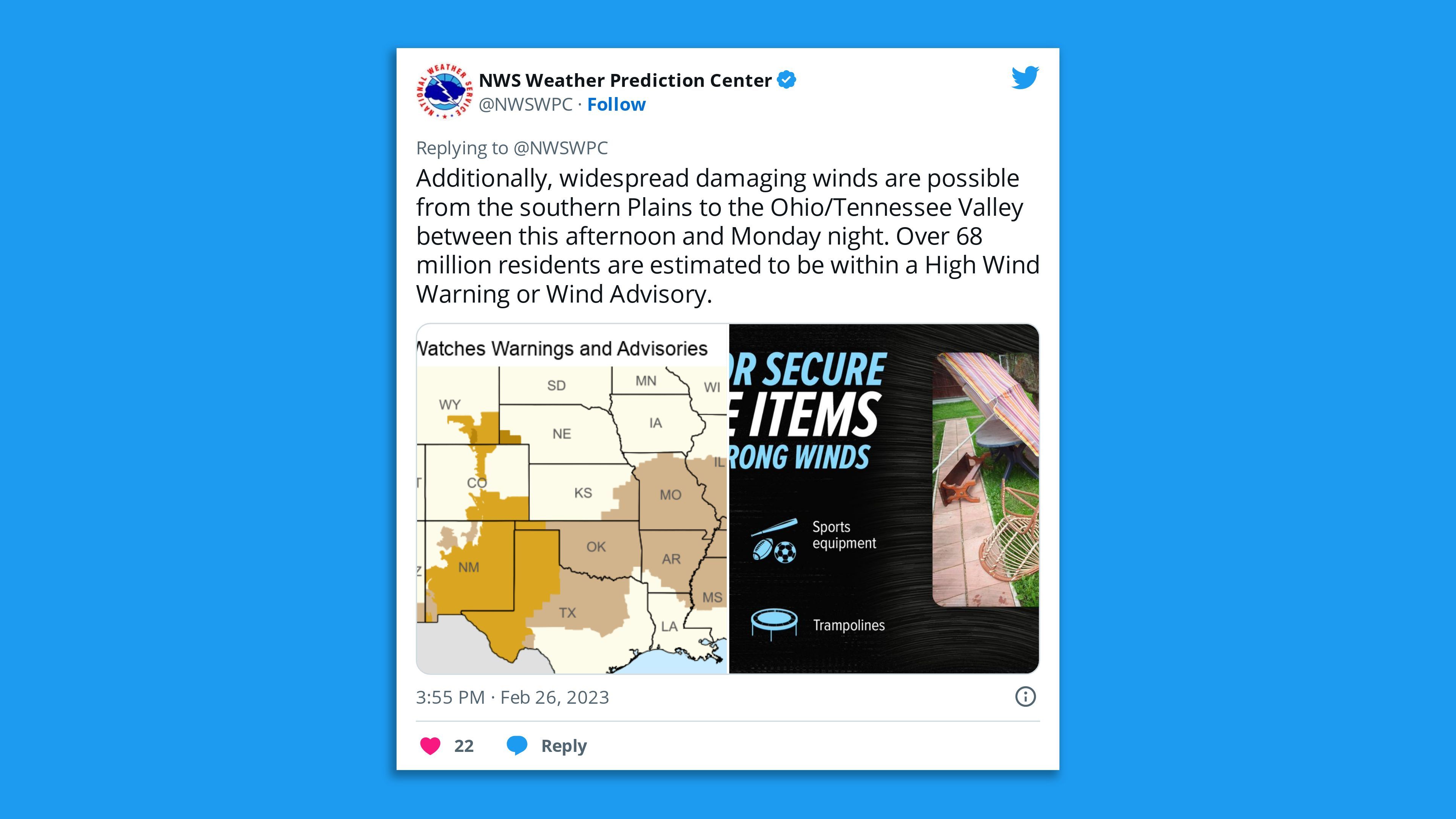 Thought bubble: Research shows climate change is increasing the likelihood and intensity of extreme precipitation events in the U.S. and across the world, including heavy snow when temperatures are cold enough.
The other side of extreme precipitation, drought, is also becoming more extreme in certain areas.
California is still in the midst of its worst drought in at least 1200 years and the first to be attributed to human-caused climate change, though the heavy rain and snow this year will help.
Of note: More than 220,000 customers were still without power in Michigan on Sunday night following last week's high-impact ice storm, according to utility tracker Poweroutage.us.
Go deeper… In photos: Storm sweeps California bringing heavy snow, record rainfall
Editor's note: This is a breaking news story. Please check back for updates.
Source: Read Full Article