Music's Biggest Night is still two months away, but the Recording Academy broke big news this morning anyway. In addition to announcing Trevor Noah as the show's new host, the Grammys unveiled its 2021 nominations.
While the nominations are now out, there are still plenty of unknowns surrounding the show's production. The showrunners haven't yet decided how much of the Grammys will be IRL and how much will be virtual. Late fall shows didn't exactly set a precedent (the People's Choice Awards and American Music Awards were a week apart, one virtual, one not), but at the end of the day, it'll depend on what's safest.
Before the nominees were released, fans spent weeks speculating who would be up for golden gramophones, pondering whether artists like Beyoncé, Harry Styles, Taylor Swift, Dua Lipa, Megan Thee Stallion, BTS, Fiona Apple, Post Malone, Lady Gaga, and Chloe x Halle would get their due.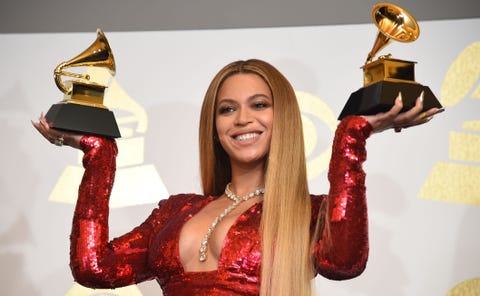 The 2020 Grammys featured the rare sight of an artist sweeping all major Grammy categories, with Billie Eilish becoming only the second artist in history to win the four big awards (Record of the Year, Album of the Year, Song of the Year, and Best New Artist), but based on this year's nominations, that isn't going to happen again in 2021. Still, the competition is shaping up to be an exciting one.
Check out the major 2021 Grammy nominations, below:
Congratulations 63rd #GRAMMYs Album Of The Year nominees: @JheneAiko, @BlackPumasMusic, @coldplay, @jacobcollier, @HAIMtheband, @DUALIPA, @PostMalone, and @taylorswift13: https://t.co/teAbOeBzZ9 pic.twitter.com/6QSaEq78wM
Congratulations 63rd #GRAMMYs Song Of The Year nominees (a songwriter(s) award): @Beyonce, @RoddyRicch, @taylorswift13, @PostMalone, @DUALIPA, @billieeilish, @HERMusicx, @jpsaxe, and @juliamichaels: https://t.co/teAbOeBzZ9 pic.twitter.com/TZxXiNOEUu
Congratulations 63rd #GRAMMYs Record Of The Year nominees: @Beyonce, @BlackPumasMusic, @DaBabyDaBaby, @RoddyRicch, @DojaCat, @billieeilish, @DUALIPA, @PostMalone, and Megan @theestallion: https://t.co/teAbOeBzZ9 pic.twitter.com/D1YBO5zRgk
And the Best New Artist nominees for the 63rd #GRAMMYs are…. @IngridAndress, @phoebe_bridgers, Chika (@oranicuhh), @noahcyrus, @DSmoke7, @DojaCat, @KAYTRANADA, and Megan @theestallion: https://t.co/teAbOeBzZ9 pic.twitter.com/ivGrXhIvem
Source: Read Full Article