The Jacob Black depicter gets protective as the 'Drivers License' hitmaker announces the release date of her upcoming single along with a cover art that features her wearing Band-Aids.
AceShowbiz –Taylor Lautner has a howling reaction to Olivia Rodrigo's new song. The actor, who rose to international fame for his portrayal of werewolf Jacob Black in "The Twilight Saga" film series, is quickly channeling his character after the singer announced her upcoming single "Vampire".
On Tuesday, June 13, the Grammy winner delighted her fans by making the announcement on her social media account. Along with a cover art, she revealed that her new song titled "Vampire" will be out on June 30.
The cover art features a black-and-white side portrait of the "Deja Vu" singer with two purple Band-Aids forming an X on her neck, as if covering a bite mark from the undead. In the caption, she wrote, "my new song vampire is out june 30th! you can presave now. so excited for this ahhhhh!!!!!!!"
The 20-year-old made no reference to the popular "Twilight" movies, but Taylor somehow felt compelled to respond. Channeling the werewolf in him, the 31-year-old hunk protectively asked in the comment, "K WHO TF BIT YOU."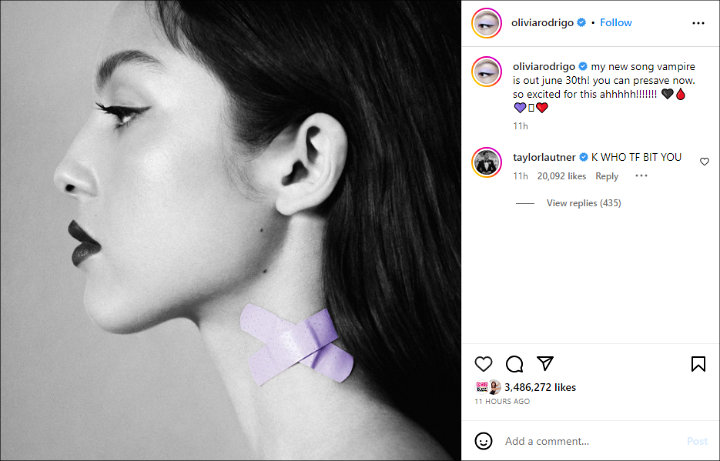 Taylor Lautner reacted to Olivia Rodrigo's new song announcement.
Olivia, meanwhile, is loving a "Twilight" meme connecting the movie to her song. On her Story, she reposted Conan Gray's Story of the meme which saw Bella (Kristen Stewart) telling Edward (Robert Pattinson), "I know what you are." He responded, "Say it. Out loud. Say it." She replied, "Olivia Rodrigo's new single."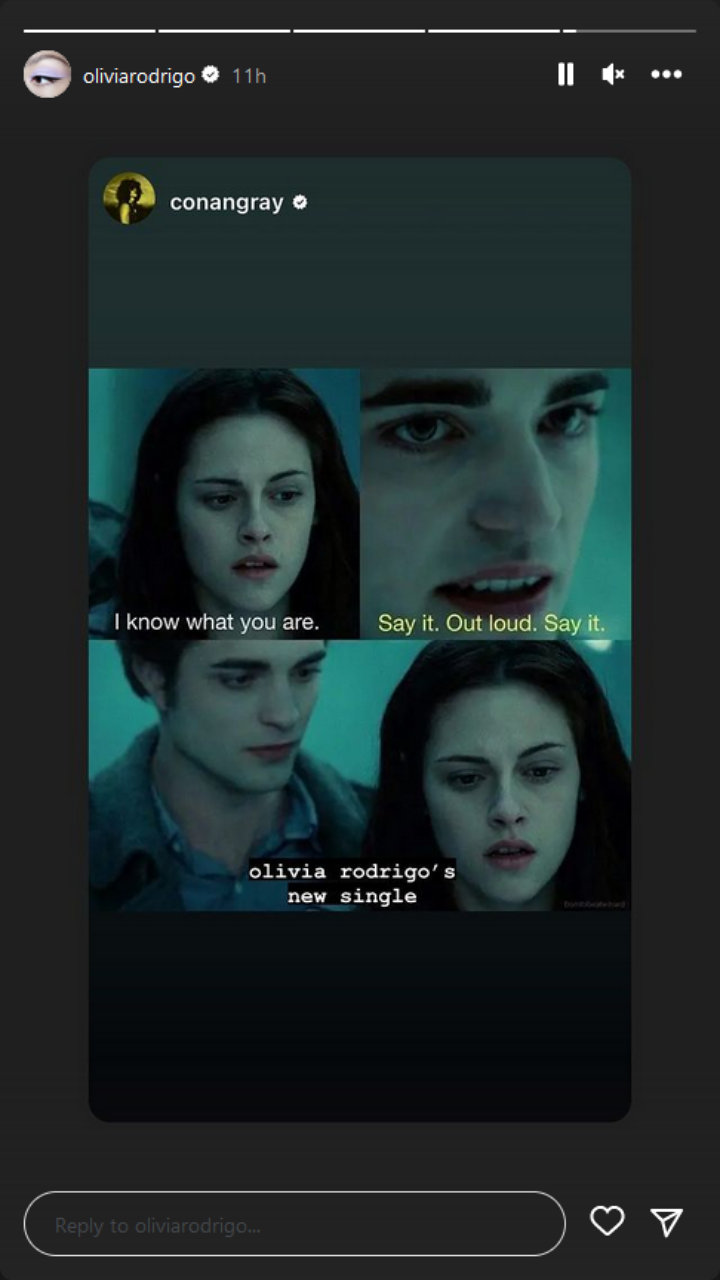 Olivia Rodrigo loved a 'Twilight' meme connecting the movie to her upcoming song.
"Vampire" will mark Olivia's first single since 2021's "Sour". Back in May, she teased her new album while celebrating the 2-year anniversary of her record-breaking debut album.
"Oh man oh man oh man. SOUR turns 2 years old today. no words could ever describe how much this album means to me and how insanely grateful I feel for every blessing it has brought into my life. the new stuff is so so so so so close to being done I pinky promise," she wrote on Instagram.
You can share this post!
Source: Read Full Article