RED HOT CHILI PEPPERS
Rod Laver Arena, Melbourne
February 28 ★★★
Hats off to Red Hot Chili Peppers for bringing George Clinton's hugely innovative Parliament-Funkadelic on the road with them to Australia. First coming together in the late 1960's, Clinton's powerful P-Funk, which included original guitaist Eddie Hazel, could be seen as the blueprint for the enormously funky, psychedelic rock the Chili's started pumping out in the early `80s.
Bassist Flea, singer Anthony Kiedis and drummer Chad Smith from the Red Hot Chili Peppers perform at Rod Laver Arena on February 28, 2019 in Melbourne.Credit:Paul Rovere
Opening for RHCP in Melbourne, Clinton strode onto the stage with a dozen or more band members and immediately launched into their trademark flat-out funk; there was no breaks, no pauses, no time to waste. Hazel was there, dressed head-to-toe in black, in stark contrast to Clinton's flowing white robe. On the face melting Maggot Brain, Hazel showed why he's still one of the guitar world's giants, while fellow guys and girls on stage danced, pumped their fists and generally pulled the growing crowd of RHCP fans along for the party.
Horns, loads of backing vocals, throbbing bass lines and drums, glorious drums filled the venue as Clinton, in between reclining against the drum kit as though sitting on a throne, took centre stage to keep the whole thing rumbling along. Give Up the Funk and Super Stupid were among the songs unleashed in what's surely among the greatest support acts to ever grace the RLA stage.
Last here for a headline tour 12 years ago, Red Hot Chili Peppers bounded on stage in typically dynamic fashion and like Clinton's group, the Chili's started hot, belting through Can't Stop and then into crowd pleaser Scar Tissue from 1999's Californication, an album that signalled a shift in style from the band's previous six albums. Melody and emotion were in, fast and furious was out.
Other than the gorgeous title track from Californication there was just three more songs – Aeroplane from 1995's One Hot Minute album, their Stevie Wonder cover of Higher Ground from `89's Mother's Milk, and closing track Give It Away from 1991's hit laden Blood Sugar Sex Magik  – that weren't from this century. Four if you include a cover of the Stooges' I Wanna Be Your Dog, which started out strong enough before singer Anthony Kiedis seemed to lose interest and their efforts fizzled out about halfway through the song.
Bass player Flea, originally from Melbourne before he moved to Los Angeles, looked genuinely thrilled about being back on stage in his hometown. Along with drummer Chad Smith, the pair barely stopped moving all night. When he wasn't slapping his bass or chirping in with some trumpet parts, Flea leapt around like an excitable kid, while Smith attacked the kit over and over and over. Drum sticks occasionally flew out among the crowd, where fans sang along to the few older songs and newer tracks, such as Go Robot, Sick Love and Dark Necessities from 2016's The Getaway album.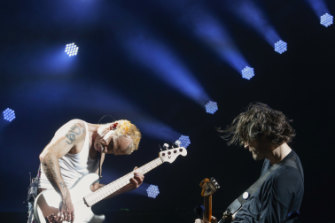 Red Hot Chili Peppers bass player Flea (left) and guitarist Josh Klinghoffer on stage at Rod Laver Arena on February 28, 2019 in Melbourne. Credit:Paul Rovere
Why the set couldn't also be peppered with some top shelf picks from across their 35-year career, maybe a Breaking the Girl or Under the Bridge, or even something from 1985's George Clinton produced Freaky Style album is anyone's guess. It's their band, their set-list and along with guitarist Josh Klinghoffer, who replaced John Frusciante a decade ago, the focus was more post-Californication and less on the funky, metal influences and psychedelic stuff they cut their teeth on.
Now each in their mid 50s, Keidis, Flea and Smith, along with the 39-year-old Klinghoffer don't show any outward signs of stalling; however this show had more of a last-lap-around-the-block feel than uplifting party starter.
Source: Read Full Article