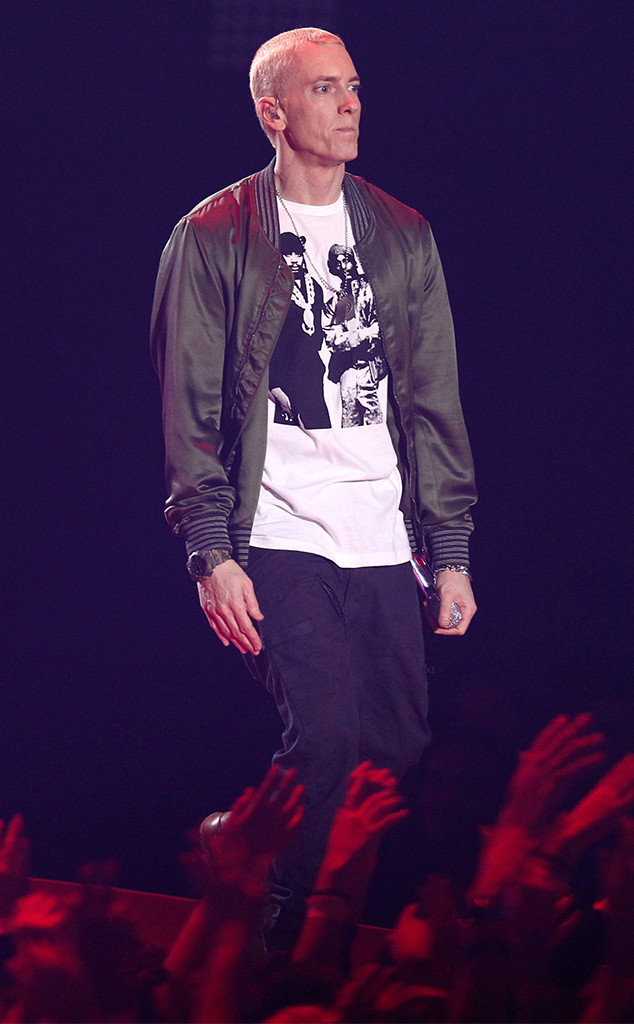 Matt Sayles/Invision/AP/Shutterstock
Eminem came under fire on Friday after he released his surprise album Music to Be Murdered By.
In one of the songs, title "Unaccommodating," the 47-year-old rapper referenced the 2017 Manchester Arena bomb attack. The attack, which took place during a stop on Ariana Grande's tour, killed 22 people.
"I'm contemplating yelling 'bombs away' on the game like I'm outside an Ariana Grande concert waiting" he rapped, with the sound of an explosion following.
After hearing the track, many social media users took to Twitter to criticize the Grammy winner.
"Eminem literally just made a joke about the Manchester Bombing at Ariana Grande's concert… That is just so f–king sick," one social media user tweeted. "Y'all better not give this man any attention. People literally lost their lives, and you're going to release music and try to make a profit off of them?"
"Eminem using Manchester bombing in lyrics on new cd is outrageous," tweeted another.
Other followers pointed out that Eminem helped raise about £2 million for the victims of the attack and their families. The Manchester City Council thanked him for the support at the time.
This wasn't the first time Eminem had referenced the attack. He also mentioned a suicide bomber in a 2018 freestyle.
"Suicide bomber that's seeing Ariana Grande sing her last song of the evening / And as the audience from the damn concert is leaving / Detonates the device strapped to his abdominal region," he rapped at the time.
Eminem called for an end to gun violence in the music video for his other new track "Darkness," which alludes to the 2017 Route 91 Harvest Festival shooting in Las Vegas.
"When will this end? When will enough people care?" text at the end of the video reads.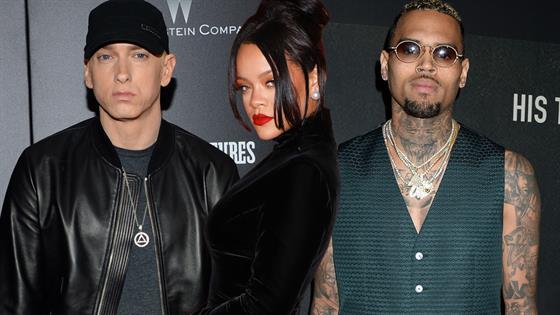 This wasn't the first time Eminem has made headlines. To look back at more of this controversial moments, see the gallery.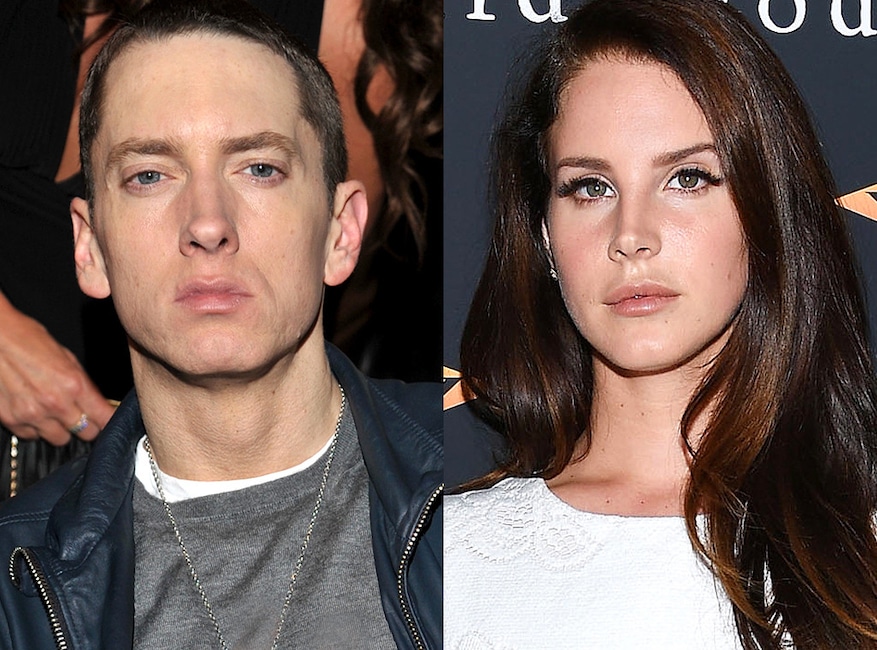 Lester Cohen/WireImage; Dimitrios Kambouris/Getty Images
Shady Freestyle
Eminem's freestyle in the music video "Shady Cxvpher" made headlines after he rapped about punching Lana Del Rey. "But I may fight for gay rights, especially if they d–e/ Is more of a knockout than Janay Rice/ Play nice? Bitch I'll punch Lana Del Rey right in the face twice, like Ray Rice in broad daylight in the plain sight of the elevator surveillance/ 'Til her head is banging on the railing, then celebrate with the Ravens," he rapped. For what it's worth, Lana previously said she was a fan of Eminem's music and said he was "the master of lyrics."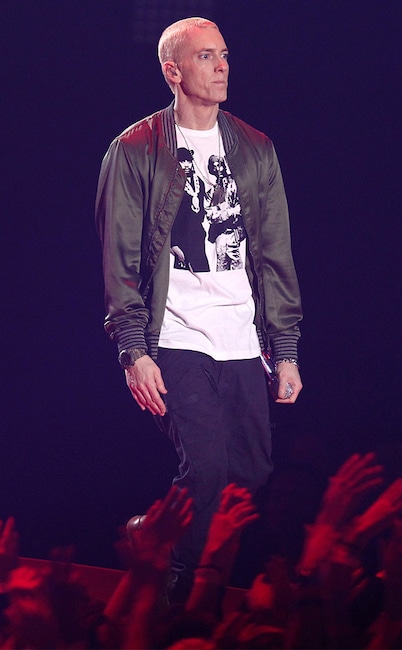 Matt Sayles/Invision/AP/Shutterstock
Kicking It Off
In December 2018, Eminem dropped an 11 minute-long freestyle that broached topics including drugs, sex, rap and other NSFW topics. He also included a few fellow artists such as Justin Bieber, Jada Pinkett Smith, Christina Aguilera and Ariana Grande.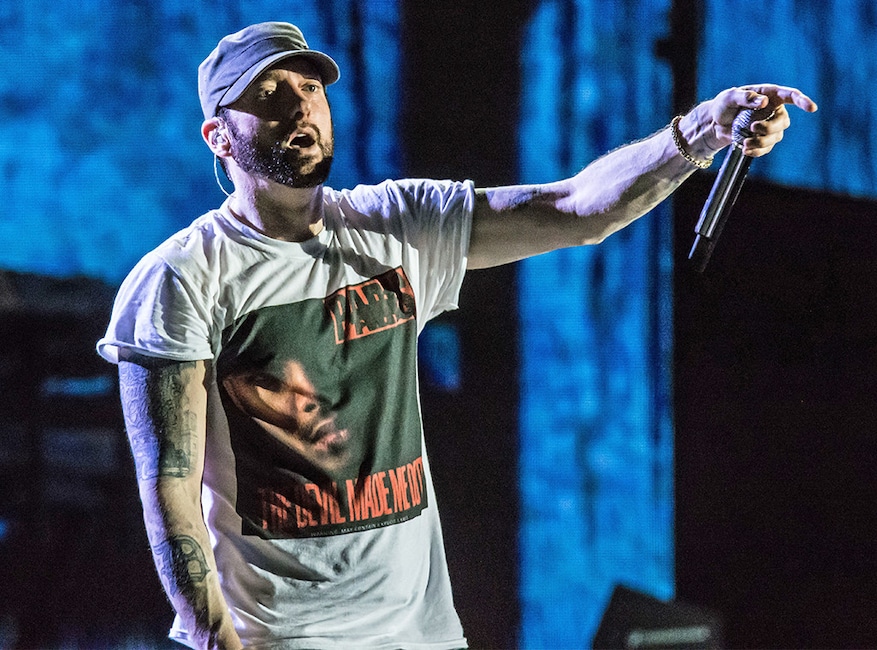 Jack Plunkett/Invision/AP/Shutterstock
Battle of the Backside
Back in November 2014, a leaked snippet featured Eminem throwing major shade at Iggy Azalea. "Back to basic / Unless you're Nicki, grab you by the wrist / Let's ski, so what's it gon' be? / Put that s–t away, Iggy," Eminem rapped while seemingly praising Nicki Minaj and her curvy body.
Article continues below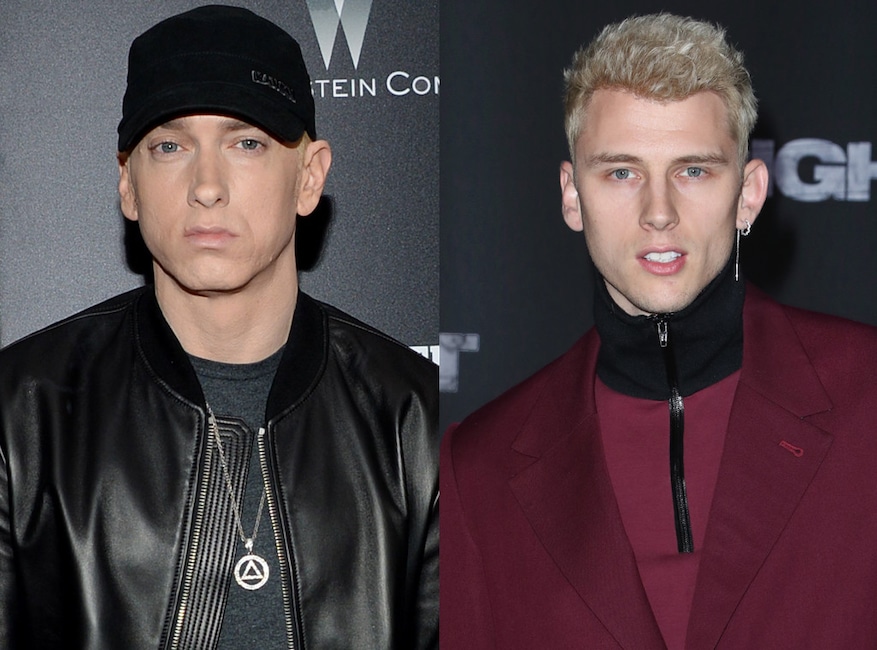 Matt Baron/Evan Agostini/Invision/AP/REX/Shutterstock
Feud Alert
It's the feud pop culture fans couldn't get enough of! The rappers were caught up in a war of words back in September 2018. It partially stemmed from drama that ignited back in 2012 when Machine Gun Kelly tweeted about Eminem's then-teenage daughter Hailie's looks. Some music lovers, however, questioned just how real the feud was.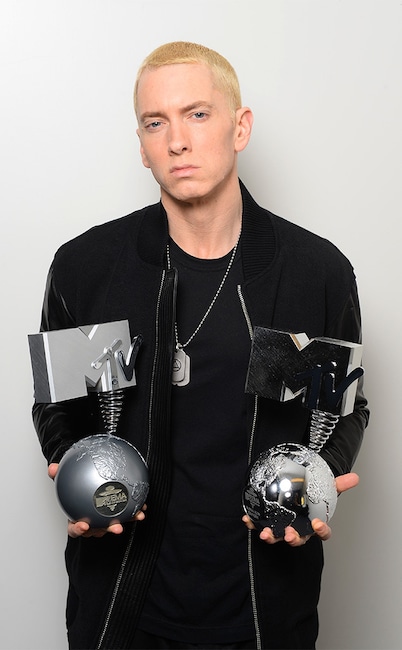 Dave J Hogan/Getty Images for MTV
Family Drama
Eminem's contentious relationship with his mother has come up in his music. With The Slim Shady LP, Eminem alleged that his mom Debbie Mathers was an abusive, drug-addicted parent. She subsequently sued for defamation (which was settled out of court).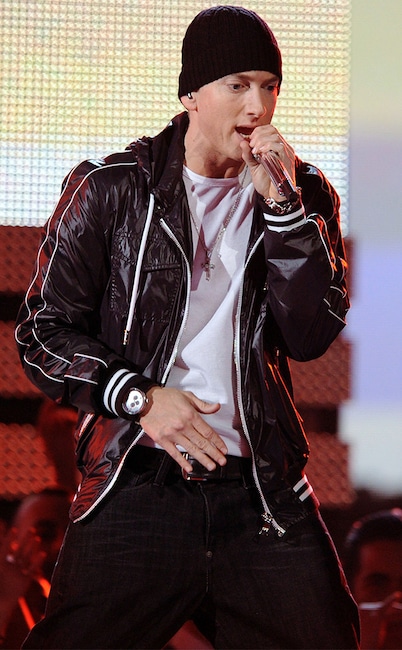 Kevin Winter/Getty Images
Homophobic Slur
The rapper came under fire after fans learned he had used a homophobic slur to describe rapper Tyler, the Creator. On the track "Fall," the Grammy-winning star rapped, "Tyler create nothin', I see why you called yourself a (f—-t), bitch/It's not just 'cause you lack attention/It's because you worship D12's balls, you're sack-religious/If you're gonna critique me/You better at least be as good or better." Eminem would later express regret about his word choice. "I think that the word that I called him on the album was—on that song—was one of the things where I felt like this might be too far because, in my quest to hurt him, I realized that I was hurting a lot of other people by saying it and, at the time, I was so mad it was just whatever, but in the midst of everything else that was going on in this album, the things that it took to pull this album together and all that kind of s–t, it was one of the things that I kept going back to going, 'I don't feel right with this,'" Eminem admitted.
Article continues below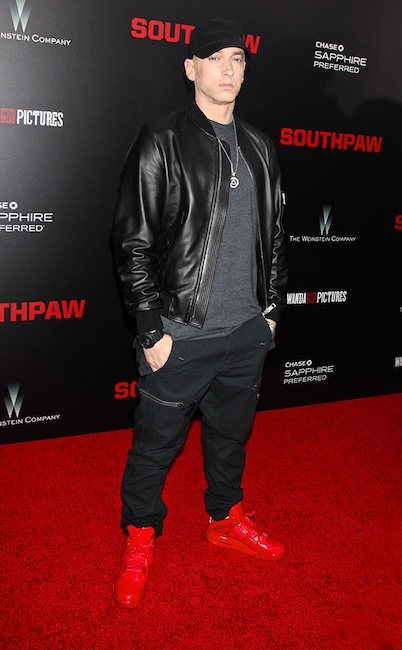 Gregory Pace/BEI/Shutterstock
Sober Fight
In music and interviews, Eminem has been frank and upfront about his struggle with alcoholism and prescription drug addiction. Back in 2011, he told Rolling Stone that he was "taking so many pills that I wasn't even taking them to get high anymore…I was taking them to feel normal." But after a near-fatal overdose in 2007, Eminem committed himself to getting clean. In April 2018, he posted a photo to Instagram of his 10-year Alcoholics Anonymous chip commemorating a decade of sobriety. Well done, sir.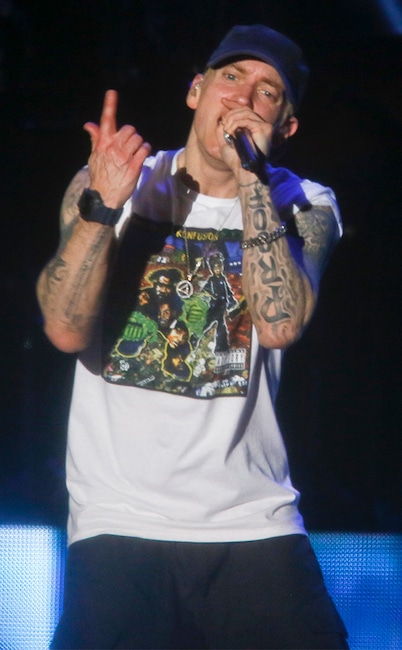 Jack Plunkett/Invision/AP/Shutterstock
Leaked Audio
After a Reddit user posted a seven-second snippet, titled "(SNIPPET) Eminem – Things Get Worse (Rihanna Diss)," fans couldn't help but question the audio allegedly featuring Eminem's voice. "I'd side with Chris Brown, I'd beat down a bitch too," the rapper allegedly said in the track.
Watch E! News weekday mornings at 7 a.m.!
Source: Read Full Article