Saweetie has undeniable talent and an amazing stage presence; of course, the apple doesn't fall too far from the tree. Although Saweetie's parents aren't part of the music industry, it's clear that she inherited their unwavering dedication to their respective crafts. In one of the "Best Friend" rapper's YouTube vlogs, she revealed her mother was once a famous video model in the early 2000s. You might have seen her mother in videos such as Nelly's "Ride Wit Me" and DMX's "What These B*****s Want." As for her father, he was a football player at San Jose State University with an impressive record. As if that isn't already a flex, Saweetie's grandfather Willie Harper was a linebacker for the San Francisco 49ers for over a decade.
Saweetie's family is quite connected in many different avenues, but she said she did not want her family's help with breaking into the music industry. During an interview on "Desus & Mero," the Bay Area native said she did not want a handout from her family. "They were all kind of upset at me because they heard 'My Type' and was like, 'We didn't know you was doing music. What you doin' over there?'" she said. "But me, I have so much pride. I believe in being self-made and trying to figure things out on my own." Saweetie has a huge family behind her, and even a few familiar faces you may recognize, such as actress Gabrielle Union.
Saweetie and Gabrielle Union are second cousins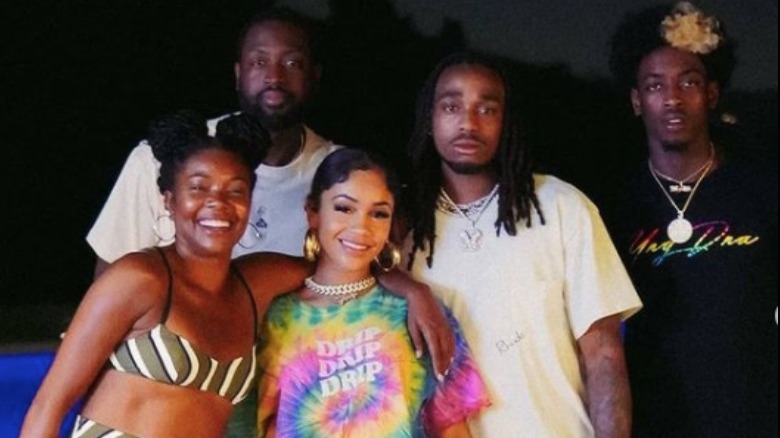 Saweetie may have reached celebrity status, but that doesn't mean she isn't already used to being around Hollywood faves in her own family. Once she rose to fame, the news of the "Pretty B***h Freestyle" rapper's family became more prominent — especially her familial ties to Gabrielle Union. In December 2018, Union revealed she and Saweetie are related when a Twitter follower asked. "Her father and I are 1st cousins," Union tweeted. "Her grandma is my aunt Joanne Glass who I based Eva from 'Deliver Us From Eva' on. #FunFact #DozensOfCousins."
Saweetie and Union have a great relationship as well; when "My Type" became a hit back in 2019, the "Being Mary Jane" star showed Saweetie love via Instagram by participating in the #MyTypeChallenge. The caption read, "Always support my fam." Saweetie also performed at Union's birthday party in that same year, in which the two cousins donned matching Clovers cheerleading costumes from Union's breakout role in "Bring It On" (2002).
Gabrielle Union isn't the only familiar face in Saweetie's star-studded family. In fact, Saweetie is also related to rap legend MC Hammer and Grammy-winning producer Zaytoven. "Our family grew up with the Burrell's [MC Hammer's family]. My cousin's dad is MC Hammer, and another one of my cousins is Zaytoven," Saweetie told Billboard in 2018. "We all grew up together and it's interesting to see how we turned out." It's clear that the rapper's family is full of talented people, and it's only right to expect nothing less of her. We love to see it!
Source: Read Full Article