Ms. Marvel is the latest Disney+ series to join the Marvel Cinematic Universe, and it's shaping up to be a charming and fun origin story for Kamala Khan (Iman Vellani). The show's second chapter sees Kamala learning to use her powers, which come with some surprising side effects. It looks like Kamala will face challenges if she truly wants to become a superhero. So, when does Ms. Marvel Episode 3 come out on Disney+ and what can fans expect on its release date?
[Warning: This article contains spoilers for Ms. Marvel Episode 2, "Crushed."]
Kamala Khan juggles high school and superpowers during 'Ms. Marvel' Episode 2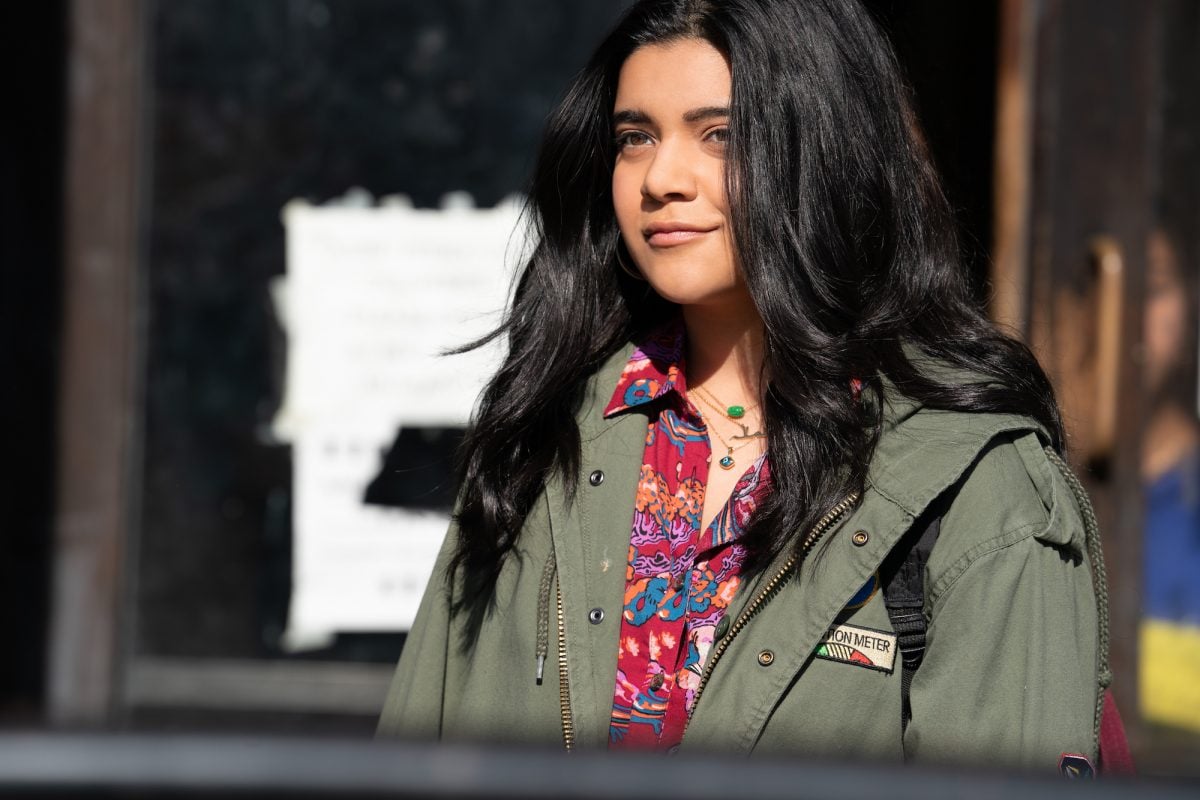 Ms. Marvel Episode 2 picks up where the premiere left off, with Kamala Khan embracing her newfound superpowers. From the beginning of "Crushed," it's obvious she's gotten a confidence boost from the incident at AvengerCon. However, the her anonymity puts all the attention on Zoe (Laurel Marsden) for being rescued by the mysterious hero.
And it's probably a good thing Kamala hasn't taken her superhero career public. This week's episode also reveals that Agent Cleary (Arian Moayed) is searching for the person who saved Zoe — and he and his colleagues don't seem to have good intentions. Toward the end of "Crushed," they attack Kamala, who only manages to escape thanks to her crush, Karman (Rish Shah).
Of course, that makes one more person who knows about her abilities. And he's not the only one in the getaway car. The end of episode 2 introduces Karman's mother, Najma (Nimra Bucha), who Kamala's been having visions of. It's unclear how she's connected to the bangle and its strange powers, but hopefully, we'll find out soon.
Najma isn't the only character fans have questions about after episode 2, either. After Kamala's powers start causing physical side effects, she asks her grandmother about the bangle. Unfortunately, she doesn't shed much light on the situation. However, she does reveal that the gift belonged to Kamala's great grandmother — a woman who, supposedly, shamed the family.
With that in mind, Ms. Marvel Episode 3 has a lot of questions to answer when its release date arrives. So, when can fans expect it on Disney+?
When does 'Ms. Marvel' come out on Disney+? Episode 3 release date and time
With the stakes growing higher in Ms. Marvel Episode 2, viewers are no doubt eager to see what episode 3 has in store — so, when is its release date?
New episodes of Ms. Marvel debut on Disney+ every Wednesday, keeping in line with Marvel's usual TV schedule. As such, the next chapter will arrive on the platform on June 22. Typically, installments drop around 12:01 a.m. PST, or 3 a.m. EST. So, fans will need to stay up to watch them as soon as they're available.
Here's the full release schedule for Ms. Marvel on Disney+:
Episode 1 – June 8
Episode 2 – June 15
Episode 3 – June 22
Episode 4 – June 29
Episode 5 – July 6
Episode 6 – July 13
Since there are just six episodes in the series, the next installment will bring viewers to the halfway point. What can we anticipate from the next chapter of Kamala's story?
What to expect when episode 3 comes out on Disney+
With the release date for Ms. Marvel Episode 3 slated for June 22, what can viewers expect during the coming chapter? Unfortunately, Disney+ doesn't share previews, synopses, or stills ahead of new installments. That said, we can speculate about what's coming based on where episode 2 left things.
To start, Kamala's currently in a car with Karman and Najma — so, she'll likely get an explanation for her visions, as well as how they're connected to her crush. This could also shed light on Kamala's powers and even the bangle's history.
Additionally, Agent Cleary and Agent Deever (Alysia Reiner) will probably keep searching for Kamala. If she attempts any more rescues during the coming episode, they'll likely pursue her. Whether we'll find out what they want — and why they're being so hostile — remains to be seen.
It'd also be nice if Kamala told Nakia (Yasmeen Fletcher) about her powers, but that could take a while. After all, keeping her secret identity a secret is even more important now that people are after her. We'll have to wait and see if she continues to evade them.
Ms. Marvel Episode 3 arrives on June 22. In the meantime, the first two chapters are currently streaming on Disney+.
Source: Read Full Article