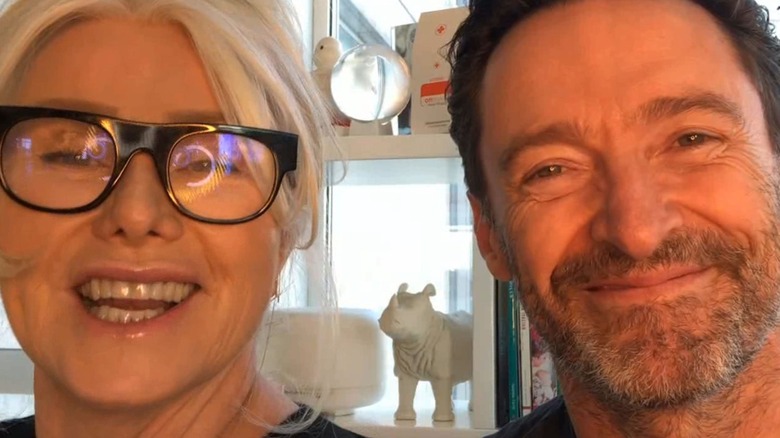 Not to be melodramatic, but if Hugh Jackman and his wife, Deborra-Lee Furness don't make it a million years, then love is officially dead. Today's Hoda Kotb has seen — and verified — it in Jackman's eyes, Wolverine is head-over-heels smitten. Think: the way Rose felt for Jack in "Titanic," except Jackman would most definitely find room on the door for Furnace if you catch our drift. 
Yes, Jackman did give Kotb a relationship update (via Today). But first, some context. Hugh Jackman and Deborra-Lee Furness met via an Australian TV show they both worked on over 25 years ago; Jackman came clean to Furness at a dinner party he held weeks later. "She said, 'I noticed you haven't talked to me in like a week, what's going on?' I said, "I got a crush on you. I'll get over it, I'm sorry," Jackman fessed to People. Neither of them did, and — per Brides – they got married in 1996. In an interview with Today in 2018, Jackman reflected, "In the end, what do you want from your life partner? You want to be fully seen and you want to be able to fully see them for exactly who (they) really are. And Deb and I had that from the beginning."  
How is the couple doing post-pandemic? 
Hugh Jackman's marriage is 'as natural as breathing'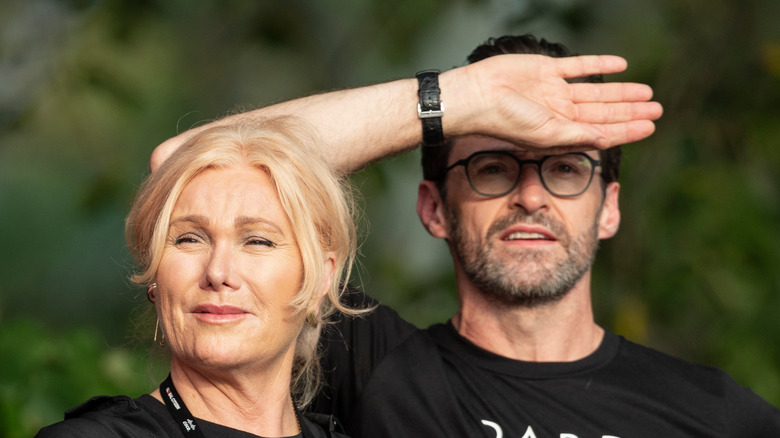 On their 25th anniversary, Jackman wrote Furnace a much-circulated Instagram love letter. "Being married to you Deb is as natural as breathing," the Hollywood bigshot wrote. "From nearly the moment we met … I knew our destiny was to be together." Lest you misinterpret Jackman's words (breathing, after all, requires no great skill, nor grand romantic gesture), Jackman recently opened up to Hoda Kotb about how he and his wife were doing. 
"People often say, 'Oh my god, marriage is so much work,'" the actor reflected (via Today). "There are some things you gotta live by, but it doesn't feel like that. It's been one of the best things in my life." In other words, you can go ahead and ignore the 2020 gossip column rumors. The two are definitely not on the rocks (via Gossip Cop). They're solid. "Deb is the lightest, most optimistic person I've ever met in my life," Jackman told Kotb. "Like, if you ever want to play who's the happiest person in the room, Deb wins. Just know, Deb wins." 
Source: Read Full Article