It might not sound like the most auspicious beginning, but when billionaire media mogul Rupert Murdoch announced that he was getting married for the fifth time, it was with typical bluntness.
"I dreaded falling in love, but I knew this would be my last," Murdoch told the New York Post, one of the newspapers he owns, yesterday. "It better be. I'm happy."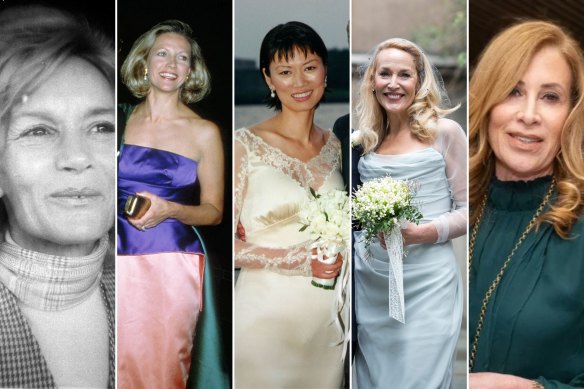 Rupert Murdoch's four wives, and fiancee, respectively, from left: Patricia Booker, Anna Murdoch Mann, Wendi Deng, Jerry Hall, and Ann Lesley Smith
Murdoch, 92, will be marrying Ann Lesley Smith, a 66-year-old former prison chaplain he met six months ago at his vineyard in California, this North American summer. The pair became engaged when he popped the question with an Asscher-cut diamond ring on St Patrick's Day.
But what motivates people to get engaged quickly after getting divorced? And are there any drivers a person should be concerned about?
This is not Murdoch's first time getting engaged or married soon after getting divorced. The News Corp CEO married producer Wendi Deng in 1999 only 17 days after finalising his divorce from his second wife, Anna Murdoch Mann. Murdoch announced his divorce from fourth wife, supermodel Jerry Hall, seven months ago.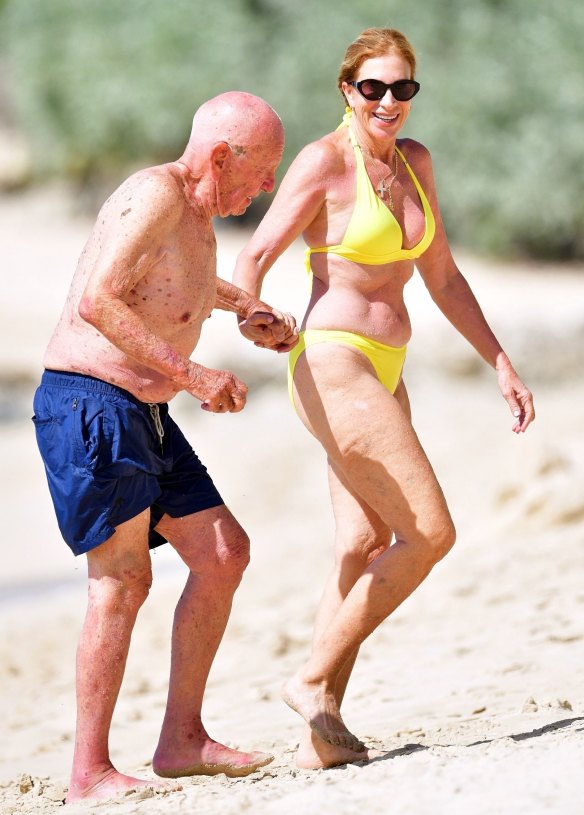 "We're both looking forward to spending the second half of our lives together," Rupert Murdoch, pictured with fiancée Ann Lesley Smith, in the Carribean in January, has said.Credit:Backgrid
"Following a relationship [breakdown], we are wired for connection, for attachment and we're wired for romantic connection, and that is true throughout our life," says clinical psychologist Dr Rowan Burckhardt, founder of the Sydney Couples Counselling Centre. "The fact that he [Murdoch] would seek another relationship is perfectly normal, and in fact is a good sign that he's looking after and trying to meet his needs."
That being said, Burckhardt says he might caution a client who has become engaged soon after divorcing, to perhaps consider waiting before jumping into marriage.
"Let that time [pass] and see if you really are falling in love and it's a genuine relationship [rather than initial chemistry]," he says. "What sometimes happens is people can get into a kind of, I suppose, more fear of being alone, of not finding someone. They're upset with what happened and they kind of cling on to the nearest person and they kind of interpret that to be love instead of, 'I genuinely have this chemistry with this person.' That would be the only concern and thing to look out for."
Not to mention that the endorphins that spike in the early stages of romantic relationships "wear off at about the six-month mark", says Adelaide clinical psychologist Tamara Cavenett.
"Certainly, that first six months [of a relationship] is more predictive of a lot of positive endorphins and dopamine responses, and chemical-based excitement that may not endure when things get hard," says Cavenett.
"You know, when you're coming out of a divorce you're often coming out of a situation where it wasn't so good, the reference point can be quite negative, at that stage, it's usually a lot of hard work, a lot of distress and pain.
"The complete opposite is true when you start a new relationship. You often get all the excitement, butterflies, and all the fun bits of falling in love. And I think it's really easy to make a commitment at that point… Anyone who's been married long-term knows that a lot of it is about working through difficult situations, it's a lot, forgiveness and acceptance of somebody else. But all of that stuff isn't really there in those early months."
And is there a causal link between a history of multiple divorces and a higher risk of a future divorce?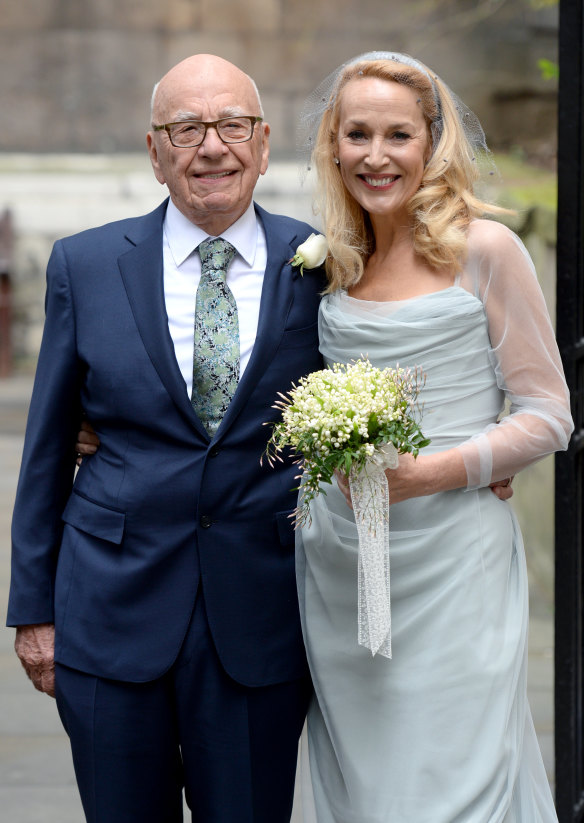 Rupert Murdoch reportedly told fourth wife Jerry Hall, pictured here on their wedding day in 2016, over email that their relationship was over.Credit:PA
"One of the biggest predictors of future behaviour is past behaviour," says Cavenett. But, she adds, there is no "solid predictor" of what will lead to a relationship lasting, or failing, and some relationships everyone thinks will fail do thrive.
Rather, research shows that the greatest predictor of divorce is not what people commonly assume it is, says Cavenett.
"I think people focus a lot on, 'If the person just didn't do this, then we would be OK'," she says. "A lot of it is focused on the things the couple conflicts over." Instead, it is the presence of a solid, underlying friendship that best predicts a marriage will last.
"You kind of see that when you see a couple really work well together," she says. "They're almost in sync. So the little behaviours that would normally, you know, cause a lot of conflict and be really upsetting, can be let go easier."
What about feeling "dread" at the prospect of falling in love, again, after a divorce?
"I can certainly see why when someone is coming out of a failed relationship why they dread falling in love," says Cavenett. "Because their most recent memory is usually of why something didn't work out. And there's a lot of hurt and disappointment that occurs in marriages, when they don't work out. You also have hopes and dreams, I guess this part of the reason why we get engaged, is we are investing in a future with someone and we have hopes and dreams for how that might look… Often with people it's the future imaginary life that we will have with them, that we have constructed, and it's usually that that we're in love with. So when you're with the wrong person, I think you get very in love with what could be, not necessarily what is."
Make the most of your health, relationships, fitness and nutrition with our Live Well newsletter. Get it in your inbox every Monday.
Most Viewed in Lifestyle
From our partners
Source: Read Full Article