Hey y'all, there's a new celebrity ex-boyfriend for you to side-eye along with Tristan Thompson! The man in question is NFL star Danny Amendola, who hit Instagram in a truly WTF rant (that he's since deleted for obvious reasons) slamming his ex-girlfriend Olivia Culpo. And honestly "slamming" is putting it lightly. This rant is genuinely whack.
In what appeared to be an explanation for their breakup, Danny wrote "I believe there should be a boundary btw private life and social media. Olivia believes in fishbowl lifestyle. This fundamental difference was huge in our relationship."
Okay, fair enough. But it gets way worse. "If you're my real friend you know I'm private. My mother, brother, father and nephew are closest to me in this world and you don't see one picture of them and that's for their protection from those who criticize and judge. I believe in nailing picture frames on the inside of my house to remind the ones I love that I care."
Nobody:
Danny Amendola: pic.twitter.com/xcQPOuoYBJ
Again, fair! Buuuuut then he goes TF in: "Olivia chooses and wants to be noticed on the internet and in Hollywood to make money. Which was hard for me to understand but quickly had to learn. Where as [sic] the cost of fame in this world doesn't appeal to me. I play ball for one reason and that's RESPECT."
Kay, quick side note to remind everyone that ranting on Instagram is maybe the *most* public thing a person can do. But moving on! Danny then got into their breakup/fights, saying "A lot of time it was my fault bc let's be honest I can be an idiot. But! Yup! She's f*cked up too! and if you cross me I'm a hard mfer to deal with. The universe brought her and I together to enjoy life, love and learn. We celebrated that as often as we could. And the sex was f*cking crazy too."
Everyone stop what you're doing because Danny Amendola just posted a goddamn novel about his life and Olivia Culpo on Instagram pic.twitter.com/nHiAokJYud
Um. Great. But wait, there's more! Danny accused Olivia of getting "mad" at him for not sharing photos of her on Instagram, and that their relationship was therefore "fake" and "sometimes toxic."
He ended his post by shading Zedd, who Olivia is rumored to be kinda-sorta-maybe dating thanks to getting flirty at Coachella. "Reading all these wild stories about her and I, and seeing Olivia with other men, I just wanted to personally clear the air out here," he wrote "Not sure what's in the future but the only thing I care about is her HAPPINESS. And if that's dancing with scrony [sic] little f*cker, so be it. I'm happy too. With that said! Liv! My beautiful ex-Gf! Carry on IG."
In conclusion: BYE DANNY AMENDOLA.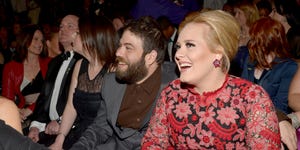 Source: Read Full Article