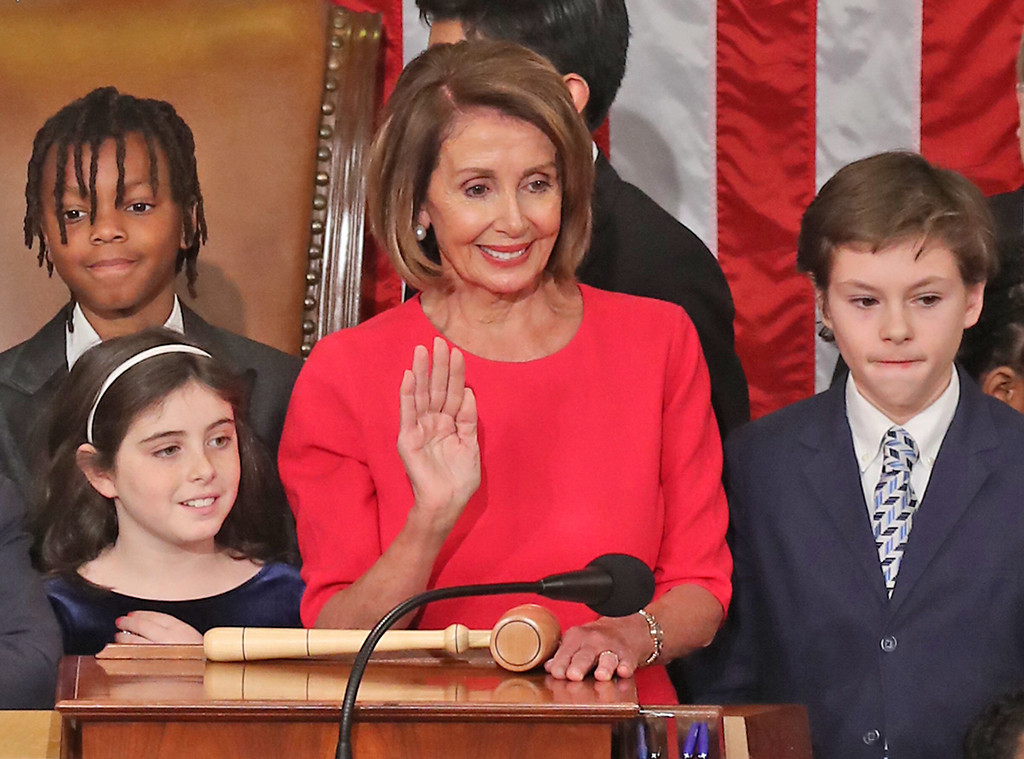 Mark Wilson/Getty Images
Nancy Pelosi's granddaughter stole the show at the Congressional vote for Speaker of the House of Representatives.
Nancy Pelosi's (D-Calif.) granddaughter, Bella Kaufman, truly couldn't contain her excitement during the vote in Washington D.C. Dressed in her finest attire, the little girl excitedly watched as 220 representatives voted for her grandmother to be Speaker of the House for the second time. Eagle-eyed viewers even noticed that Bella wore a "Madam Speaker" pin.
At one point during the proceedings, Pelosi didn't hear her name called during roll-call, prompting her granddaughter to run up to her grandmother in an effort to remind her. As Pelosi voted for herself, Bella held Pelosi's hand and jumped up and down, while also throwing in a bit of headbanging action.
Her joy wasn't just reserved for her grandmother though. When Rep. Anna Eshoo (D-Calif.) stood to announce her vote, Bella gave her the same thrilling reaction, leading to another round of laughter in the chambers.
Bella was joined in her exhilarating antics by a few other family members of new and returning reps alike. Rep. Rashida Tlaib's (D-Mich.) sons added a bit of flair to the vote by dabbing when their mom stood.
And in another historic moment, Nancy invited her grandchildren and all the other children to join her at the podium where she called to order the meeting of the 116th Congress for the second time.
Nancy Pelosi is the first and only woman to ever hold the gavel as the Speaker of the House in the history of the United States government. She is also the "first person in six decades to regain the speaker's gavel after losing it, a job she first held from 2007-2011," according to Politico.
Source: Read Full Article