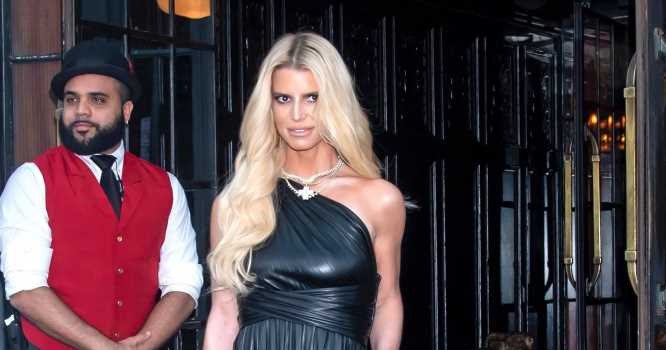 Jessica Simpson has heard the rumors about her weight loss — and she has plenty of thoughts.
During an interview with Bustle, which was published on Wednesday, July 5, the singer, 42, addressed social media comments calling her "too skinny" and theories about her using Ozempic to help with weight management.
"Oh Lord … it is not [Ozempic]," she told the outlet about her slimmer figure. "It's willpower. Do people want me to be drinking again? Because that's when I was heavier. Or they want me to be having another baby? My body can't do it."
Stars Who've Hit Back Against Body-Shamers
Simpson admitted that "it hurts" to hear criticism regarding her weight, adding, "Am I going to let the negativity derail me? No, I'm too old for that. I am too connected to myself right now to let that derail me. It doesn't mean that it doesn't hurt."
She continued: "I am fortunate to have been every size. For [my] brand, understanding the women [who buy our products], and for my psyche."
Ozempic — and similar off-brand versions of semaglutide — have recently been making waves as Hollywood stars have discussed their experience with the diabetes medication. The FDA-approved injections are typically used to help Type 2 diabetes patients with weight management.
'90s Pop Stars: Then and Now
Simpson, for her part, has previously discussed her personal ups and downs with weight. "I just want to feel good and be able to zip my pants up," she said on the Today show in April 2021 about not keeping a scale in her house. "If I don't, I have another size. I have every size. I've really tried my hardest to not let that define me."
The actress, who shares daughters Maxwell, 11, and Birdie, 4, and son Ace, 10, with husband Eric Johnson, revealed in April 2022 that she had gained and lost nearly 100 pounds three separate times.
Celebrities' Weight Loss and Transformations: Before and After Pictures
"I was really proud [of myself for that post]. So I was like, 'Here I go, I'm doing it.' … My babies are worth the weight gain. I'm just the type of person that gains a lot of weight [while] pregnant, but I've struggled [with it] my whole life, like, because of what, to me, was perfect or what I didn't have," Simpson exclusively told Us Weekly that same month. "I really feel [that once] people started [to] embrace me at a bigger size, it made me very confident. It made me feel like everybody deserves to be praised at every size."
Simpson noted that her focus has remained on eating right and working out. "I think it's about setting small goals for yourself, and then eventually, the impossible is possible," she shared with Us. "I was so proud of myself [for my social media post] and I was proud of the resilience no matter what people say."
For access to all our exclusive celebrity videos and interviews – Subscribe on YouTube!
Related Stories
Jessica Simpson Shades Ex Nick Lachey Amid 'Newlyweds' TikTok Trend
Jessica Simpson and Eric Johnson's Relationship Timeline
Celeb Parents' Most Creative Gender Reveals of All Time: Photos
Source: Read Full Article