They survived winter.
While Game of Thrones came to a controversial conclusion last Sunday night, our watch isn't over just yet as HBO is set to air a two-hour documentary dedicated to properly send the historic series off.
Game of Thrones: The Last Watch, airing on May 26, will take viewers behind the scenes of the polarizing eighth and final season, Airing Sunday, May 26, the two-hour documentary film will take viewers behind the scenes of the final season, with cast members like Kit Harington, Sophie Turner and Emilia Clarke reflecting on the immeasurable impact the series has had on their lives, as all were complete unknowns before being cast on the world's most popular show.
So just how much has Game of Thrones changed the cast members' lives?
Well, one was a Belieber who decided to audition for the show during her lunch period in school, while another was living off of just $5 a day before landing the role that would change their life forever. Meanwhile, another actually met his future wife on the show and one of GOT's younger stars had to leave college because of the reaction on campus to his presence…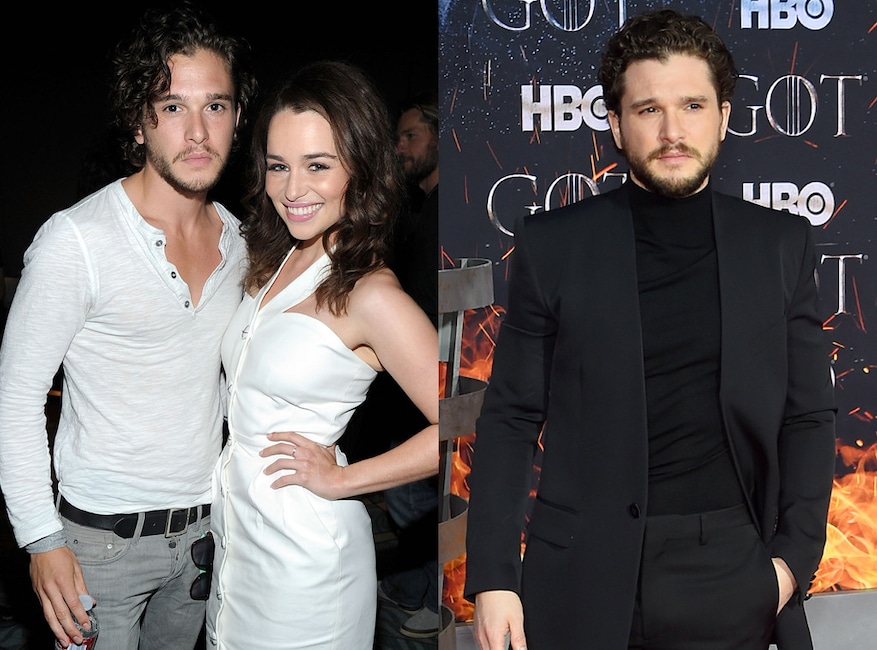 Frazer Harrison/Getty Images/Jamie McCarthy/WireImage
Kit Harington (Jon Snow)
Prior to knowing nothing as Jon Snow, Harington had never taken an on-screen role, acting on stage in the National Theatre's adaptation of War Horse before auditioning for the role that would make him a household name. But his family's name is actually quite well-known in the UK as his great-grandfather is Sir Richard Harington, a descendant of Charles II, while his great-great grandfather John Harington invented the first flushing toilet, which was used by Elizabeth I.
"He invented it for her, as the story goes, and she made him godson to her, which is quite interesting," Harington said on Jimmy Kimmel Live. (Fun fact: It's also why "the john" is a nickname for a toilet.)
When he auditioned for Jon Snow (aka Aegon Targaryen), Harington told W Magazine, "I had a black eye. I had been in a fight the night before…with this guy in McDonald's. I think that man who punched me in the face may have helped me get the job!"
Harington, however, lost the initial fight against worldwide fame, letting the social media chatter get to him. By season three though, Harington stopped himself from reading reviews. My memory is always 'the boring Jon Snow,' and it got to me after a while," he admitted to Variety—and he struggled with Jon becoming the central character of the series, eventually going to therapy for the first time to cope with his feelings.
"My darkest period was when the show seemed to become so much about Jon," he said of Jon's short death, which spurred an insane level of focus on him in the media. "It wasn't a very good time in my life…I felt very vulnerable. I had a shaky time in my life around there—like I think a lot of people do in their 20s. That was a time when I started therapy, and started talking to people. I had felt very unsafe, and I wasn't talking to anyone."
Eventually, Harington came to embrace Jon's important to the show, as well as his own, saying, "I now look back and I go, well, I was a f—king integral part of that whole thing. Jon was, and I am, and I'm proud of it. It took me a long time to not think, I'm the worst thing in this."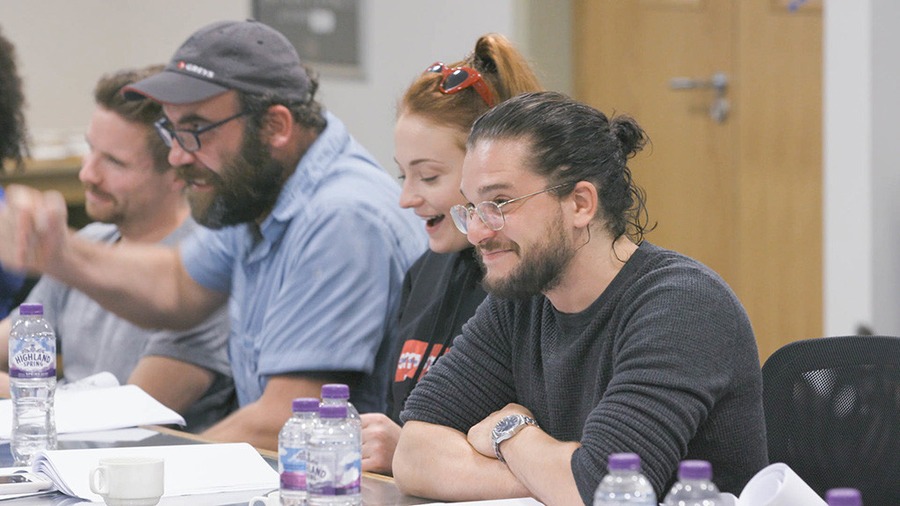 HBO
"The most important job I'll ever have is about to finish," Harington said of Game of Thrones to InStyle, before adding "Well, not the most. Hopefully, I'll be a father." In June 2018, Harington wed his Game of Thrones co-star Rose Leslie, who played Jon's love interest Ygritte in season three. In attendance were Sophie Turner, Maisie Williams, Peter Dinklage, Emilia Clarke, John Bradley, Joe Dempsie, Ben Crompton and Liam Cunningham.
Before the couple starts a family, however, Harington is trying to choose his post-GOT roles wisely, fully aware of the impact the global phenomenon did for his career.
"It checked that box in bucketloads. If I was seeking fame, which honestly speaking, like any young actor, I was…I've done that!" he told Variety. "If my career from here on in meant I didn't get a huge amount of fame, didn't go to the awards ceremonies, I'd have done it."
After a few big-budget action flicks, Harington returned to the stage in True West shortly after wrapping GOT, explaining, "I don't want to be Bruce Willis and be an action hero…the sort of ideal for an actor seems to be nowadays, 'Oh, I'll do this Marvel franchise, and I'll have this time after to do my fun stuff.' I've had that with Thrones, and I wouldn't mind continuing that."
While he's yet to pick his next big project, Harington, 32, is ready to prove himself as an actor now that his watch has ended.
"I have to get myself to a point where I can prove to people that I can do those," he said of landing more character-driven roles. " I have to graft myself out of being a heroic TV actor, and that's a challenge, and that's fine."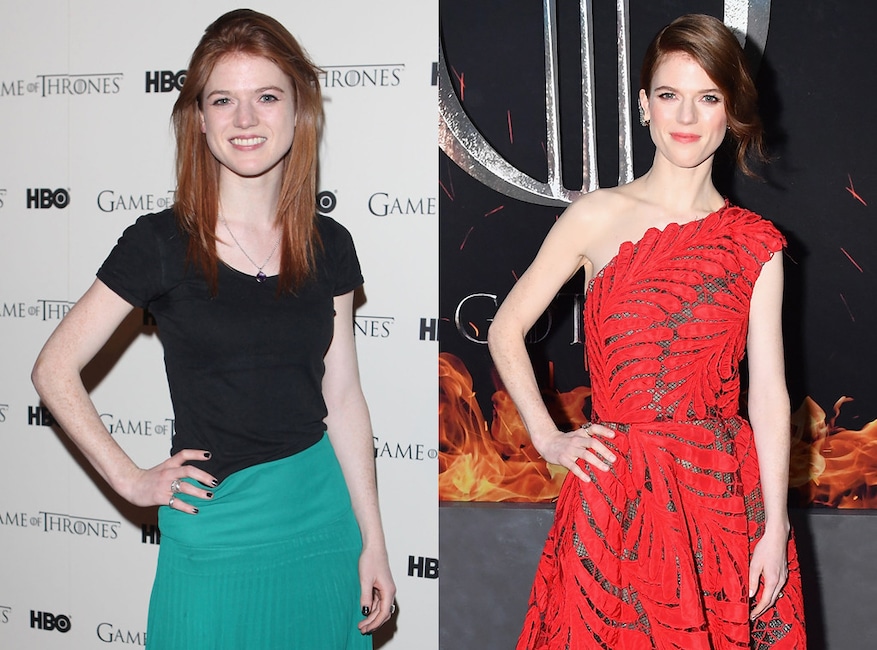 Tim Whitby/Getty Images/Jeff Kravitz/FilmMagic for HBO
Rose Leslie (Ygritte)
For her audition to play Ygritte, Jon's Wilding lover, Leslie, who had just appeared on Downton Abbey, went in pretty blind, not really getting how big the show was.
"I went into the audition unprepared," she admitted during an interview. "I wasn't aware of the show, I hadn't watched the first season…I didn't realize the pressure. Had I known the pressure I don't think I would've landed the job in the first place. I was happy I was naive for the first round."
While Ygritte only survived two seasons on the show, she left a lasting impact on Jon…and Harington.
"My favorite actor to work with Rose, there was something really special working with Rose, she is one of the best actors…we had a great chemistry together, I think," Harington said, picking their first day of filming together as his favorite day on set.
And in an interview with GQ, Harington revealed his audition scene for the show was actually a scene between Jon and Ygritte, a sign of what was to come for him in his personal life.
"It dawned on me, recently—and I have no idea if we will—but say me and Rose do have children. They'll know. They'll be able to see the genesis of their parents getting together. Which is quite a wonderful thought, really," he said. "I thank the show for everything. But more than anything else, I thank it for introducing me to her."
After her time on GOT came to an end, Leslie, 32, joined the cast of The Good Fight, CBS All-Access' hit spinoff of The Good Wife, and made a surprise appearance during Harington's Saturday Night Live hosting debut to cheeikly heckle him from the audience.
Article continues below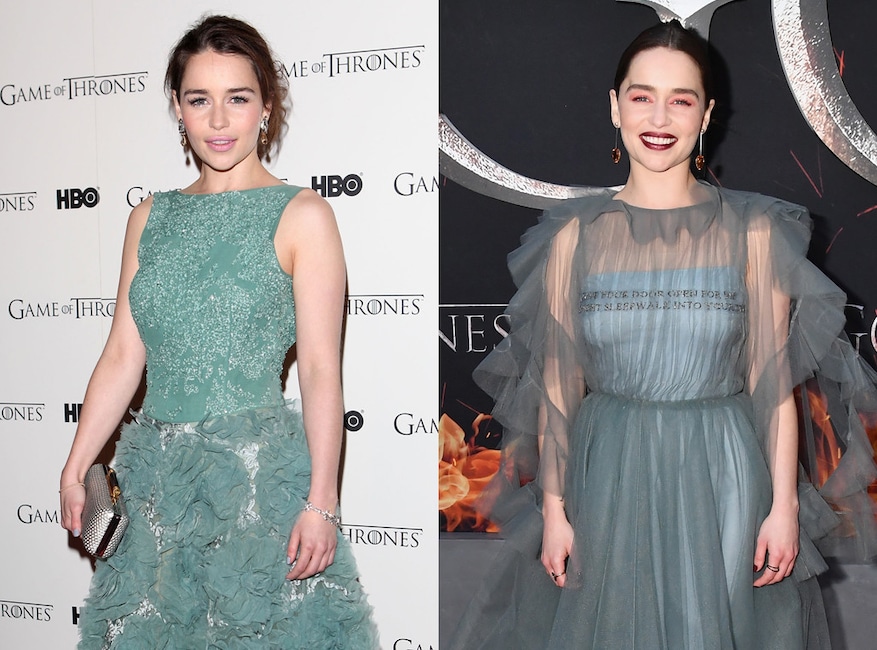 Tim Whitby/Getty Images/Jeff Kravitz/FilmMagic for HBO
Emilia Clarke (Daenerys Targaryen)
Fun fact: Clarke, one of the show's biggest breakout stars, wasn't the OG Khaleesi. HBO initially cast The Tudors star Tamzin Merchant for the part in the unaired pilot. After officially picking up the series, the British actress, whose physical features fit that of Dany in the books, was recast, with no reason given, though the casting director Nina Gold once told Vanity Fair, "It's terrible to disappoint…difficult to let down…that's hard. It's tough, but you've got to get it right, ultimately."
So what did the petite, brunette then-22 year old unknown Clarke do to win the role at the time? She danced, performing the Funky Chicken and the Robot, she revealed to Variety.
Alas, her first day on set wasn't as carefree, with Clarke saying in an HBO video, "I fell off a f—king horse! This was my first job…this was the first thing I ever did and they stuck me on a horse! I just remember hanging on for dear life and I just remember, please stop filming!' And I just cried."
Like her character, Clarke quickly learned on-the-go, becoming the unofficial lead of the show and one of its biggest breakout stars, with Dany becoming so beloved that even Beyoncé once came up to her and said, "Oh, my goodness, it's so wonderful to meet you. I think you're brilliant."
For Clarke, she grew up with Dany, telling The New Yorker, "This was also my first job. Coming at such a character represented a kind of a growth. In so many of those early moments, you probably saw a lot of Emilia's pain rather than Daenerys's pain, because it's not comfortable, it's not easy."
And in an HBO featurette she said, "Dany is a tapestry of my entire adult life. This show has set me free…it's literally given me my freedom as human being and as an actor and as a woman."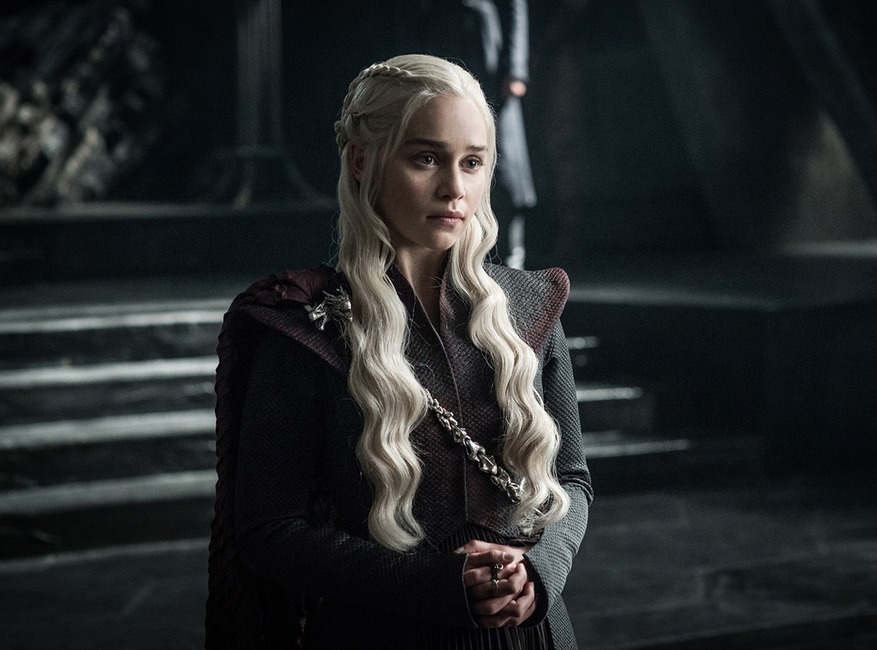 Ahead of the final season's premiere, Clarke penned an emotional essay for The New Yorker, titled "A Battle for My Life," in which she revealed she almost died after suffering two brain aneurysms after filming the first season.
"The diagnosis was quick and ominous: a subarachnoid hemorrhage (SAH), a life-threatening type of stroke, caused by bleeding into the space surrounding the brain. I'd had an aneurysm, an arterial rupture," Clarke writes. "As I later learned, about a third of SAH patients die immediately or soon thereafter. For the patients who do survive, urgent treatment is required to seal off the aneurysm, as there is a very high risk of a second, often fatal bleed. If I was to live and avoid terrible deficits, I would have to have urgent surgery. And, even then, there were no guarantees."
At just 24, she underwent brain surgery before eventually returning to work, with the public unaware of the health battle she was fighting.
"I told my bosses at Thrones about my condition, but I didn't want it to be a subject of public discussion and dissection. The show must go on!" Clarke wrote. "Even before we began filming Season 2, I was deeply unsure of myself. I was often so woozy, so weak, that I thought I was going to die…If I am truly being honest, every minute of every day I thought I was going to die."
Clarke is "now at a hundred per cent," and helped to develop the charity SameYou, which helps to provide treatment for people recovering from brain injuries and stroke.
And she recently told E! News that her Thrones family helped in her recovery, saying, "It saved my life, literally. The entire show, the family that is a part of this show, and the show itself, saved me, and Khaleesi, Mother of Dragons, saved my life for sure."
Since Game of Thrones' debut, Clarke has joined several other historic franchises, including Star Wars when she starred in 2018's Solo, and the 2015 Terminator reboot, Terminator: Genisys. In a recent THR roundtable, Clarke reflected on her decision to join major blockbusters (though she turned down Fifty Shades of Grey).
"In the beginning, when it was, 'Do you want to do this really big movie?' you'd be like, 'Yeah, of course I do. Are you kidding?' Then you do lots of them and suddenly you're like, 'I went to drama school, I care about art, I care about working with auteurs,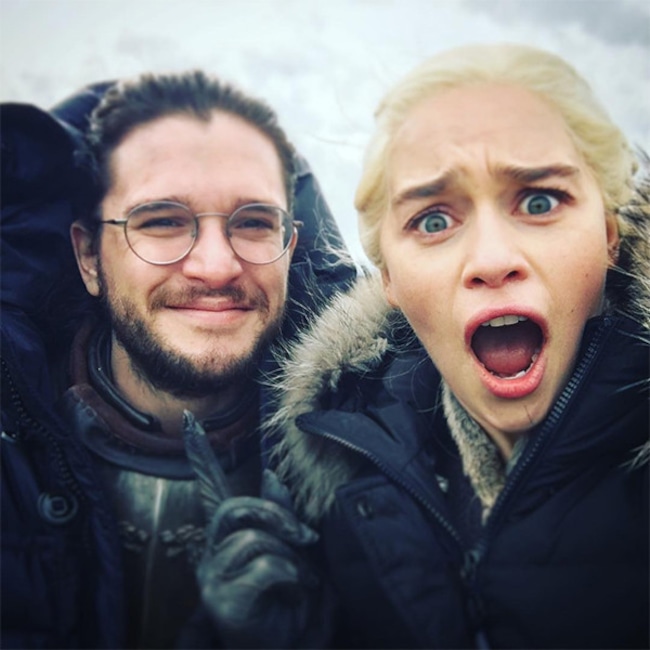 Instagram
A Song of Ice and Fire
Their beloved characters finally met for the first time in season seven, giving many hopeful fans the love story they'd been rooting for since the series began (you know, before it was revealed they were related). But Harington and Clarke had shared a special bond since the very beginning of the show, despite almost always filming on different continents.
"Kit and I are counterparts in terms of experience," Clarke explained to Variety. "We are pretty much the same age, and our characters have had parallel journeys, and we as actors have had parallel journeys. We've both done stupid action movies we regret and fabulous things we're proud of, and we've always come back to Thrones…and he's the person I'd ask, 'How are you handling this? Are you alright?' We were in sync, even if we were filming on opposite sides of the world."
In an interview with Esquire, Harington recalled the first time he met his future queen. "I remember the first time I ever saw her. She came into the Fitzwilliam bar," he said. "I had been talking to Rich Madden at the bar and he went, 'I've just met the new Daenerys. She's gorgeous.' And I was like, 'Really? I haven't met her yet.' And then she came in and I saw her and was like, 'Wow.' She takes your breath away when she walks into a room, Emilia."
He went on to talk about their unique bond, explaining, "I think we're good mates because we, maybe more than anyone else, know what the other one's going through a bit. I don't mean to sound like we're going through the worst thing in the world. But I think no one else other than Emilia will know exactly what being on Thrones is like, the way we're on Thrones."
Still, when it came time to actually film together, it was a little awkward, with Harington saying, "I remember our first scene together was bizarre. We kind of looked at each other and tried not to laugh." (And then there's the hilarious video of the duo gagging after one of their kissing scenes, though he did tell the Daily Mirror, "She's wonderful and I love Emilia and I've loved working with her. And it's not hard to kiss her, is it?")
And yes, he totally "cried" when he read the final script and learned that Jon would be the one to kill Dany.
Article continues below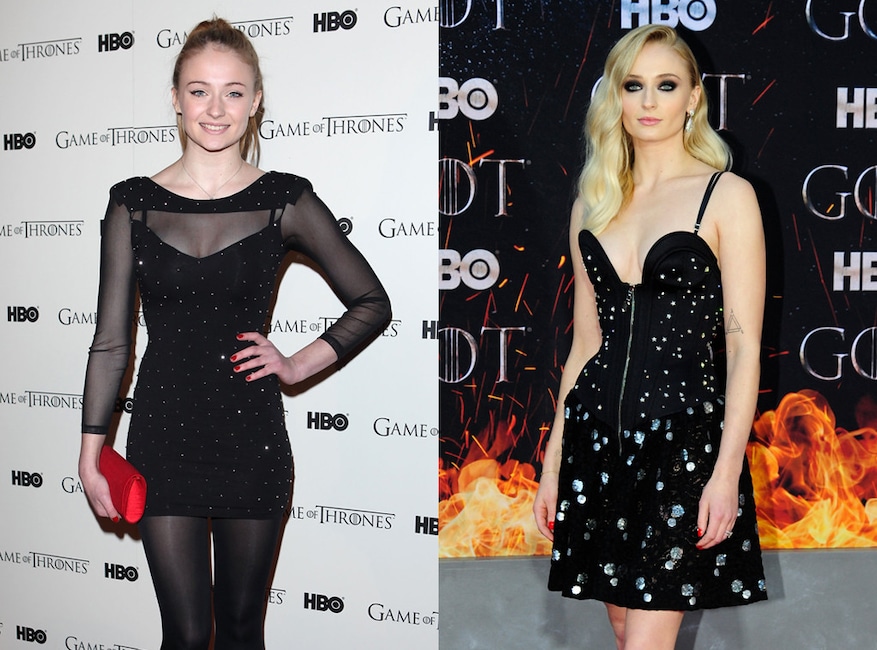 Tim Whitby/Paul Bruinooge/Patrick McMullan/Getty Images
Sophie Turner (Sansa Stark)
Casting the young Stark children was the hardest task for casting director Nina Gold, who told Vanity Fair it took "a long time" to find them and they looked "all over the place."
When filming began on Game of Thrones, Sophie was just a 14 year-old who had just landed her first ever onscreen role after auditioning for the part at her high school during her lunch break. To her surprise, she landed the role of the eldest Stark daughter (and eventual Queen in the North).
"My mom woke me up one morning and was like, 'Good morning, Sansa,'" she told The Hollywood Reporter. "I woke up and was like, 'No!!!' and just started crying. It was a really good day."
Surprisingly, her crush on Justin Bieber played a vital role in her early days as the character, when Sansa was infatuated with Joffrey (Jack Gleeson). "It's like any Justin Bieber fan—they don't realize Justin has his darkness about him," she told Rolling Stone. "[I was] a Belieber, with a whole wall in my bedroom dedicated to him. David and Dan always told me, 'Look at Joffrey as if he's Justin Bieber and imagine that life.'"
And how is this for adorable: Sophie convinced her parents to adopt Zunni, the dog that portrayed Sansa's direwolf Lady, saying, "Growing up I always wanted a dog, but my parents never wanted one. We kind of fell in love with my character's dire wolf, Lady, on set."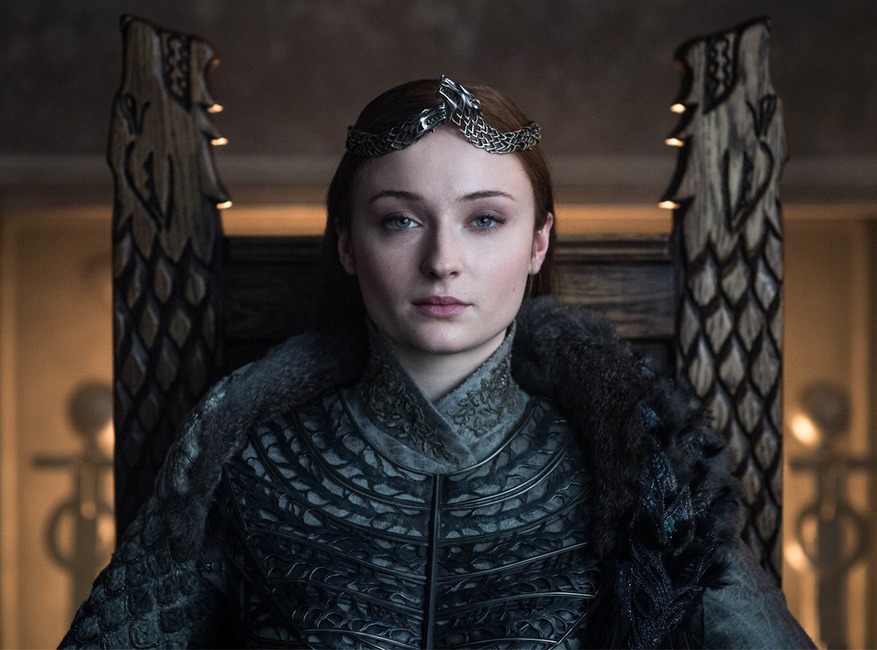 Helen Sloan/HBO
Like her character, Turner is far from the little bird she was when the series first began, recently revealing private struggles she endured during the show's run.
On Dr. Phil's podcast Phil in the Blanks, the 23-year-old opened up about her "five or six" year battle with depression. "The biggest challenge for me is getting out of bed and getting out of the house," she revealed. "I used to think about suicide a lot when I was younger."
Turner admitted to letting negative comments on social media get to her, explaining to Marie Claire UK, "I would just believe it. I would say, 'Yeah, I am spotty. I am fat. I am a bad actress.' I would just believe it. I would get [the costume department] to tighten my corset a lot. I just got very, very self-conscious." She's also revealed she was pressured to lose weight by studio executives and that she had a stalker in high school. "It was horrible," she told Rolling Stone.
Fortunately, Turner found solace in therapy, saying, "Everyone needs a therapist, especially when people are constantly telling you you're not good enough and you don't look good enough," the Brit said. "I think it's necessary to have someone to talk to and to help you through that."
She also credited Joe Jonas for helping her: "He was, like, 'I can't be with you until you love yourself, I can't see you love me more than you love yourself,'" Turner said. "That was something, him doing that. I think he kind of saved my life, in a way."
In May 2019, Jonas and Turner surprised everyone when they got married at a Las Vegas wedding chapel after attending the 2019 Billboard Music Awards, exchanging ring pops during their vows. (A source told E! News the newlyweds are set to have a second "real" wedding in France over the summer. As Turner would say on her Instagram Stories, "And that's the tea.")
Professionally, Turner is the star of her own X-Men movie, Dark Phoenix, reprising the role of young Jean Grey.
Tim Whitby/Taylor Hill/Getty Images
Maisie Williams (Arya Stark)
A girl had no experience, with Game of Thrones serving as a then 12 year-old aspiring dancer Williams' second-ever audition, with the HBO series' set quickly becoming her education into acting and herself.
"It's like school to me, it's really shaped me as a person," Williams said in an HBO featurette. "I'm so confident, I've got this confidence from the show and playing Arya." (Williams even learned how to use a sword with her left hand because Arya was left-handed in the books.)
Like Arya, Williams was independent from a young age, moving into her own apartment at just 16. In her Rolling Stone interview, she hinted at "hostility" in her family's past, explaining she channeled those experiences to play the revenge-seeking Arya. "People would always say when I was 12, 'How could you ever—what did you draw on?' They just don't know anything about my past," she said. "It's such a freeing thing being able to explore these emotions in a really safe environment. I think it was really helpful for me when I was 12, 13, to just, like, go crazy, and then you go home and you're like, 'Phew, what a good day.'"
But as Williams grew up, she became frustrated with Arya's costumes, which were intended to make her look like a young boy.
"I was becoming a woman and then having to wear this thing that's kind of like what the queen does—I think the queen has to have a bra that pushes her tits under her armpits," she told Rolling Stone. "And it got worse, 'cause it kept growing, and they put this little fat belly on me to make it even out. I was, like, 15: 'I just wanna be a girl and have a boyfriend!' That was when it sucked. The first time they gave me a bra in my trailer, I was like, 'Yes! I'm a woman!'"
Article continues below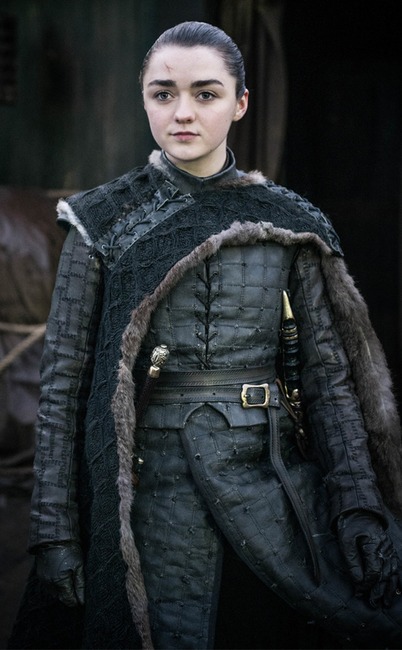 Helen Sloan/HBO
Given that she started the show at such a young age, viewers have watched Williams grow into a young woman in front of their eyes…which made some a little uncomfortable when she had her first sex scene in the final season. To that, Williams said on Twitter, "if u feel uncomfortable just know that my mother and my step dad and my 2 sisters and my 4 brothers have all probably watched this too ahahakillmeehehe."
And like any other young woman, she's been experimenting with her look (dying her hair pink and then blonde) now that she doesn't have to keep Arya's short brown hair, saying in an interview with ITV News Meridian, "For the first time since I signed the contract when I was 12, I'm out of a contract now. I don't have to do anything for anyone. I didn't realize how exciting that was going to be until I'm here now and so, I dyed my hair pink and I cut it and I did everything because I haven't been able to do any of these things."
But growing up in the public eye hasn't been easy for Williams, who opened up about her mental health journey on the Happy Place podcast with Fearne Cotton. The 22 year-old admitted she struggled with negative thoughts, explaining, "I think I just went through a lot of real revelations where I was like I'm not very happy doing this and pretending everything was fine."
While she still sometimes struggles, Williams said she now has more good days than bad. "I think there was a period of time where I was very sad and then I came out of that, and now it's just really terrifying that you're ever going to slip back into it. That's still something that I'm really working on because I think that's' really hard. It's really hard to feel sad and not feel completely defeated by it."
And Williams, who is dating Ollie Jackson, is excited to take on her post-GOT life on her own terms, explaining, "I think that's something I want to take with me for the future, try to do more things that I'm excited for rather than what people want me to." First up: a guest judge appearance on the UK version of RuPaul's Drag Race and the X-Men film, The New Mutants.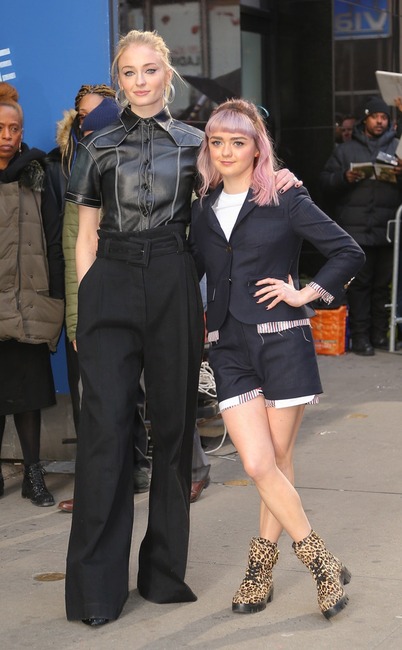 BACKGRID
Sisters For Life
Turner and Williams first met during a chemistry read, with the two becoming best friends immediately.
"I thought Sophie was the coolest thing I'd ever seen," Williams recalled in their joint Rolling Stone cover story. "I get why they do chemistry reads, because when it's right, it's so right. Like, we're best friends. And they could see that all those years ago, and it must have been real magic watching these two girls have the best time together."
Unfortunately for the BFFs, their characters were separated at the end of the first season and didn't reunite onscreen until season six, which may have been a blessing for the crew. "We're a nightmare to work with," Turner admitted. "If you're working with your best friend, you will never get any work done, ever. Anytime we tried to be serious about anything, it's just the hardest thing in the world. I think they really regretted putting us in scenes together. It was difficult."
When Turner weds Joe Jonas (for the second time) this summer, Williams will be serving as a bridesmaid, and the pair have matching tattoos.
The Stark sisters each got ink in 2016 that reads "07.08.09." August 7, 2009 marks the day they heard from Game of Thrones that they each got the part.
"The date was always really significant…and then with Thrones we were always planning from season one, like if we make it all the way through, hopefully we could all get a matching thing," Turner told E! News.
Tim Whitby/Taylor Hill/Getty Images
Isaac Hemsptead Wright (Bran Stark)
"I think I had done a commercial before and then Game of Thrones." Wright was cast as Bran Stark (aka the Three-Eyed Raven aka Bran the Broken, King of Westeros) when he was just 10 years old and found "soccer club too cold" while growing up in the English countryside. "So I thought what else could I do? Drama club," he told Jimmy Kimmel. (Little did he know he'd be pulled through a sled in Ireland for many years to come!)
In a guest column for The Hollywood Reporter, Wright opened up about the struggles of growing up on TV.
"Becoming a teenager on the show was strange. Your teenage years are difficult enough without the added complication of being on the world's biggest television show," he wrote. "The Game of Thrones community feels like a family, and so I found myself getting frustrated when I effectively watched my older siblings getting to go out and grow up while I was still being chaperoned by my mother."
It's also hard to go to college when you're on the biggest show in the world, admitting to Esquire U.K. that he struggled when he first arrived at college in 2017, with other students sending him thousands of e-mails.
"[The show] made it quite difficult to make friends," Wright, who had an interest in particle physics and classical piano, said. "I don't think I'll ever be able to have a normal university experience, which is kind of sad…I couldn't relax and go out and have a drink or get drunk or whatever, because if I did someone would be like: 'I saw Bran and he was all f–ked up.'"
He ultimately left school, partly because of his filming schedule for season eight, but really due to the reaction from his fellow students who were fans.
Still, after spending half of his life on the show, Wright wrote, "People adore the thing I have been a very small part of, and that is something very special indeed." Wright is set to star opposite Colin Farrell in the sci-fi film Voyagers.
Article continues below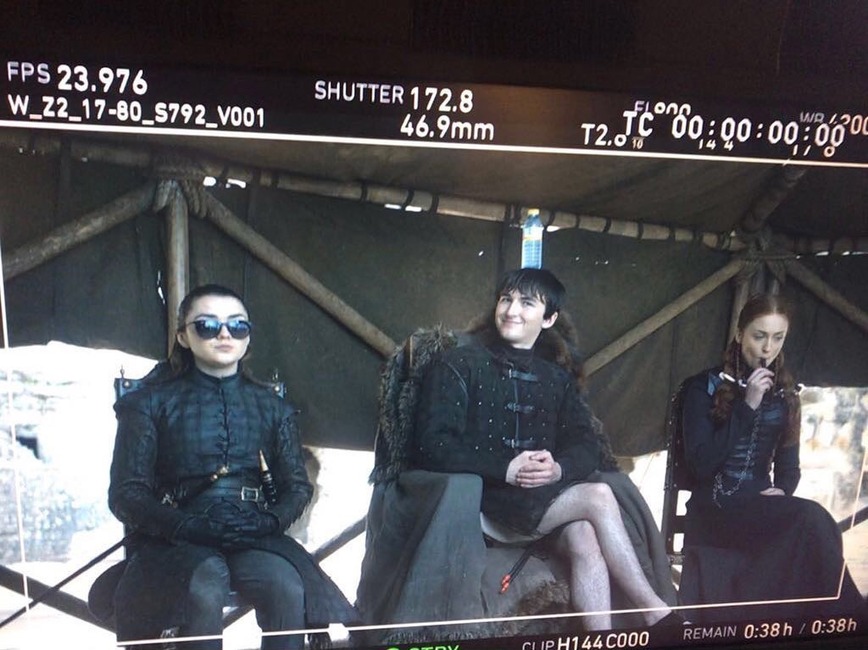 Instagram
Sibling Bond
From the very start of the series the Stark siblings had a close bond off-screen, with their parents often hanging out in Belfast, where they were all filming in season one.
After a long day of shooting the first thing that we would do is ring up the Williams and the Hempstead-Wrights to meet up at the hotel bar and the mums would all enjoy a Hendrix gin and tonic whilst Maisie, Isaac and myself would be playing card games," Sophie told Winter Is Coming. "They get on fantastically! Sorry there won't be Real Housewives of Westeros cat fights anytime soon!"
Williams and Turner became particularly close, despite their characters' onscreen iciness towards one another. "I would have to say that Maisie is definitely one of my best friends," Sophie said back in season one, "we spent SO much time on and off set that we couldn't help but be friends and when you are with someone more than you are with school friends then it's impossible not to get to know each other; Maisie is my other half."
And of her onscreen little brother, Turner gushed at the time, "Isaac is SO lovely…he is the most polite, grateful and kind boy that I have ever met. He is lovely and an absolutely brilliant actor, he is going to blow you away!!"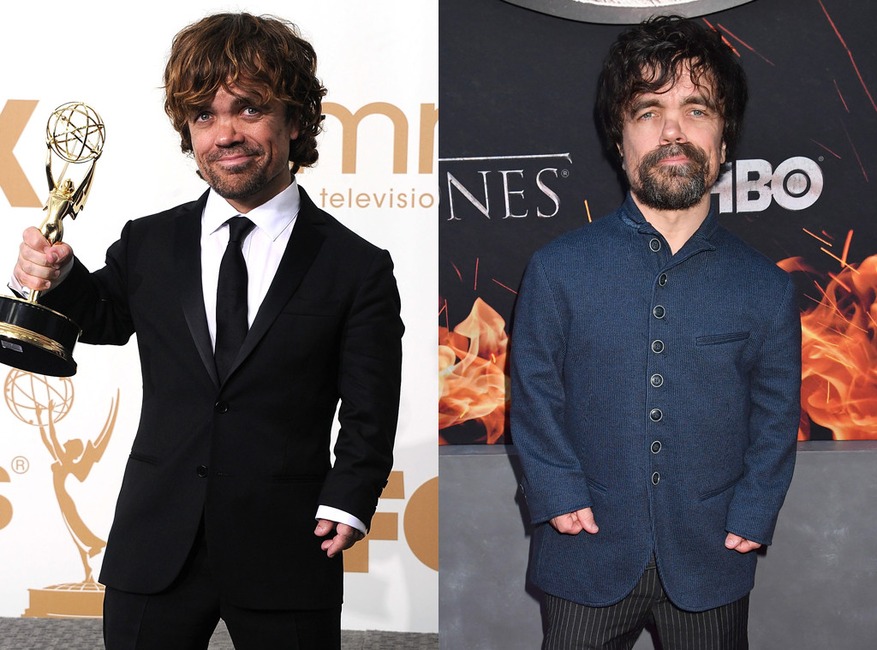 Frazer Harrison/Getty Images/Jeff Kravitz/FilmMagic for HBO
Peter Dinklage (Tyrion Lannister)
Along with Sean Bean, who played the noble Ned Stark (RIP!), Dinklage is the only other original cast member who did not have to audition; he was their Tyrion Lannister.
The problem? He wasn't all that into it, admitting in an HBO video, "When I first heard they were interested in me for a fantasy show, I went, 'Ugh, no!' Especially being my size, I'm not really interested in playing a fantasy of a person. I'm an actor, I like to portray real people, and sometimes in the world of fantasy that gets lost. This was the opposite."
Lannister's work as the show's wittiest character has earned him three Emmys and one Golden Globe, with Dinklage saying, "This damn show has made my life so great and ruined me in so many ways."
Despite Game of Thrones' grueling filming schedule over eight years, Dinklage, who has welcoming two children with wife Erica Schmidt since the show began, has managed to rack up some serious IMDB credits, including the X-Men franchise, The Avengers: Infinity War, Ice Age and Three Billboards Outside Ebbing Missouri.
Now that GOT has wrapped, Dinklage is as in demand as ever, next up for Dinklage is two voice-over roles in The Angry Birds Movie 2 and The Croods 2, and he's also set to appear on the big screen in Thicket and The Dwarf.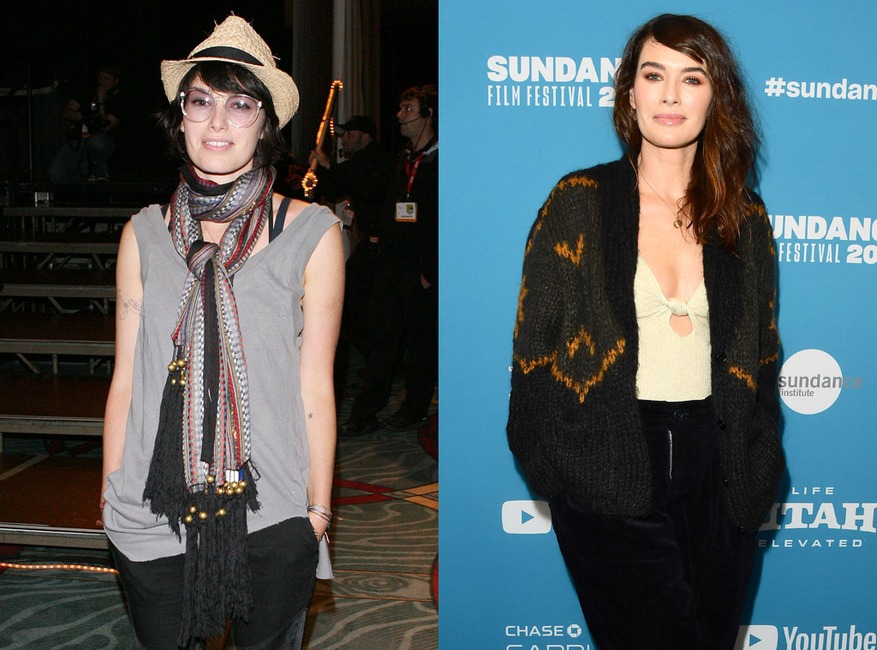 George Pimentel/Getty Images
Lena Headey (Cersei Lannister)
After Sean Bean, Headey was arguably the most well-known cast member when Game of Thrones began, thanks to her short-lived but cult-favorite TV series Terminator: The Sarah Connor Chronicles and role in 300. And it was her co-star and good friend Peter Dinklage who actually recommended Headey for the role of Cersei,
The first season of GOT was hard for Headey, who later revealed she was unknowingly suffering from postpartum depression after welcoming her first child, Wylie Loughran, in 2010.
"[Filming was] really horrendous… I was postnatally depressed but I didn't know it. I saw a doctor for the medical check, and I just burst into tears," she recalled to The Edit. 'She said I was postnatally depressed and I went, 'Am I? Why is that?'"
While she sorted it out, Headey said, "I did the first year [on] in that space, figuring out motherhood and going through a weird time personally. It was tricky."
During Game of Thrones' run, Headey went through a bitter divorce and custody battle after splitting from musician Peter Loughran in 2012, with her ex revealing her reported $1 million per episode salary when asking for spousal support.
In 2015, Headey welcomed her second child, a daughter named Teddy, with director and childhood friend Dan Cadan, whom she married in 2018.
While Thrones was filming, Headey also appeared in films such as The Purge, The Mortal Instruments, 300: Rise of an Empire and Fighting With My Family.
Calling her time on GOT "life-changing," Headey is ready for life after Westeros, telling The Daily Beast, "With Cersei, it's been eight years, so that character is big in people's minds, and now it's over. That tiny TV show. People sort of forget the work previous, which is a very different thing. It's part of the next life. I appreciate all that success, and if it brings with it the fact that people think that's it, I'm very happy to show them differently."
She will do just that in The Flood, her next project opposite Game of Thrones costar Iain Glen, as well as the films Gunpowder Milkshake and Crooks.
Article continues below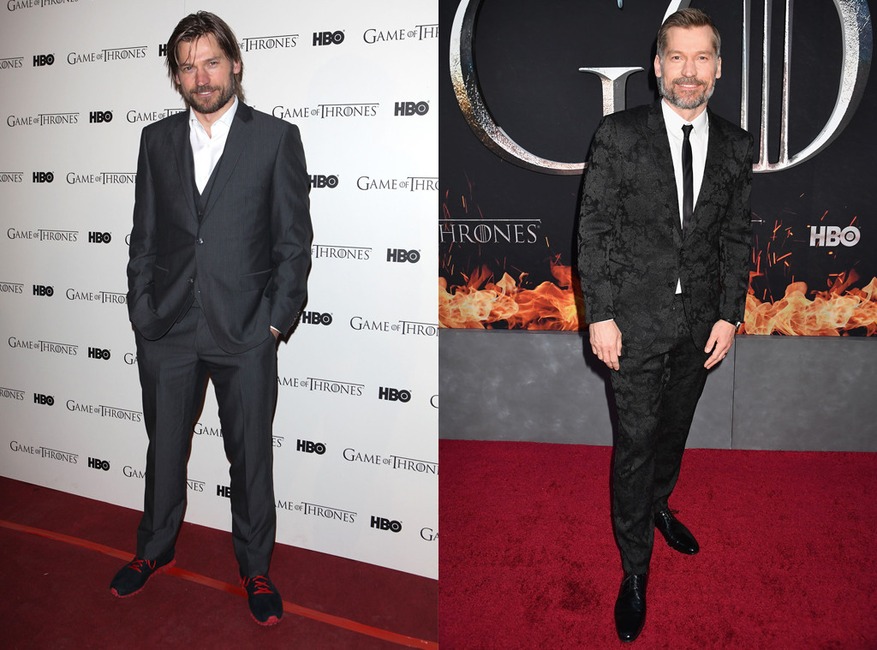 Tim Whitby/Getty Images/Jeff Kravitz/FilmMagic for HBO
Nikolaj Coster-Waldau (jaime Lannister)
After making his U.S. acting debut in Black Hawk Down in 2001, the Danish Coster-Waldau was the lead of NBC's shortlived New Amsterdam before landing the role of the handsome Kingslayer.
"I was like a little puppy when I arrived," Waldau said of joining the series, "and coming to Belfast, I just learned how to walk with pride and joy and I'm moving from this experience as a better person."
When it came time to say goodbye to Jaime Lannister and the world of Game of Thrones, the actor admitted he was surprised by how emotional he got. "I kept telling myself, listen, don't start getting all teary eyed. It's just a job, it's just a job, move on. And then they started talking and, I don't know," he told Esquire Singapore. "I think it's something… I got a bit of sand in my eye."
Since wrapping GOT, Coster-Waldau, 42, has filmed a documentary in Greenland, two movies in his home country and is set to film the thriller The Silencing.
Coster-Waldau chooses to live far from LA, residing north of Copenhagen with his wife of over 20 years Sascha Nukâka Motzfeldt, their two daughters and a couple of dogs. He explained the show hasn't changed his life all that much.
Besides paying off the mortgage on his house and helping family members out, he said, "It feels great, but it didn't change anything about how we ran our domestic life." In fact, he just bought his first new car since 2006.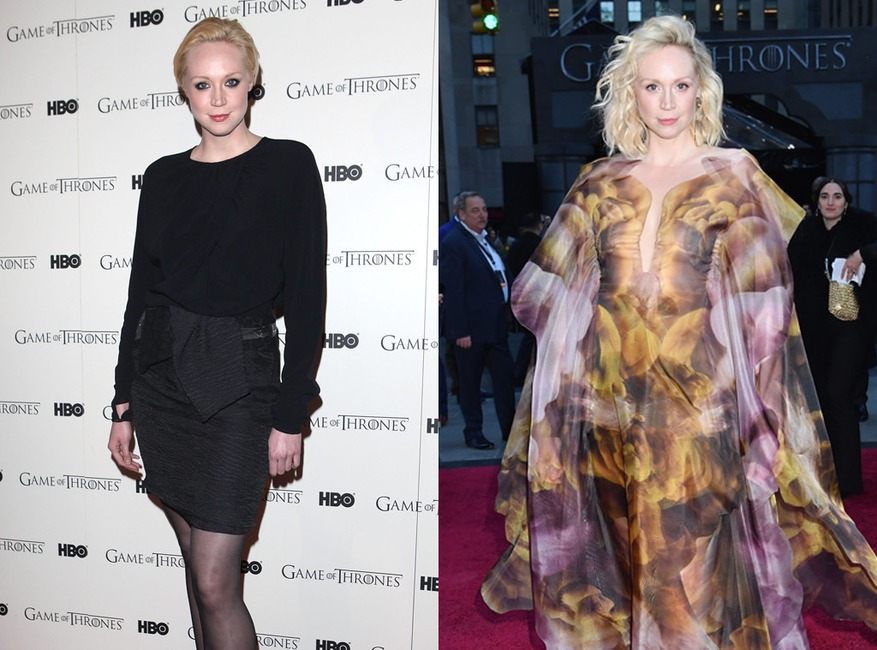 Tim Whitby/Getty Images/Jeff Kravitz/FilmMagic for HBO
Gwendoline Christie (Brienne of Tarth)
After being cast as one of the book's most beloved characters in the series' second season, Christie, who had previously appeared The Imaginarium of Doctor Parnassus, was surprised by the fan reaction: she was too pretty to play the knight.
"All my life, all I've ever wanted is for people to say— first of all —I'm pretty. But 'too pretty'? Is amazing," she told EW. "I also loved that they said, 'Who's this model?' I only ever wanted to be a model. This acting thing—three years of drama school — is an accident! I was like, 'Wow, they think I'm a model?' I didn't mind it at all. I knew all the things I wanted to do to become the part. I've always been able to look very different very easily."
For Martin and the showrunners, the 6'4″ actress was their only choice for Brienne, with the author writing on his blog, "This was another one of those cases where there was hardly any debate. The day the first batch of auditions went up for the role, we looked at a dozen actresses who were reading for Brienne and one actress who WAS Brienne. Gwendoline gave a great reading, and her look was just perfect."
Her time on Game of Thrones playing Brienne has played a crucial role in Christie's life, with the 40-year-old telling Variety, "Brienne really made me examine the parts of myself that I thought I needed to be concealed, that I felt society was telling me weren't good enough. I was embarrassed to confront my androgyny, or my strength, or my masculinity, and what I felt about female empowerment and gender politics and the inconsistencies in my body and face. I was forced to confront all of those things to get into the character and that has been a great gift."
Since becoming one of the series' breakout stars, Christie has gone on to join the Star Wars franchise, taking on the villainous role of Captain Phasma, and starred in the critically acclaimed Top of the Lake: China Girl. Next up for Christie are roles in The Friend and The Personal History of David Copperfield.
Christie has been in a relationship with British fashion designer Giles Deacon since 2013 and he's created some of the gowns for her biggest red carpet moments over the years. "It's a pleasure to work with your partner,' Deacon told The Telegraph. "She's a fantastic muse. She's a character herself, and her trail of various characters is brilliant – she's pretty transformative."<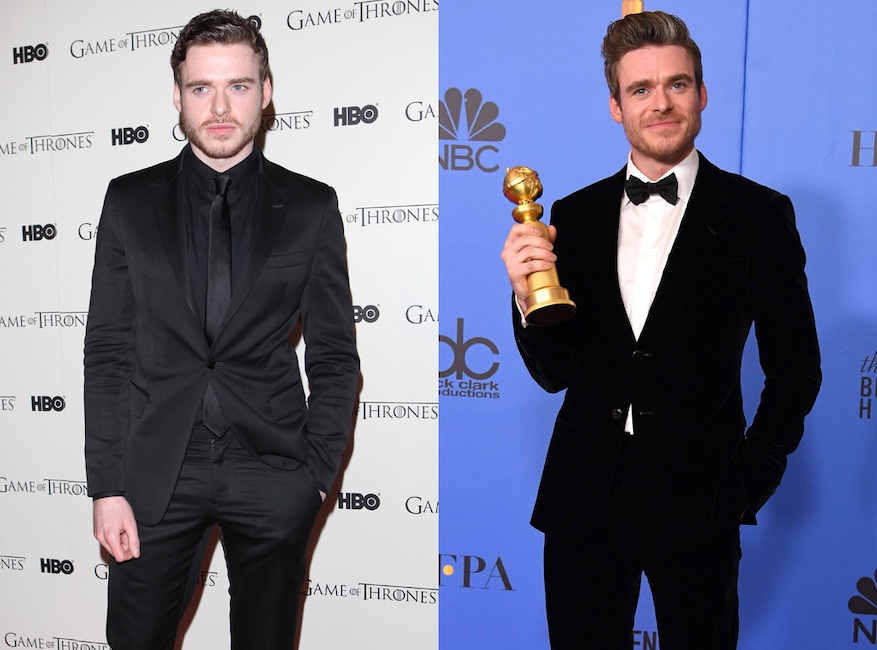 Tim Whitby/MARK RALSTON/AFP/Getty Images
Richard Madden (Robb Stark)
"The Lovely Richard."
That's what everyone called Madden on-set according to Sophie Turner because the then-21-year-old was "so lovely."
It turns out he was also so broke, recently revealing to Jimmy Fallon that he was living off just $5 a day before landing the role of Robb Stark, the future King in the North. "I had two options: I could either buy one meal, or a newspaper and a pint," he said. "It went the other way usually." Just before getting the call that would change his life, Madden said he was on his last month's rent; fortunately, winter came. (In a 2018 interview with The Times UK, he did admit, "People think I am [loaded] because of Game of Thrones, but you know, when I signed up for that I was 22, with f–k all on my CV, so I was paid f–k all.")
Robb's death on the show in season three remains one of TV's most shocking and upsetting moments (the Red Wedding has ruined all other TV weddings), with Madden admitting it was "a horrible day" on set, filled with a lot of tears.
While Madden followed up Thrones with major roles, like playing Prince Charming in Disney's live-action remake of Cinderella in 2015, he didn't really break out until 2018's Bodyguard, the BBC series which then became a Netflix sensation. Madden earned a Golden Globe (and James Bond buzz) for his work. And his career shows no signs of slowing down, starring in the Elton John biopic Rocketman and reportedly landing a lead role in Marvel's The Eternals. Justice for Robb Stark achieved!
Article continues below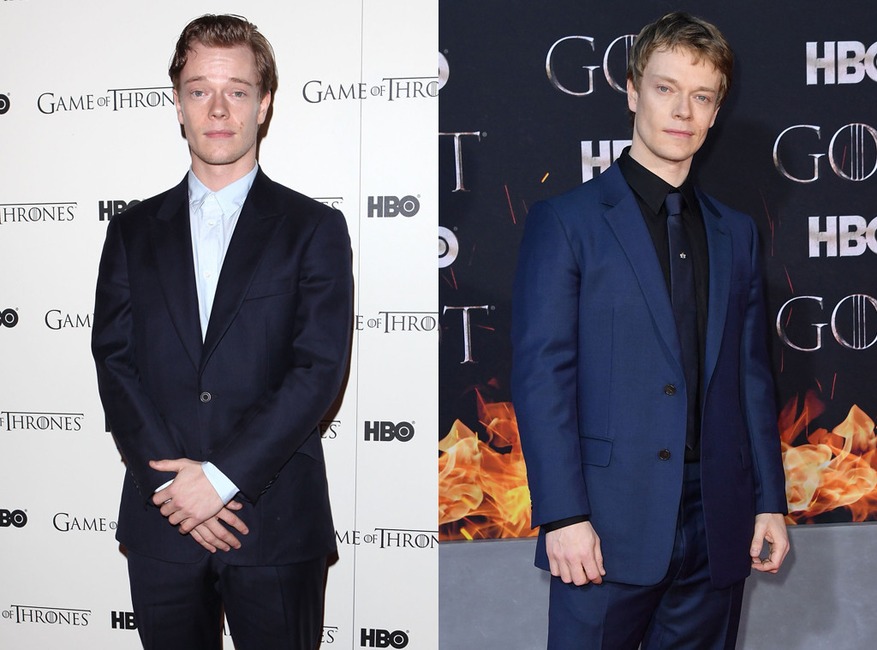 Tim Whitby/ANGELA WEISS/AFP/Getty Images
Alfie Allen (Theon Greyjoy)
Prior to GOT, Allen was in the shadow of his impressive family members: His mother is an award-winning producer, his father is an actor, and his sister is singer Lily Allen, with the song "Alfie" on her 2006 album inspired by him. In it, she griped about him always being "in his bedroom smoking weed" and wishing he would land a job. ("It has been the subject of many family arguments," she later admitted.)
But after landing the role of Theon Greyjoy when he was 22, he quickly became the most famous member of his creative family, eventually having to ban his older sister from talking about GOT in interviews after he shot down her claim that she turned down a cameo on the show.
"You know what, I am not going to talk about it," she said during a 2014 radio interview with Australia's Nova 969. "I am not even allowed to mention the letters of what the show starts with. Alfie put me under strict orders."
When he first auditioned for the series, Allen actually read for a different character: "The odd thing is, Alfie [Allen] originally came in to read for Jon Snow," co-creator David Benioff said in a season five featurette. "And we thought well he's great…he's not quite Jon Snow. And then we thought wait a second, Theon! And he read for Theon and he was just incredible."
Aside from playing one of the HBO hit's most polarizing characters, Allen also appeared in 2014's surprise hit action film John Wick and 2018's The Predator. Allen, who welcomed his first child with wife Allie Teilz in October 2018, will next be seen on Hulu's Harlots.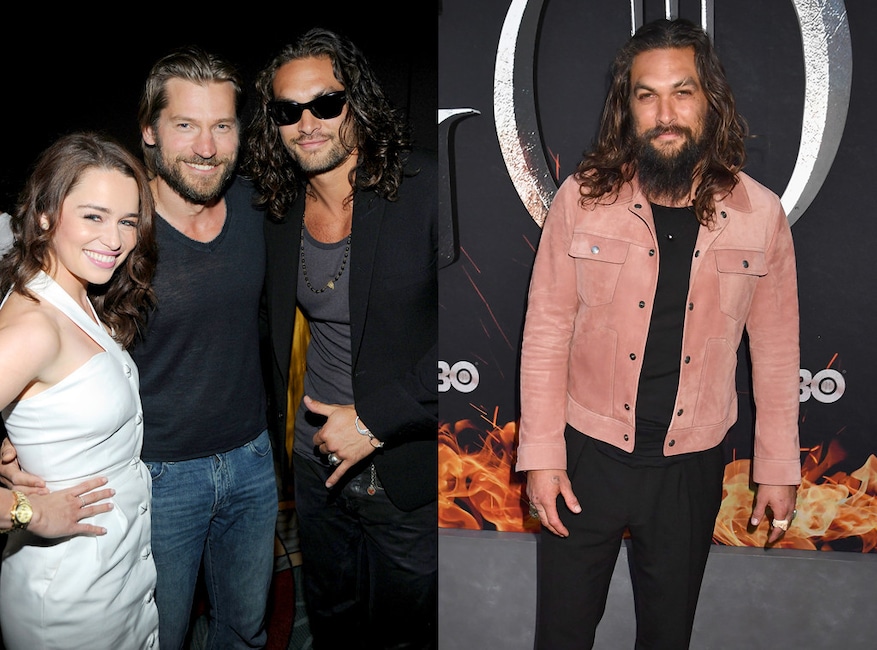 Frazer Harrison/Getty Images/Jeff Kravitz/FilmMagic for HBO
Jason Momoa (Khal Drogo)
Momoa didn't have a lot to work with when he auditioned or Khal Drogo, a man of very few words, so the Stargate Atlantis actor took an interesting approach to win the role.
"[Drogo] doesn't say much," he told The New York Times. "So how do you convey him? There's nothing in the script. So I said: 'I have this idea. Is it O.K. to do [a dance] before the audition?' And they were like, 'Oh, sure.' Then I did the Haka. It was challenging to do the audition afterward—I couldn't stop my heart from beating. The first time I did it, they were very scared. But then they wanted me to come back in so they could put it on tape."
Clearly it worked, with Drogo quickly becoming a fan favorite before his death at the end of season one. Since Game of Thrones, Momoa, who has been with Lisa Bonet since 2005, has become a household name, joining the DC Universe as Aquaman. His 2018 standalone movie has grossed over $1 billion worldwide, and Momoa would once again do the Haka at the Aquaman world premiere.
Despite his early exit from the fantasy series, Momoa has maintained close ties with the show (he's visited the set several times) and many of his former cast members, but especially Emilia Clarke, his Khaleesi. "I love you madly," he wrote to the moon of his life on Instagram after the finale.
Game of Thrones: The Last Watch airs Sunday, May 26 at 9 p.m. on HBO.
Don't miss E! News every weeknight at 7, only on E!
Source: Read Full Article