The magic of movies nowadays, especially those in the Marvel Cinematic Universe, is in the editing. Special effects can make anything happen on the big screen, including making it look like Elizabeth Olsen as the Scarlet Witch is fighting members of the Illuminati in Doctor Strange 2 without them being in the same room.
[Spoiler alert: This article contains spoilers from Doctor Strange in the Multiverse of Madness.]
The Scarlet Witch killed the Illuminati in 'Doctor Strange 2'
Early on in the Doctor Strange sequel, fans learn that the Scarlet Witch is the villain. Picking up from where WandaVision ended, the Darkhold fully infected Wanda's mind in the MCU movie. The dark book of spells fed upon her grief and anger, leading her to want to find her children in another universe. To do so, though, Wanda had to kill America Chavez and steal her power to travel throughout the multiverse.
However, Doctor Strange wasn't about to allow Wanda to kill a child, so the battle began. Stephen and America escaped to Earth-838, where the Illuminati captured and imprisoned them. They believed Stephen was the most dangerous being in the multiverse, but they severely underestimated the Scarlet Witch.
Wanda used the Darkhold and later Mount Wundagore to dream-walk on Earth-838. Once there, she tracked down Stephen and America, and a fight between her and the Illuminati ensued in Doctor Strange 2. With ease, Wanda killed Black Bolt, Reed Richards, Captain Carter, Professor X, and Captain Marvel. And that was the end of the Illuminati as we knew it.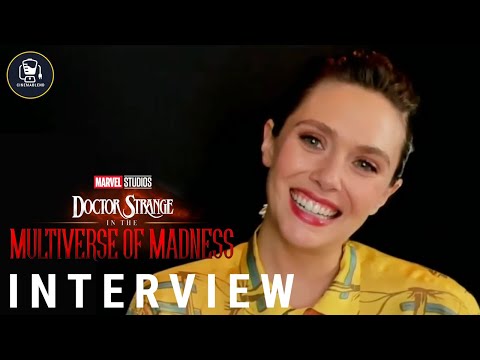 Elizabeth Olsen revealed that she didn't meet Patrick Stewart or John Krasinski while filming 'Doctor Strange 2'
During an interview with CinemaBlend, Elizabeth Olsen described what it was like shooting the fight scene with the Illuminati in Doctor Strange 2 and how easy it was for Wanda to kill them.
"We decided that the limitation is that she's not in her body. She is in a less oiled version of her body, so it's not capable of doing as much as our universe's Wanda could do," Olsen explained. "It's more about using the body like a bad car or something, a not-so-tuned-up car. I wanted it to be easier [for Wanda to kill the Illuminati]. It was amazing to get to have those moments."
The interviewer then asked Olsen what it was like to have Patrick Stewart, who played Professor X, and John Krasinski, who played Reed Richards, on the set. But the actor admitted that she was never on set at the same time as them.
"I've never met them," Olsen laughed. "Movie magic!"
What's next for Elizabeth Olsen in the MCU?
Although the Scarlet Witch seemingly died at the end of Doctor Strange 2, it's hard to believe that a mountain could kill the woman who singlehandedly destroyed the Illuminati. And according to Elizabeth Olsen, she has high hopes that Wanda will return in some capacity to the MCU.
"It's weird that I'm expecting to return, but no one's told me I'm doing anything," Olsen told Variety. "But in my mind, I'm just making the assumption that they'll have me again. I don't know to what capacity, but I hope I'm back. I hope there's also more fun to be had in something different. Where do we go? I feel like we've done so much with her. It's been really a wild couple years with her."
Doctor Strange in the Multiverse of Madness is now playing in theaters.
Source: Read Full Article