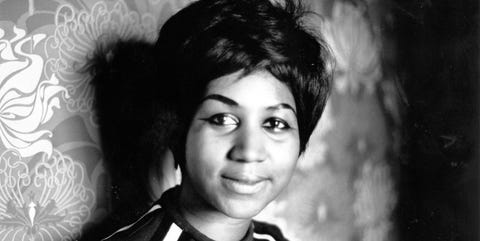 Aretha Franklin, the "Queen of Soul" has passed away at age 76 following a long battle with pancreatic cancer. Her family confirmed her passing in a statement this morning: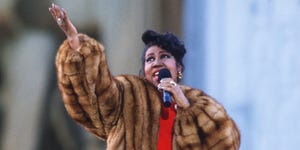 The music community has taken to social media to honor the late singer, tweeting messages of support and remembrance for Aretha.
I have loved Aretha Franklin's music my entire life, and her music has played in our audience for 15 years. My heart goes out to her family. #RESPECT #QueenofSoul
NEW: Barack and Michelle Obama on the passing of Aretha Franklin: "America has no royalty. But we do have a chance to earn something more enduring…Aretha may have passed on to a better place, but the gift of her music remains to inspire us all." https://t.co/H9zjSLjzUV pic.twitter.com/1Iy4CReDcJ
♡ ♡ ♡ ♡ ♡ ♡ ♡ ♡ ♡ ♡ ♡ ♡ ♡ ♡ ♡ ♡ ♡ ♡ ♡ ♡ ♡ ♡ ♡ ♡ ♡ ♡ ♡ ♡ ♡ ♡ ☁️ ♡ ♡ ♡ ♡ ♡ ♡ ♡ ♡ ♡ ♡ ♡ ♡ ♡ ♡ ♡ ♡ ♡ ♡ ♡ ♡ ♡ ♡ ♡ ♡ ♡ ♡ ♡ ♡ ♡ ♡ ♡ ♡ ♡ ♡ ♡ pic.twitter.com/J2Y1eEbSXo
Rest in peace Aretha. ❤ pic.twitter.com/QT7HeY5SIf
I'm sitting in prayer for the wonderful golden spirit Aretha Franklin.
The greatest voice in American popular music has been stilled. Our beloved #ArethaFranklin has gone. For me, she was a musical lighthouse, guiding and inspiring with every note. I loved her so and love her still. Goodbye, Queen of Soul.
Let's all take a moment to give thanks for the beautiful life of Aretha Franklin, the Queen of our souls, who inspired us all for many many years. She will be missed but the memory of her greatness as a musician and a fine human being will live with us forever. Love Paul pic.twitter.com/jW4Gpwfdts
Aretha Franklin was the only thing I wanted to listen to in the car growing up. I always asked my mom to put her on. Rest In Peace, Queen if soul. An irreplaceable legend!
An unbelievable woman and voice. It was an honor to meet and perform with the Queen of Soul. RIP Aretha Franklin ❤️?https://t.co/BQBtdPuoZO
Our love & prayers are with the family & loved ones of the beloved Queen of Soul. From Dr. King's funeral to President Obama's inauguration, @ArethaFranklin touched the soul of our nation, and the world. Her loss will be deeply felt by all. pic.twitter.com/1j5N2uk5Lr
Rest in peace on your throne Queen Aretha Franklin.
So sad. Aretha Franklin, the queen of soul has passed away. Our prayers and condolences to family, friends and fans.
God bless Aretha Franklin the queen of soul and peace and love to her family ?✌️????☮️
Goodbye, Mrs Franklin, goodbye queen of soul. May your transition into the next phase be peaceful. There was not , will not be another Aretha Franklin. What a real day of loss. Beyond legend. Beyond icon. What a sad day for the whole world . https://t.co/9sOO0z9oHq pic.twitter.com/7rEKChe8Rh
She made millions feel like natural women, and she earned our everlasting Respect with each performance. May Aretha Franklin's voice ring now throughout the heavens. She truly was the Queen of Soul. Rest In Peace, o great one.
RIP Aretha Franklin
What a life. What a legacy!
So much love, respect and gratitude.
R.I.P. @ArethaFranklin https://t.co/400K1U5IHI
RIP Aretha Franklin ?????
Hearing the news of her passing has left me in tears but I'm grateful to God that I got to share this smile with her. Thank you Aretha Franklin for leaving such an incredible legacy for generations among generations to stand on. May you Rest In Peace. ?? pic.twitter.com/S9c9po1z3j
Rest In Peace to one of the greats, Aretha Franklin. For all you've done, a grateful world thanks you.
Mourning the loss today of @ArethaFranklin who shared her spirit and talent with the world. She deserves not only our RESPECT but also our lasting gratitude for opening our eyes, ears and hearts. Rest in eternal peace, my friend.
There will never be another Queen of Soul. Aretha Franklin is the embodiment of a soul blessed with a special gift. Grateful we have decades of recordings that will live on. Long Live The Queen. #RIPAretha
RIP Aretha Franklin what a voice x
Salute to the Queen. The greatest vocalist I've ever known. ?????????? #Aretha
Deeply sad this morning. Aretha Franklin has left us and her blessed family. She Lifted up the best angels of our nature. May her legacy of truth, love, hope, and joy live on in all of us.
#ArethaFranklin ? THE voice of generations. RIP.
Queen… My Queen. pic.twitter.com/6olvvLPISd
Aretha had reportedly suffered from bad health for years, and she had been placed in Hospice care the week before her death in her hometown of Detroit, Michigan.
She was a legend in the music industry, having released 51 albums(!), the most recent of which came out just last year. She performed at the presidential inaugurations for Jimmy Carter, Bill Clinton, and at Barack Obama. She won 18 Grammy Awards during her career and also made a name for herself as the head diva in charge when she sent A FAX to the Associated Press to let everyone know that she is not Whitney Houston's godmother despite what singer Dionne Warwick said.
Franklin is survived by her sons Clarence A. Franklin, Edward Franklin, Ted White Jr., and Kecalf Cunningham, her sister Carl Ellan Kelley, and her brother Vaughn Franklin.
Source: Read Full Article