Wedding dress shopping is not always glamorous—and without proper guidance, brides tend to make common mistakes that stand in the way of them and the dress they've been searching for. While some mistakes are minor (expert tip: leave your black lace underwear at home and opt for a seamless nude pair), others can be detrimental, and lead to buyer's remorse. Here, when to shop, how to get started, and all the common mistakes brides make when shopping for their wedding gown—as well as the ways to avoid them.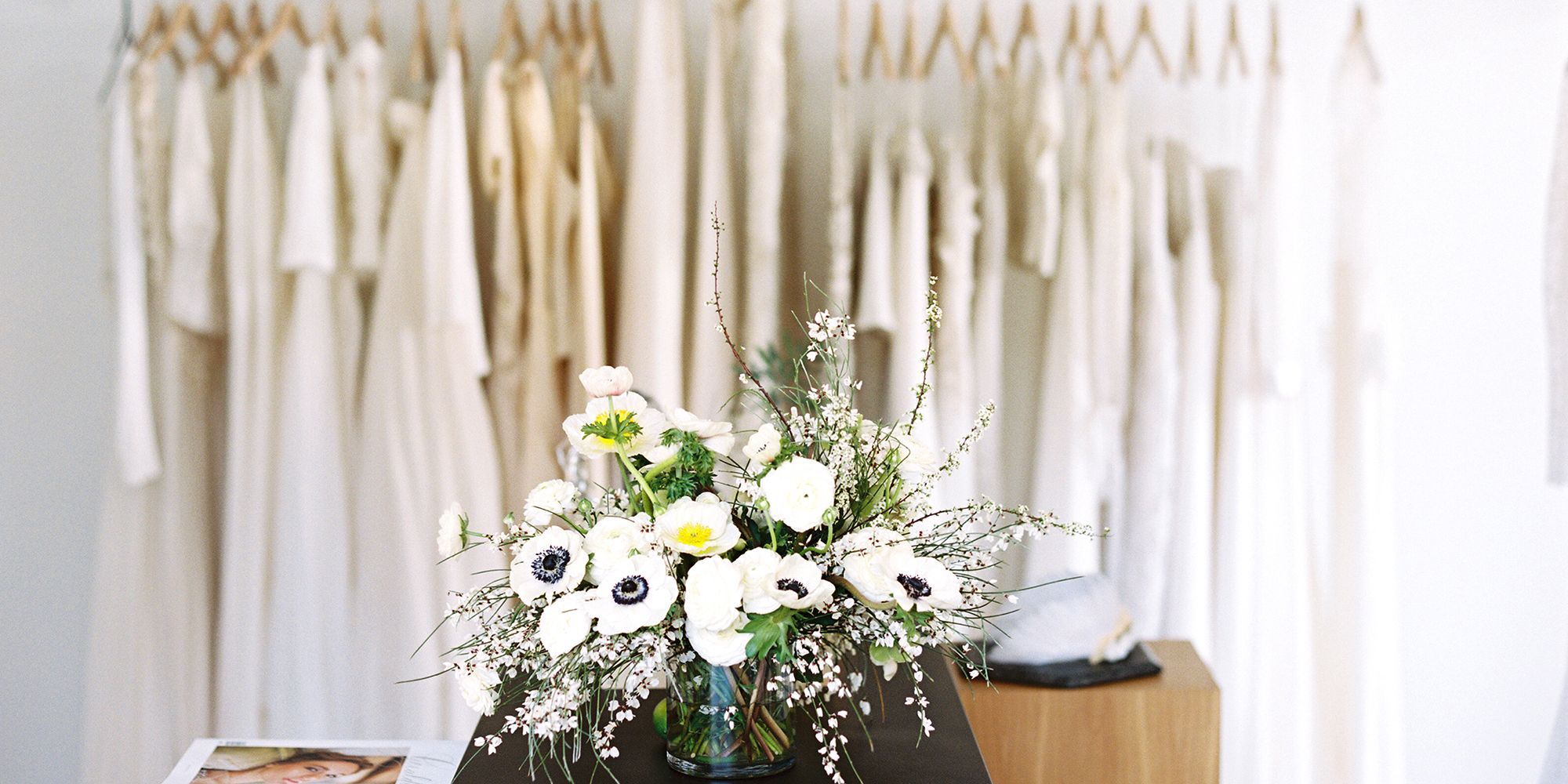 1. Shopping too late–or too early.
You may be excited about your engagement, but avoid shopping too soon. Seeing too many gowns too far in advance will cloud your judgement as newer gowns are released in the months leading up to your wedding. Bridal gowns are released seasonally, in October and in April, and are shown to buyers a year before they are available in-stores for brides to shop. While it's always easy to dip into past seasons when shopping for wedding gowns, it's also key to be patient when you are planning on a long engagement to avoid indecision.
While a year in advance is too early, starting to shop 10 months prior to your wedding date, with the goal of deciding on your gown 8 months in advance, is the shopping sweet spot. Aim to order your gown no later than 6-7 months prior to your wedding date, in order to avoid rush fees and leave adequate time for production and fittings.
It's important to remember: Most bridal gowns are made-to-order. If you're ordering a gown in a bridal salon or a designer's flagship store, the process of making your wedding gown does not begin until your measurements are taken, fabric is ordered, and your deposit is paid. Lead times shorter than 5-6 months are typically considered rush orders, and you may incur extra fees to receive your gown in time.
Once you select your wedding gown, stop looking at wedding gowns unless you're shopping for a second look. Wedding planning is all about decisions, and second-guessing a well-considered one will only be a setback in your process.
2. Bringing a large entourage.
Keep your crew small and intimate when wedding dress shopping. More people means more opinions, and a large group will likely leave you feeling like there are too many cooks in the kitchen. It only takes one negative voice or a small spat to destroy the positive tone of a bridal appointment—don't let either happen to you.
Be honest with yourself about the people in your life; who builds you up and who makes you feel insecure? Invite those who love you enough to tell you the truth without being hurtful, and bring along anyone you think understands your personal style, has great taste, and can be a real asset in the process—even if that person is not your best friend or a family member.
3. Consider a bridal stylist.
Yes, there is such a thing as a bridal stylist. Choose one wisely, as he or she will serve as your right hand in the dress shopping process, as well as in alterations, accessory coordination, and hopefully, on the day-of your wedding. A bridal stylist is far more than a shopping consultant, a seamstress, a steamer, or a dresser. Consider them the artistic director of your wedding fashion, curating each of your looks and helping to translate them seamlessly into your portraits.
Tap one if you feel particularly lost in the sea of options out there, if you find yourself too busy to manage the logistics and decision making of shopping for all your wedding looks, and if you are looking for someone to help you tell a story through your wedding fashion in a way you likely won't achieve on your own.
4. Giving your favorite people too much power.
At the end of the day, this is your wedding gown; you should have the final say on its look, feel, and style. In dress shopping appointments, remember that the people you chose to bring along are there to support your decision and help—not hinder—you in the process. Look in the mirror and have a gut check; acknowledge how you feel about each dress before turning to your support system for their thoughts. When an opinion contrasts with yours, ask yourself which you trust more. Be wary of those who offer their opinion too quickly; how you feel should come first, and those strong voices can cloud your judgement.
5. Being unrealistic about your budget.
Go into dress shopping appointments with a game plan: stay in budget. That doesn't mean you aren't able to be flexible about how much you are willing to spend, but having a top line number in mind will keep your overall wedding budget in check. Still unsure about where to cap your spending? Ask yourself what price tag would turn your "dream dress" into a gown that's not for you.
Remember that the price tag on your gown doesn't include alteration fees, accessories, second (and third) looks, your veil, or any post-wedding dry cleaning and preservation. Keep all of those other expenses in mind when deciding what you are comfortable spending on a wedding dress.
6. Incentive Shopping.
Buying a dress based on how you think your body will look post any bridal beauty or fitness prep is a mistake. No consultant should order you a size down based on your promise to lose weight, and you should not request that she consider it. While your alterations may end up being more intensive should you lose weight in the lead up to your wedding, purchasing dresses that don't fit you now in hopes that they may down the road is a dangerous fashion game plan.
7. Going in too open or closed minded.
If you love fashion and have been doing your research (ideally via BAZAAR Bride), you very well may know what you want—but your chosen silhouette may not do your body justice. You might have a mental picture of your dream wedding dress, but that imaginary style may not exist in retail exactly as it does in your mind. It's just as frustrating for those who go in not knowing what they want at all, since all the options can be overwhelming.
Try to enter into the dress shopping process with an open mind, but not too open. Have answers to the basic questions you'll most likely be asked: do you like a full skirt? How do you feel about lace? How do you feel about strapless styles? Or sleeves? Basic silhouette descriptors, the time of year, and the look and feel of your wedding will help your stylist or consultant hone in on the best styles to show you.
8. If you can't handle going custom—don't.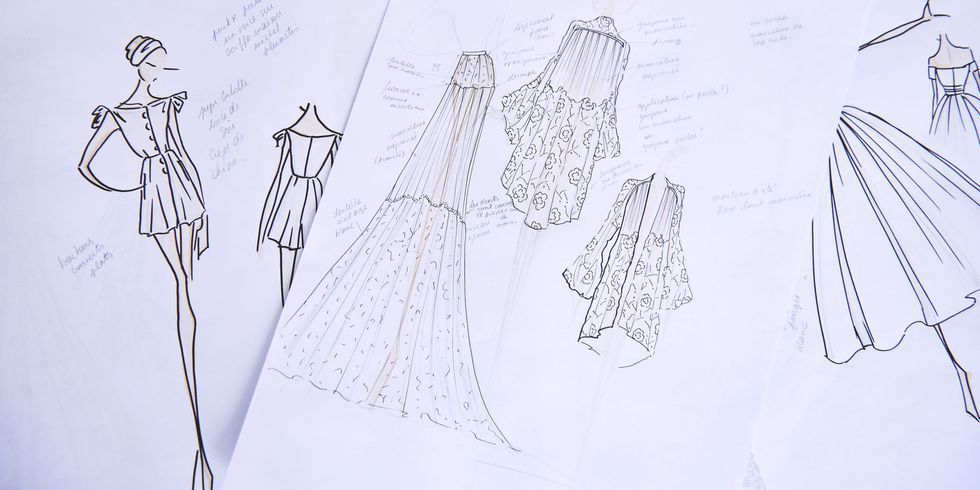 The process of designing a custom wedding gown is long, and requires vision, patience, and a true understanding of what you want—along with ample imagination. You likely will not see your completed wedding gown until very close to your wedding date, and trust in your chosen designer is key. As a result, brides who tend to be indecisive or are not right for the custom design process.
9. Trying on too many gowns.
Take it from BAZAAR.com's Olivia Fleming, who tried on 80+ gowns before she found the one. At a certain point, one goes ivory blind and the attention afforded to you in a bridal consultation becomes addictive. Brides who have tried on too many gowns tend to forget the things they really loved about the style that should have been (and will eventually become) their wedding gown, and the alteration process becomes tricky as a result.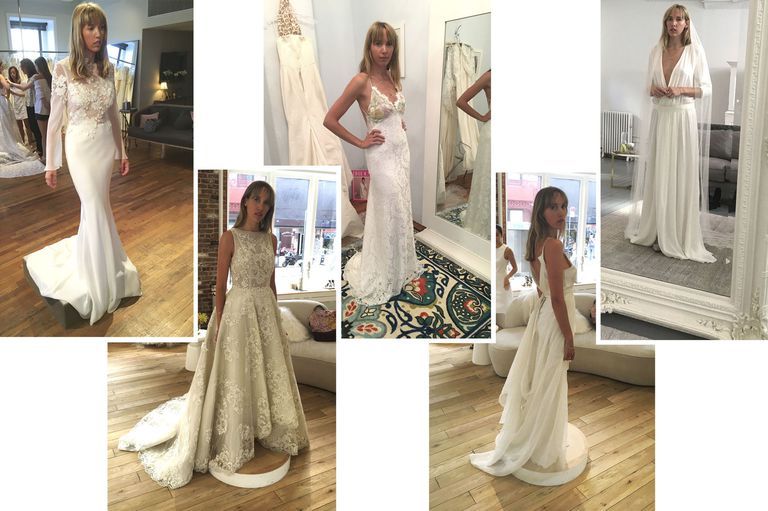 Brides who have seen too much can also lose out on the wow factor of finding the one; it can feel anti-climactic when you finally do make a decision. After placing an order for your dress, months go by before alterations. Keep in mind that a clear memory of your gown is key for your first fitting running smoothly; if you've tried on too many dresses, odds are you won't have a clear vision of what you loved and ordered, which can make the experience both confusing and complicated.
10. Don't choose accessories too quickly, or independently from the gown.
When you're shopping for your wedding dress, your consultant might pair the look with a veil to give you a sense of how it could be styled for the aisle—but don't make too many decisions too quickly. Choose your accessories thoughtfully. After ordering your gown, make a secondary veil selection appointment. There, you'll be able to try on the sample of the gown you ordered once more, and focus strictly on your veil choice.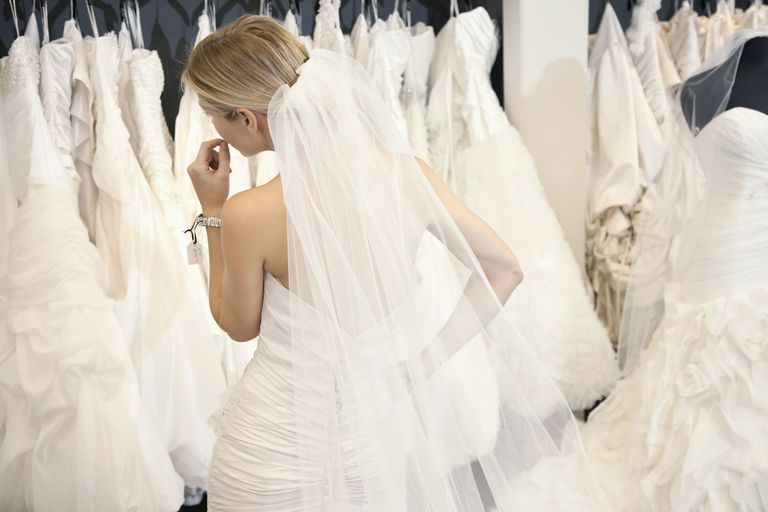 While most require that you bring your shoes to your first fitting, we recommend using your first fitting to decide on your shoes. Buy (returnable) options and bring them to that first round of alterations, and choose what shoe you most prefer while standing in the dress. Use the second fitting for any final touches, like jewelry or an evening clutch.
Source: Read Full Article