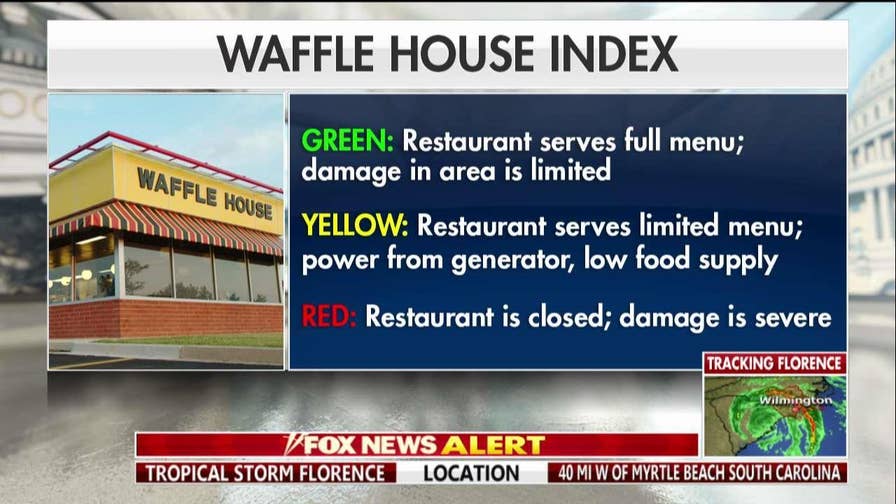 Waffle House Insider
Not even Hurricane Florence can force Waffle House to close.
The popular Georgia-based diner chain, renowned for its 24-hour service 365 days a year, fights to stay open against all odds, including natural disasters like Hurricane Florence, which struck the Carolinas late last week.
In order to aid in relief efforts and continue serving hot meals to those affected, CEO Walt Ehmer along with a team of Waffle House employees from around the country headed to Wilmington, N.C. The southern port city is currently an island, completely cut off by road access due to flooding from the hurricane.
Ehmer picked up a team at the airport Monday as part of the company's emergency response team. He said about 150 employees in total have been brought in, as extra hands were needed partly because some local workers had to evacuate.
People have praised Ehmer on social media for his hands-on efforts.
The Waffle House has an emergency routine that's so well-regarded that the Federal Emergency Management Agency (FEMA) unofficially uses the restaurants' status as an indicator for the severity of a natural disaster.
After several Waffle House locations closed or were serving only a limited menu in 2004 when Hurricane Charley hit Florida, FEMA officials noted the severity of the storm damage based on the fact that the chain never closes.
When a storm strikes, local officials will put out a call to the nearest Waffle House and find out what's on the menu.
The "Waffle House Index" has three, color-coded levels: green means the restaurant is open and serving a full menu; yellow indicates the menu has been scaled back and there may be water but no power; and red indicates the restaurant is completely shut down — and the area is likely in need of serious assistance.
The Associated Press and Fox News' Michelle Gant and Garrett Tenney contributed to this report.
Source: Read Full Article