Well, squad, we've oohed and aahed over a lot of babies in 2019 here in SheKnows Parenting. (Don't even try to deny it, we heard you from here.) It was quite an impressive baby lineup this year: Jessica Simpson's Birdie Mae, Carrie Underwood's Jacob, Mario Lopez's Santino, Shay Mitchell's Atlas, Blake Lively and Ryan Reynolds' third wee one, Keira Knightley's Delilah, and Bode Miller's identical twin boys (delivered by Bode and his mother when the midwife didn't arrive in time), among numerous others.
So which babies came out on top in terms of Google searches? Well, the list sure surprised us — and gave us a good LOL. Check out the top 10 Googled babies in 2019. Don't shoot the messenger. We're as confused as you are.
10. Hoda Kotb baby. Okay, we get the draw: Baby Hope Catherine is a late-in-life happy adoption story, coming on the heels of big sister Haley Joy. Plus there's Kotb's recent engagement to Joel Schiffman. Fairytales do come true — what Scrooge doesn't love that?
9. Amy Schumer baby. Little Gene Attell got a lot of press this year, thanks to his mom's hilarious pre- and post-partum social media posts. Also, there was that conspiracy theory that "Gene Attell" was a play on the word "genital" (yeah, we know, we know, the planet deserves to be hit by an asteroid, like, yesterday, agreed) and that his real name is still concealed. But we think sometimes a Gene is just a Gene, and this Amy is just a mega popular mama. Get over it, conspiracy theorists with gutter-rat brains.
8. Shawn Johnson baby. The Olympic gymnast had been through a crushing miscarriage, and many fans were following her pregnancy journey with bated breath. Fortunately she and her husband welcomed daughter Drew Hazel in October 2019. Gold medal story all the way.
7. Andy Cohen baby. Baby Benjamin Cohen is living the high life as People's "Cutest Baby Alive", so it makes sense that people are kinda jelly and checking in to see his escapades in the Hamptons and NYC, chillaxing with his dad's famous friends. Surrogacy is also a hot topic, and since Ben came into Cohen's life that way, it's no wonder he's No. 7 on the Babies Googled list.
6. Trey Songz baby. Ooh, this story comes with high tea and crumpets, y'all. Get ready to sip: Songz revealed rather suddenly this year that he had become a father to a baby boy, Noah — but he's been famously tight-lipped about the identity of Noah's mom. While rumors continue to swirl about mama, there's still no official confirmation.
5. Cardi B baby. Baby Kulture gets checked in on frequently, probably because a) she's so cute she makes cotton candy look like a vegetable b) a significant amount of the population is worried about her diaper changes due to her mom's notoriously long fingernails. Also: Her wardrobe rivals that of any Kardashian or Knowles-Carter baby's. Watch out, Chicago: Kulture's on the cover of January 2020 Vogue with her mom. That's some serious clout.
4. Kim Kardashian Kanye West baby. Speaking of the Kardashians, no list would be complete with them. It's no wonder they popped up here — after all, their surrogate has been hard at work churning out Kim-Kanye miniatures, the latest being Psalm, of course. Will there be more? Kim says no; Kanye says yes, as many as three more. We shall see. Expect to see them on the Most Googled Baby List of 2020 too.
3. Royal baby. America don't give a smidge which royal baby. We'll take the 4-1-1 on any damn royal baby, thanks very much. Kate and Will's, Meghan and Harry's, those Swedes', sure, bring 'em all on, put tiny tiaras on them, give them twelve middle names, and let's call it a day.
2. Baby Shark. Here's where things get interesting: Turns out America prefers royal babies to its own boring pleb infants, and even more intriguingly, America prefers non-human babies to actual infants. You heard it here, folks. Soaring to No. 2 in Baby Searches on Google we have…DOO DOO DOO DOO DOO DOO DOO…Baaaaaa-beeeee SHARK! Sorry, Blake Lively and Ryan Reynolds. You thought you were building suspense by withholding the name of your precious third child? Nope, you just drove America deeper into the flippers and gaping maw of Baby Shark.
1.  Baby Yoda. Well, here we have it, folks, our No. 1 search phrase for babies on Google in 2019. He's inspired countless memes and will no doubt also inspire a fork-ton of plastic toys that will haunt landfills forever: It's Baby Yoda from Disney+'s super popular The Mandalorian. He's a 50-year-old baby, which is nothing all that novel, as many of us are married to those. But his ears are a whole lot cuter, and he wears a cowl neck better than Anna Wintour, which is really saying something.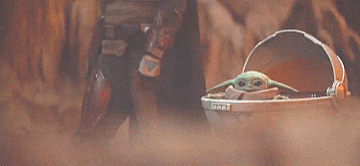 Source: Read Full Article