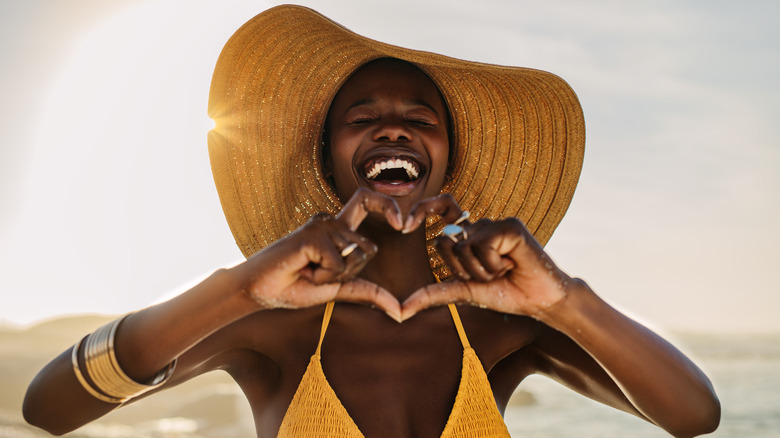 All prices are current as of time of publication. If you click a link and buy a product from a merchant, we may be paid an affiliate commission.
We all know that protecting yourself from the sun requires more than just a layer of sunscreen. So why not add to that protection with a fashion statement? A sun hat is the perfect opportunity to flaunt your style and prevent your skin from turning cherry red in the process. However, picking a hat that will meet your needs requires a bit of digging. With the vast number of products available nowadays, finding one that works for you and your activities can feel overwhelming.
A hat is your first line of defense from the sun, so certain features are an absolute must, including durability, high-SPF material, comfort, and functionality. With this in mind, we've made it our goal to offer you the best suggestions depending on the activities you plan to do. Whether you need to find a hat for a fancy derby or a day-long trek through the mountains, we're full to the brim with sun hat recommendations.
Best sun hat for lounging at the beach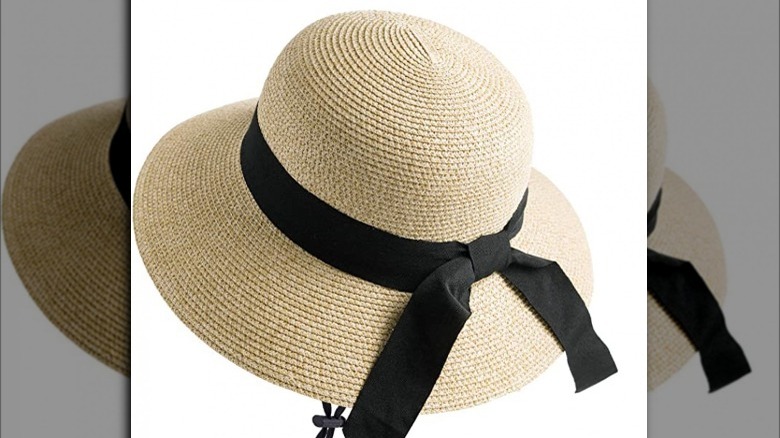 For the classic, easy-breezy beach look, your best bet is the Furtalk straw hat. This elegantly designed hat comes with a classic black ribbon for the band and an adjustable velcro loop, which is seamlessly hidden beneath the interior sweatband. It also has a removable chin strap to prevent the hat from flying off on those windy beaches. Plus, it can be folded or rolled for easy storage, and reviewers report no creases in the hat when they unrolled it. If you like the style but aren't quite fond of the traditional, straw color, Furtalk also offers light beige, dark beige, khaki, mixed khaki, and lotus pink.
Purchase the Furtalk Women's Beach Sun Straw Hat on Amazon for $19.99.
Best sun hat for a glamorous look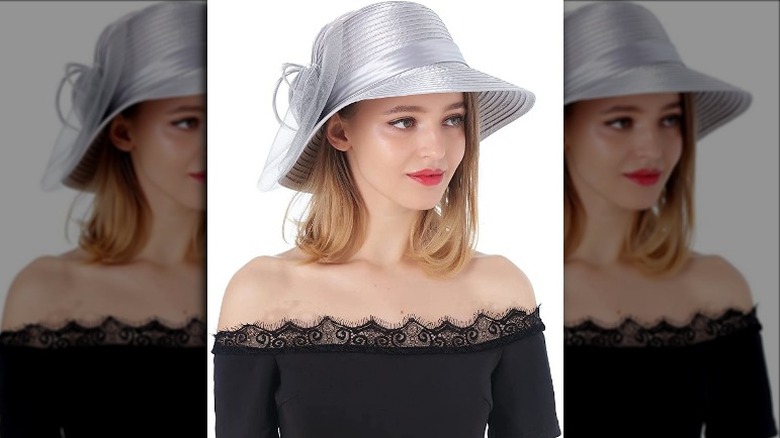 Trying to look the part at an outdoor cocktail party, or a summer wedding? The Dantiya floral ribbon dress hat will have you covered. It features a twin floral piece decoration, complete with feathers and a wide, semi-transparent bow. The brim is four inches wide, allowing for complete coverage while maintaining a classic feel. And since it comes in 16 different colors, you won't have a problem matching it to your favorite dress. While it is "one size fits all," the hat does come with an adjustable drawstring loop on the interior.
Purchase the Dantiya Floral Ribbon Dress Sun Hat on Amazon for $19.99.
Best sun hats for long hair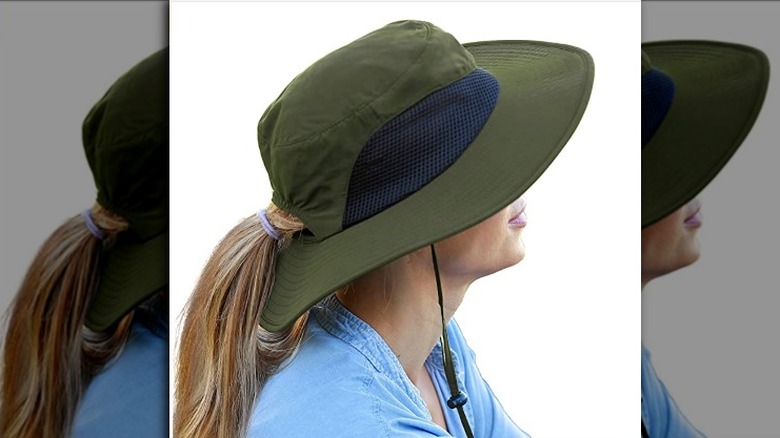 If you have a lot of hair, finding the perfect sun hat can be a challenge. A typical hat allows you to wear your hair just one of three ways: In a low bun, a low ponytail, or down. Fortunately, Muryobao and Solaris both sell sun hats with ponytail holes. Simply slip your ponytail or bun through the open loop, and your hair will be out of the way for all of your outdoor adventures.
As an added benefit, the Muryobao hat is foldable and made with a breathable mesh interior, so you don't have to worry about it trapping in heat. It also comes with a stretchy, adjustable chin strap and side snaps, so you can wear it in a cowboy style if you prefer. The Solaris hat offers a more classic, simplified design with a sweat absorbent belt, mesh vents, and a slightly lower opening for those who enjoy wearing a low ponytail.
Purchase the Sun Shade Ponytail Sun Hat sold by Muryobao on Amazon for $13.99.
Purchase the Solaris Wide Brim Safari Cap on Amazon for $13.99.
Best sun hat for travel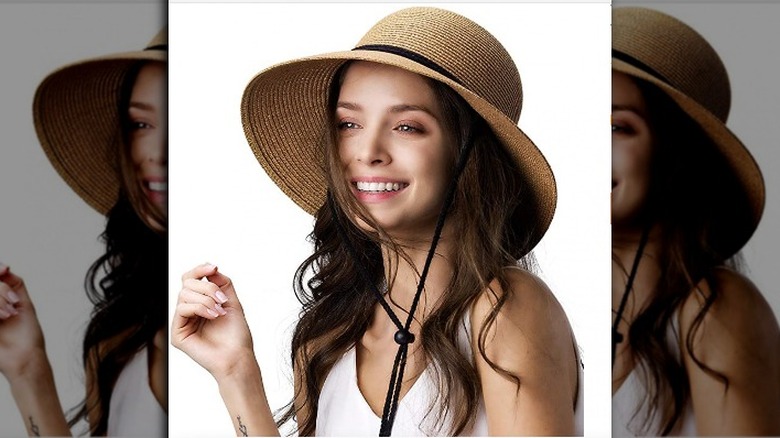 Thinking of bringing a sun hat with you on your travels? One of the most important features to look for is easy storage. An ideal sun hat should squish down to almost nothing without forming serious creases.
Fortunately, the Furtalk wide-brimmed straw sun hat with a thin classic ribbon does just that. The extra-wide brim on this Furtalk staple increases coverage on the neck without sacrificing the hat's shape. And the material, while strong and durable, is light and bendy, making it the perfect travel companion. Reviewers report that it may look a bit crumpled when you first unfold it after a long trip in your backpack. With a little time, however, the hat should spring back to its original shape.
Purchase the Furtalk Wide-Brimmed Straw Sun Hat on Amazon for $25.99.
Best sun hat if you want a unique design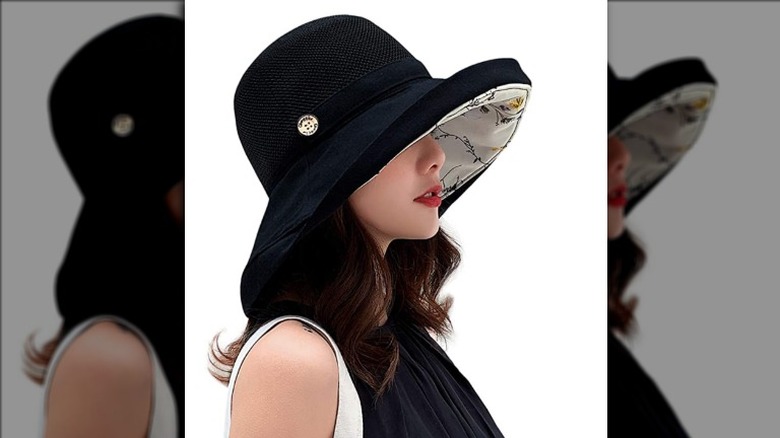 For all-out comfort and a fashionable design, The Mifulgoo mesh wide-brim sun hat is an excellent choice. The front brim can be folded down or up depending on your style and how much coverage you want. Better yet, you don't have to worry about what the underside of the brim looks like, because it features a unique interior floral design.
Because of its bucket-hat style and elongated brim, the Mifulgoo hat has ample neck coverage. In other words, that dreaded neck tan won't be haunting you anytime soon.
Purchase the Mifulgoo Mesh Wide-Brim Sun Hat on Amazon for $16.47.
Best sun hats for a floppy look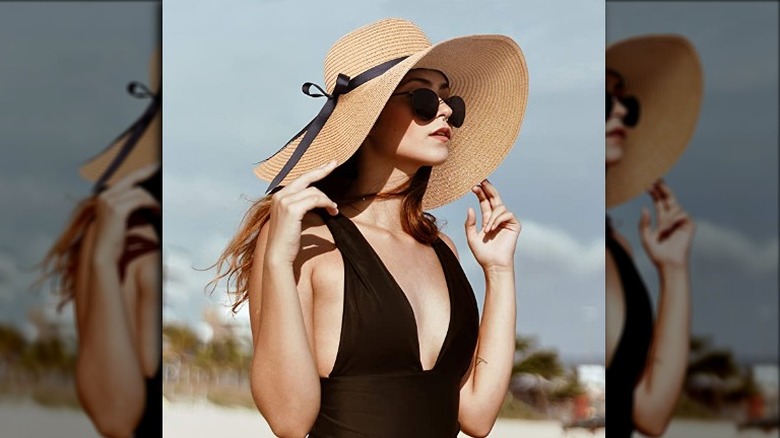 Craving that high-fashion, extra wide-brim? Try out the Double Couple straw sun hat or Furtalk's version of a large brim, floppy hat. The Double Couple hat offers a thin, ribbed black bow with extra ribbon for a stylish flair, a 4.8-inch brim, and lightweight, woven material. If you want a little more personalization, you can also get a version with print on the brim that reads "hello sunshine."
The Furtalk hat features the company's tried-and-true woven straw, a floppy brim with a little shape, and a thick black ribbon. Reviewers rave about the ease of packing this hat and its fashionable style.
Purchase the Double Couple Floppy Straw Sun Hat on Amazon for $12.99.
Purchase the Furtalk Wide Brim Floppy Sun Hat on Amazon for $20.99.
Best sun hat for a touch of country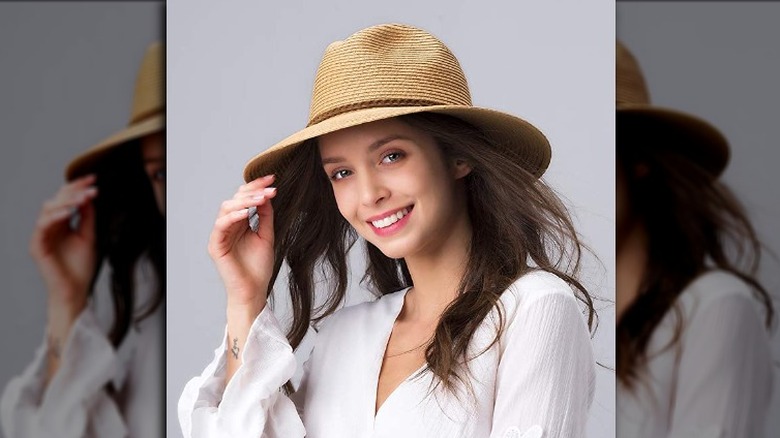 If you're ready to test out your country roots, a southern-style sun hat is the pick for you. Furtalk is at it again with this wide-brimmed, straw fedora. The braided brown band around the bottom of the crown gives the hat a stroke of personality, while the elongated rim provides a little more coverage than your typical fedora. It comes in classic ivory, coffee brown, khaki, pink, navy blue, or beige, ensuring that you will find a color you enjoy that matches most outfits.
Purchase the Furtalk Wide-Brim Panama Fedora on Amazon for $23.99.
Best sun hat if you love fedoras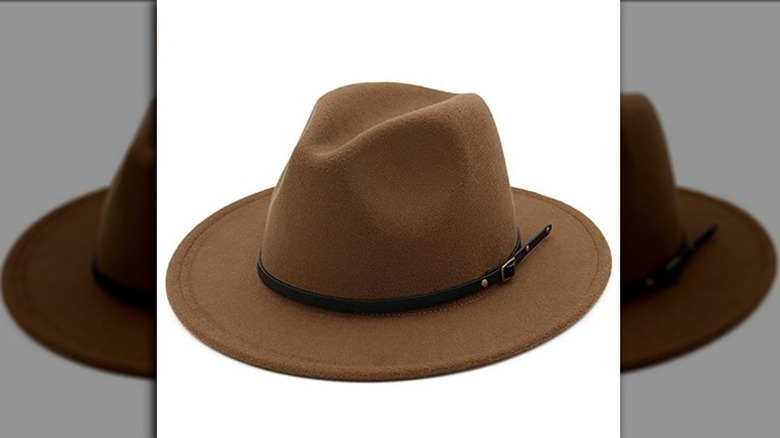 We get it. Sometimes, a fedora-shaped sun hat doesn't really scratch the itch for someone who's craving a true seventies feel. That's why we're also recommending the Lisianthius belt-buckle fedora. Made from a blend of imported cotton and polyester, this hat will provide you with a more traditional fedora style while protecting you from the sun. The thin, black buckled belt and the standard indent in the crown gives this hat a clean look and authentic feel. As an added bonus, the belt is detachable and the interior can be adjusted to suit the size of your head. 
Purchase the Lisianthius Belt-Buckle Fedora on Amazon for $16.45. 
Best sun hats for a trendy bucket style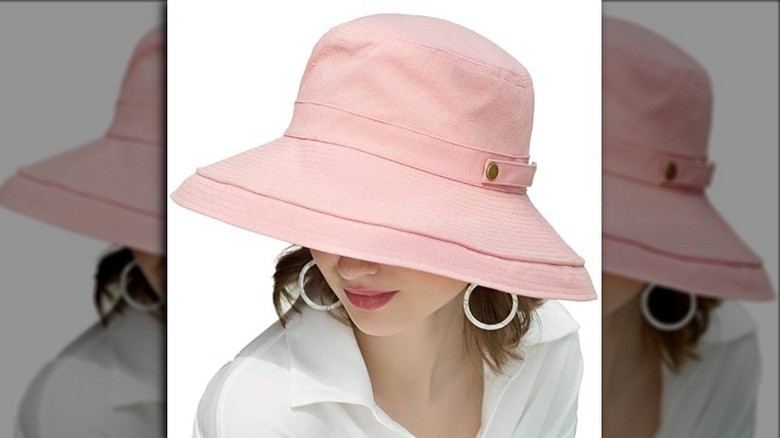 Looking to bring out those '80s and '90s vibes? Trying to give life to your inner Mia Thermopolis from "The Princess Diaries?" Bucket hats are trending and, given their longevity in fashion, won't be going out of style anytime soon.
Our top two picks for fashionable and comfortable bucket hats are the Somaler wide-brim sun hat and The Hat Depot unisex summer travel hat. The Somaler hat has a wide, downward-facing brim that offers plenty of sun protection all around your head. Made from 80% cotton and 20% polyester, the lightweight material is breathable and comfortable against the skin.
The Hat Depot bucket hat has a very classic, simplified style with 2 to 2.5 inches of brim, depending on the size you get. The solid-colored hats are 100% cotton, and all styles have two brass ventilation eyelets on either side.
Purchase the Somaler Wide-Brim Sun Hat on Amazon for $18.99.
Purchase The Hat Depot Unisex Summer Travel Hat on Amazon for $11.99.
Best sun hat that's reversible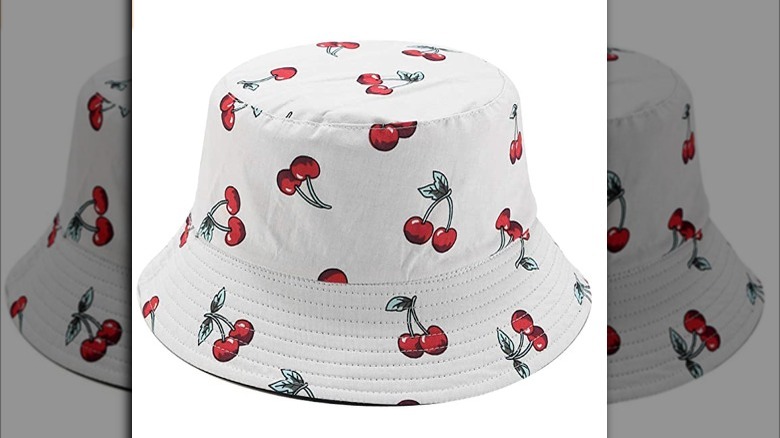 A reversible sun hat is perfect for the savvy shopper hoping to get two hats for the price of one. For a fun, personality-filled bucket hat, Mashiaoyi is the answer. The company sells a variety of reversible styles, from music notes to cherries to tie-dye. In addition, all versions of this bucket hat fold down to a fraction of their original size. Note that these hats come in one size, so make sure you measure the circumference of your head and compare it to the measurements of the hat to ensure a proper fit.
Purchase the Mashiaoyi Unisex Reversible Bucket Hat on Amazon for $13.89.
Best sun hat if you prefer the visor style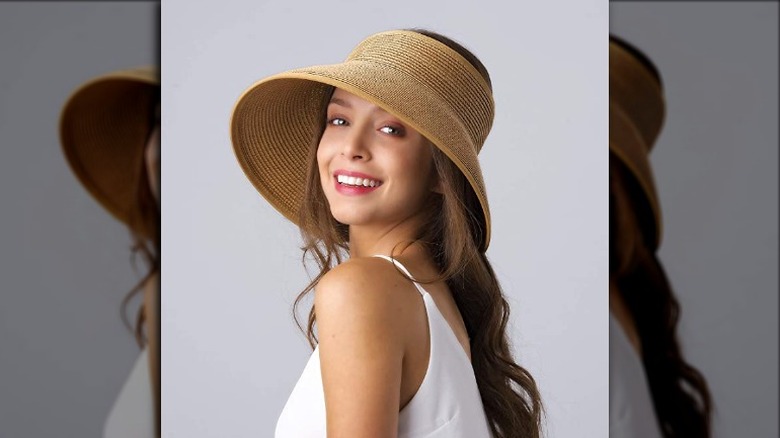 Sometimes, straw visors are just easier to wear than full sun hats. If that's the case for you, we recommend trying on the Simplicity wide-brim straw sun hat or the Furtalk wide-brim straw visor. The Simplicity hat has an open back to allow for a mid-rise ponytail or bun, and comes with a hook-and-loop closure. The Furtalk hat has an interior sweatband with adjustable sizing, and a detachable chin strap.
Reviewers for both companies note that the wide brims on these offer complete face protection. As an extra benefit, both hats can be rolled up and tightly stored in your bag.
Purchase the Simplicity Wide Brim Straw Sun Hat on Amazon for $22.99.
Purchase the Furtalk Wide Brim Straw Visor on Amazon for $20.99.
Best sun hat if you're a summer athlete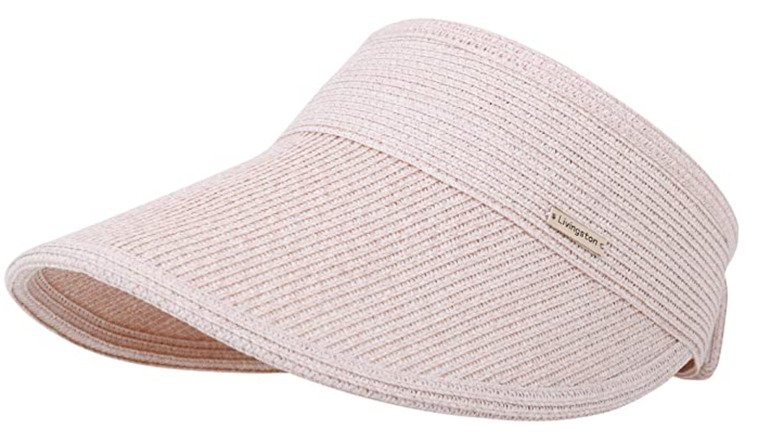 Searching for a visor that stands up to sweat during outdoor sports? Check out the Livingston wide-brim beach visor. This sleek design comes with a sweat-catching band on the interior and an adjustable strap in the back of the hat, so it's perfect for walking, tennis, golfing, and fishing. It's also made with durable, lightweight UPF straw to protect you from even the strongest sun rays. According to the reviews, the brim stretches over the sides of the face too, so you don't have to worry about your cheeks getting burned.
Purchase the Livingston Wide Brim Beach Visor on Amazon for $16.99.
Best sun hats for added neck protection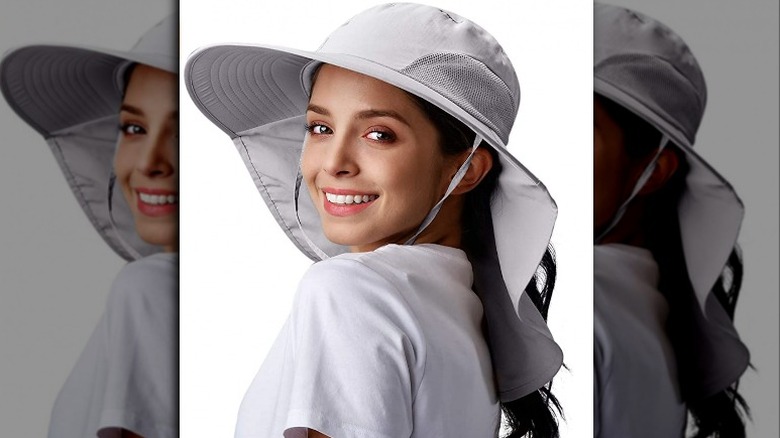 If your neck gets burned easily, it's best to opt for a sun hat that offers you extra neck protection. The Camptrace unisex waterproof sun hat does just that, because it has an extra-floppy, elongated back brim. Many features on the hat are customizable, including the elongated back which can be pinned up, an adjustable buckle on the exterior that increases or decreases the hat size, and an adjustable chin strap. Also, the material is water and stain resistant, and the style even comes with a ponytail opening.
If you prefer similar features with a more unique style, consider the Tirrinia wide-brim flap cap. This sun hat also has an elongated back brim, an adjustable chin strap, a sweatband, and material designed for the outdoors. Though it may not be waterproof, it comes in several bright colors and has a unique, thin floral scarf.
Purchase the Camptrace Unisex Waterproof Sun Hat on Amazon for $17.99.
Purchase the Tirrinia Wide Brim Flap Cap on Amazon for $14.99.
Best waterproof sun hat for outdoor adventures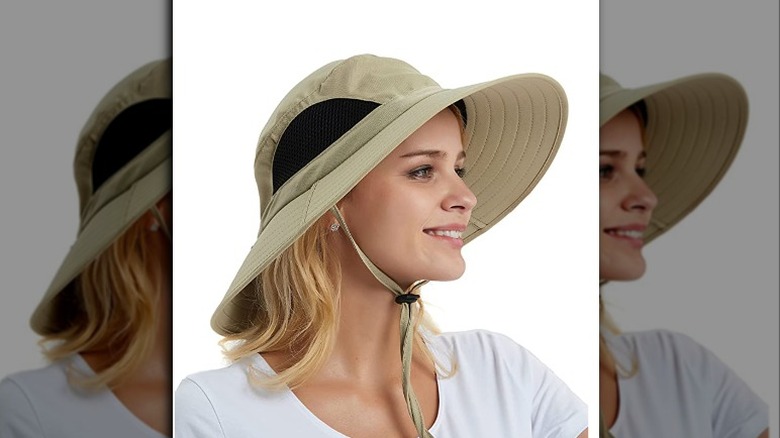 Are you prepping for a big outdoor excursion? If so, you'll need a hat that has all the key features necessary for a successful adventure, like the Einskey unisex sun hat. This hat not only protects against the harsh summer sun, but also uses water-repellent material to keep your head dry in rainy weather. An adjustable chin cord, adjustable interior, breathable mesh openings, and a sweatband beneath the brim will keep you comfortable on even the most strenuous outdoor trip. And with a quality guarantee from the company, what more could you ask for?
Purchase the Einskey Unisex Waterproof Sun Hat on Amazon for $15.99.
Best sun hat for keeping you extra-cool on the hottest days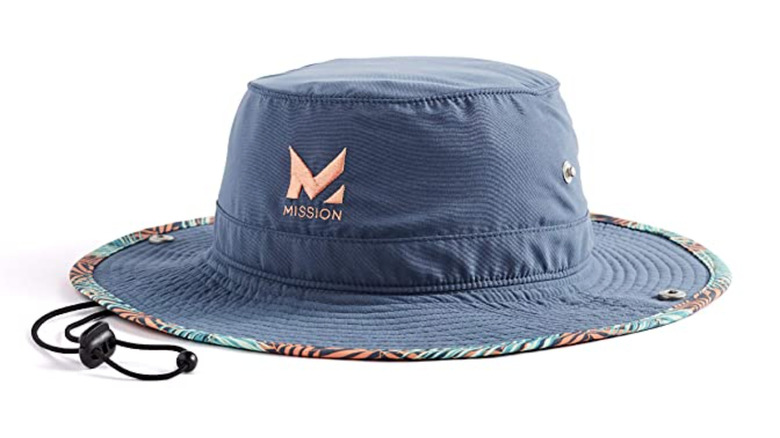 Ready for a sun hat with a twist? The Mission cooling bucket hat is meant to be twisted, literally. This hat is designed to cool you down when you're too hot. But how does it work? According to the company, you're supposed to dampen the material with water, twist the hat to wring out excess liquid, and wave it in the air to activate a unique cooling feature in the fabric.
The Mission sun hat also comes in four stylish color schemes with fun designs on the interior. Plus, it has another particularly useful feature: The material is machine washable.
Purchase the Mission Cooling Bucket Hat on Amazon for $19.99.
Best sun hats for when you want to splurge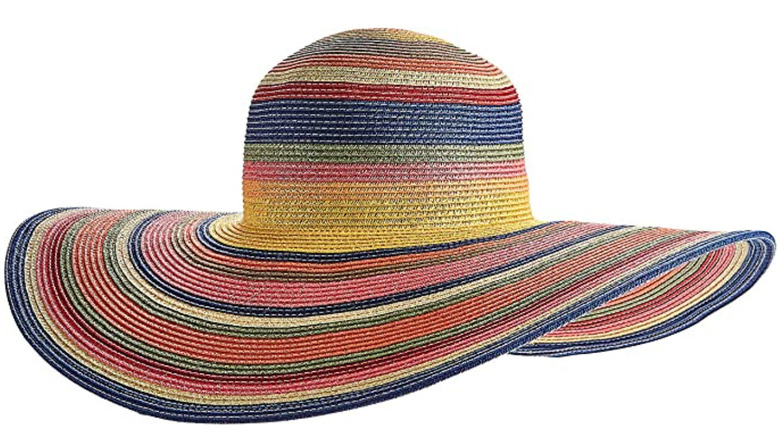 If you want to look and feel your best, there's nothing better than a high-quality, floppy sun hat. The San Diego Hat Company sells an incredibly wide-brimmed sun hat in classic colors such as black, brown, and white. In addition, the braided material offers UPF 50+ protection. Reviewers mention that the hat takes their outfits to a whole new level, and helps them stand out in a crowd. Just note that the price on this sun hat may vary depending on the color you choose.
If you want the same brim length but are looking for a colorful pattern, opt for the Coolibar Miranda wide brim hat instead. Though the product is pricey, reviewers say that it looks even more beautiful in person and is surprisingly lightweight for its size.
Purchase the San Diego Hat Company Large Brim Hat on Amazon for $42.95.
Purchase the Coolibar Miranda Wide Brim Hat on Amazon for $69.
Best sun hat for someone with something to say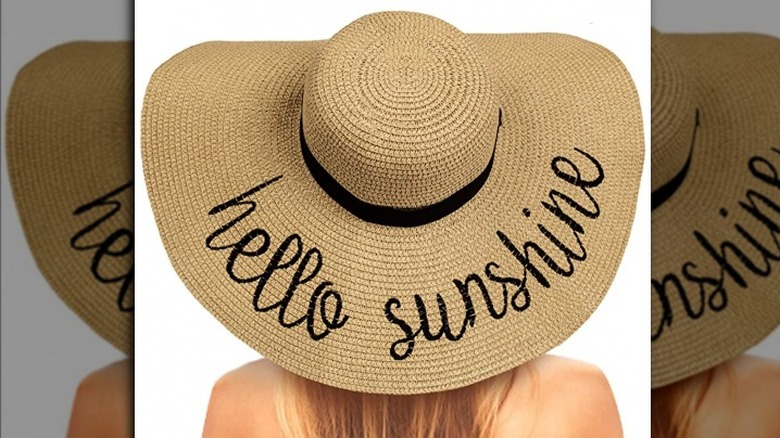 Hats with an embroidered phrase are perfect for a Bachelorette party or birthday bash, and the Chalier embroidered floppy hat fits the bill. This wide-brimmed straw hat can easily be folded and stowed away inside your beach bag, and the hand-woven design gives it a classic feel. If it creases while it's inside your bag, don't fear. The company promises that pouring a little water into the material will restore the original shape. Wondering what phrases are up for grabs? Chalier offers several, including: "Hello Sunshine," "Always on Vacay," "Just Married," and "Good Vibes."
Purchase the Chalier Embroidered Floppy Hat on Amazon for $15.19.
Best sun hats for kids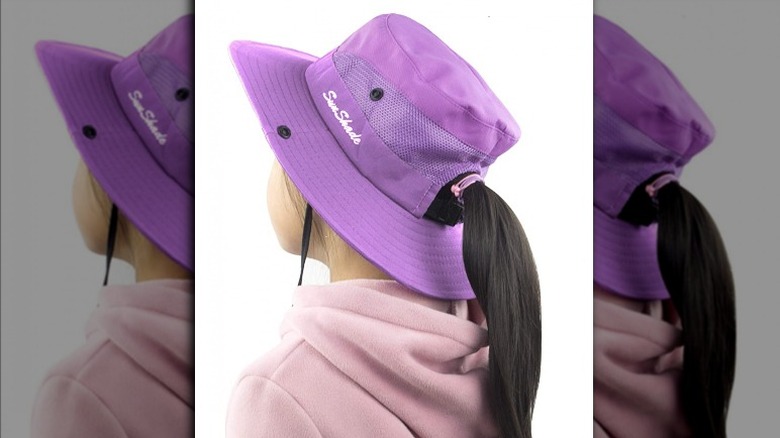 Do you have little ones running around all day in the heat? If so, it's time to get them some comfortable and durable sun hats. Both Connectyle and Muryobao offer great options for kids that provide substantial UPF protection using lightweight, sweat-wicking material. The Connectyle hat has a wide floppy brim, mesh side vents to release heat, and a simplified clasp chin-strap. The Muryobao style also comes with mesh sides, though the chin strap is adjustable and the back of the hat has a ponytail opening. Ultimately, both styles cater to a wide range of activities, so it's hard to go wrong with either one.
Purchase the Muryobao Kids Ponytail Sun Hat on Amazon for $15.99.
Purchase the Connectyle Kids Bucket Sun Hat on Amazon for $12.99.
Source: Read Full Article