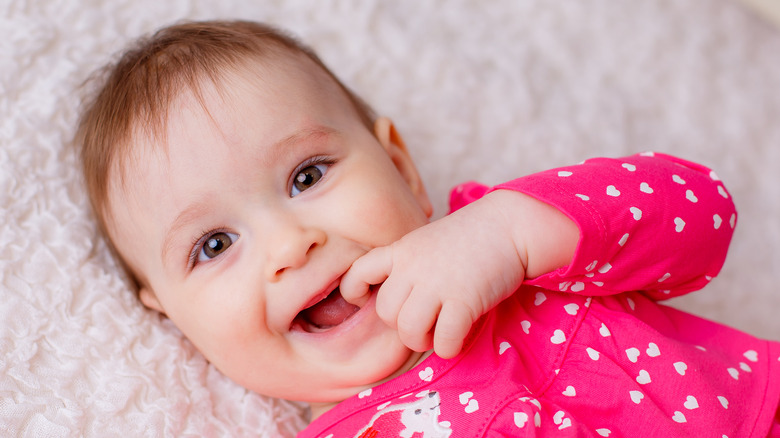 Naming a baby girl is no easy task. While many people opt to go the traditional route, naming their daughters after a loved one, sometimes it can be positively nerve-wracking to come up with the perfect name. If you're finding yourself in just such a position — or, if you simply want to research potential names for your future child — keep reading, because we've got some names that you're sure to fall in love with.
If dipping into the deep pool of beautiful Spanish baby girl names hadn't occurred to you until now, prepare to be surprised. The Spanish language is quite the musical one, and it has no end of lovely names that will suit your bundle of joy, whether you come from a Spanish-speaking background or not. These melodic monikers roll off the tongue and may just inspire you as you seek out the perfect name for your baby girl.
Amparo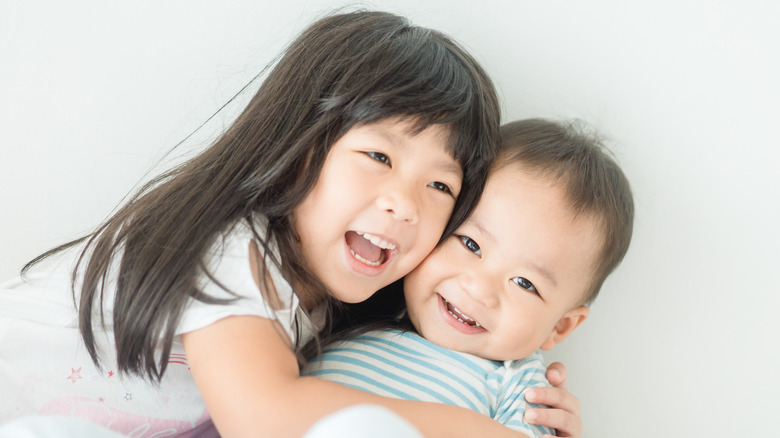 Amparo isn't the most common of Spanish baby girl names, not even in Spain — although, per Nameberry, it did see some moderate use in the U.S. in the 20th century. Still, that means that your baby girl will have not only a lovely name, but also one that she is not likely to share with several of her classmates. Per baby name website Behind the Name, the name Amparo has religious roots, coming from the title Nuestra Señora del Amparo, a name given to the Virgin Mary which translates to "Our Lady of Refuge."
You don't have to be religious to pick this name for your baby girl, though, as the name Amparo simply means "protection," "shelter," or "refuge." Pronounced "am-PA-ro," this might be an especially fitting name if your baby girl is the oldest of your kids who will one day look out for her younger siblings.
Corazon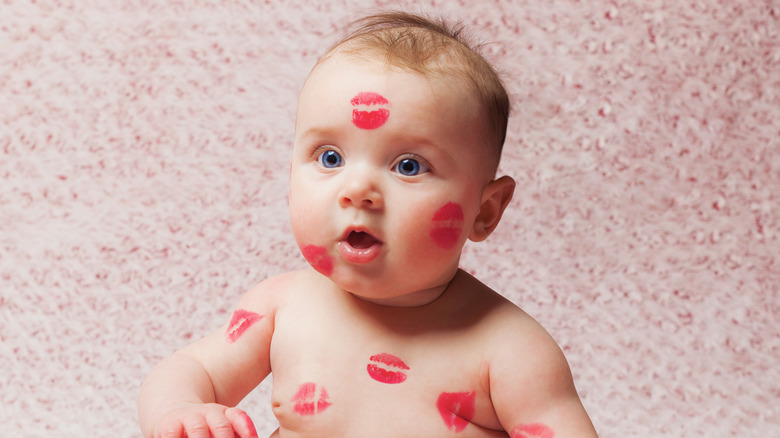 Your baby girl has your whole heart, so why not give her a name that reflects that? Enter Corazon (pronounced "kaw-rah-sawn"), the Spanish word for "heart." Aside from its sweet meaning, the name Corazon has a pretty cool history attached to it and, per Nameberry, gained popularity thanks to Corazon Aquino, the former president of the Philippines.
If you aren't caught up on your late 20th-century Southeast Asian history, Corazon Aquino was a pretty big deal. As noted by her obituary in Asia News, Aquino co-led a revolution against dictator Ferdinand Marcos in the 1980s, bringing democracy back to the country and becoming the first-ever female president in Asia.
Not only does the name Corazon come packed with a strong history for your own fierce baby girl, but this moniker is also primed for nicknames. You could abbreviate her name to Cory — the nickname used by Aquino, herself — or opt for Cora.
Ysabel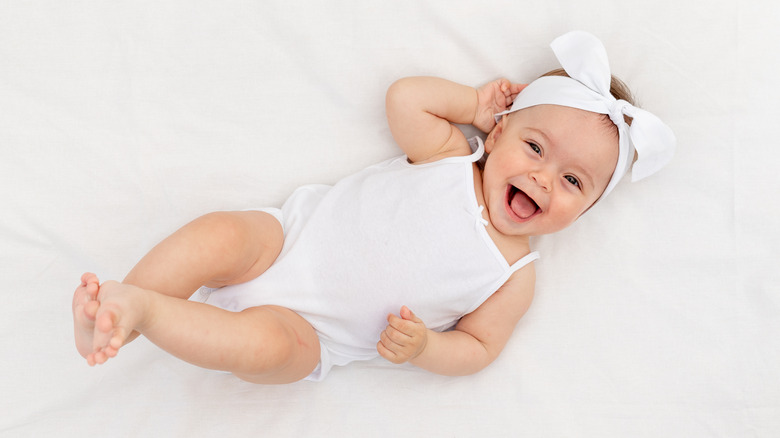 Some of the loveliest Spanish names are ones that are already quite familiar to English speakers, albeit in different incarnations. Elizabeth is one of the most popular names in the U.S. and has been for over a century. As lovely as it is, the name is quite common, and parents who like the sound of it may hesitate to give it to their baby girls, looking for something a bit rarer. Even less-common variations, such as Isabel and Isabelle, see quite a lot of usage. But Ysabel, a Spanish version of the beloved name is quite rare, with Behind the Name considering this medieval version of the moniker "archaic."
It might be a bit old-fashioned, but we think Ysabel is due for a comeback. Meaning "consecrated by God," according to The Bump, there's something quite romantic about the "y" at the beginning of the name, and it's pronounced exactly the same as the more well-known Isabel. Adorable nicknames, like Izzy and Bela, also work well for this version of the name. How can you not fall in love with it?
Estrella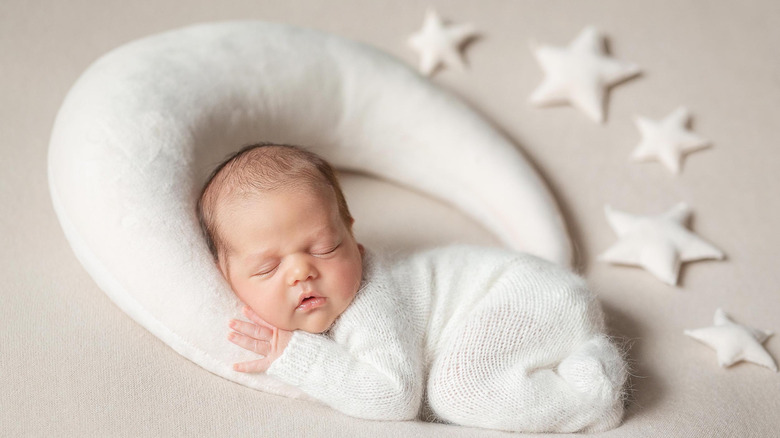 The name Stella might call to mind a tank top-clad Marlon Brando screaming it loudly in the film adaptation of "A Streetcar Named Desire," but the Spanish version of this name is decidedly more lyrical. Estella can be traced to Stella, which is the Latin word for "star." Per Behind the Name, this Spanish variation is pronounced "ehs-TREH-ya" and, while it is not particularly popular in the U.S., Estrella is a name that has been steadily gaining popularity and is ready for prime time.
You could even use Stella as a nickname for your own little Estrella, or perhaps you might consider Essie or even Ella. There are so many options — the sky is the limit! Whether you choose to shorten this name or not, what could be sweeter than bestowing this beautiful Spanish baby girl name upon the baby who is, no doubt, the newest star of your family?
Reyna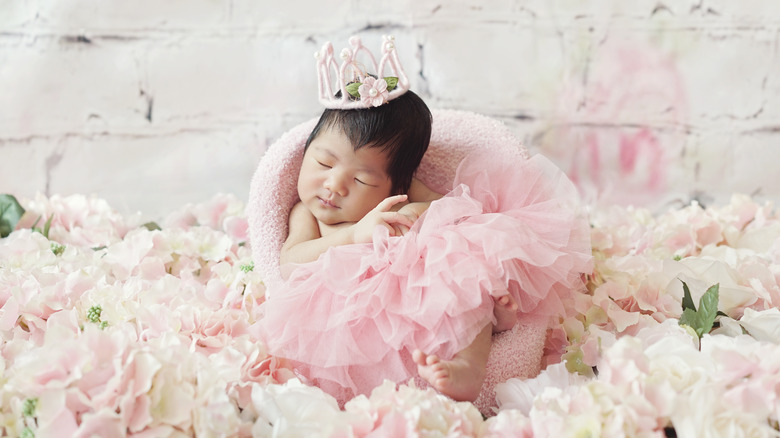 Your baby girl is going to be treated like royalty, so why not name her for the queen that she is? Reyna is a name that is on the rise in the U.S., per Behind the Name, and it's easy to see why. A variation of Reina, this stately name is pronounced "RAY-na" and literally translates to "queen" and evokes majesty, power, and grandeur. Reyna is a sweet Spanish alternative to similar names, such as Regina and Ina, plus you could nickname your little one Rey — how cute!
Nameberry notes that the name Reina derives from the title "queen of the apostles," bestowed upon the Virgin Mary, but the name itself can be used by parents whether they consider themselves to be religious or not. The baby name website also notes that the name Reyna is more popular than the variation Reina in the U.S. Video game fans might be familiar with Reyna, as it's the name of the character in the game "Valorant." The novel series "The Heroes of Olympus" also has a character named Reyna, giving the name some solid literary roots.
Mariposa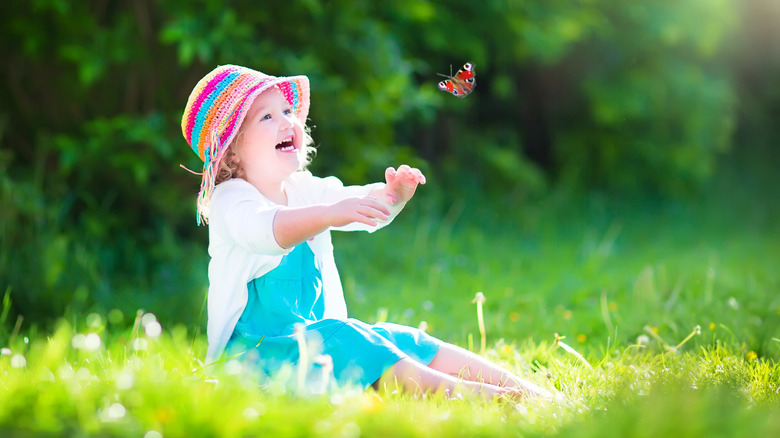 Butterflies are beautiful creatures, but "Butterfly" doesn't really make the best name for a baby girl. Somehow, it doesn't quite roll off the tongue, and nicknames like "Butter" and "Fly" wouldn't be preferred by most parents. That's probably why it's not common as a given name (although it's not unheard of — Nameberry notes that there are a handful of celebs who either bear the name Butterfly or use it as a nickname).
Translate butterfly into Spanish, however, and you have a beautiful-sounding moniker that also lends itself well to nicknames. Mariposa (pronounced "MARR-i-POH-zuh"), like its English counterpart, isn't a particularly popular name, but it does seem to be on the rise, according to The Bump. We're sure that your baby girl is as lovely as a butterfly, and Mariposa is a beautiful name to match. While a four-syllable name might seem a bit long, there are so many ways to shorten it, such as Mari, Ria, and Posie. With this beautiful Spanish name, your baby girl is sure to soar to new heights.
Catalina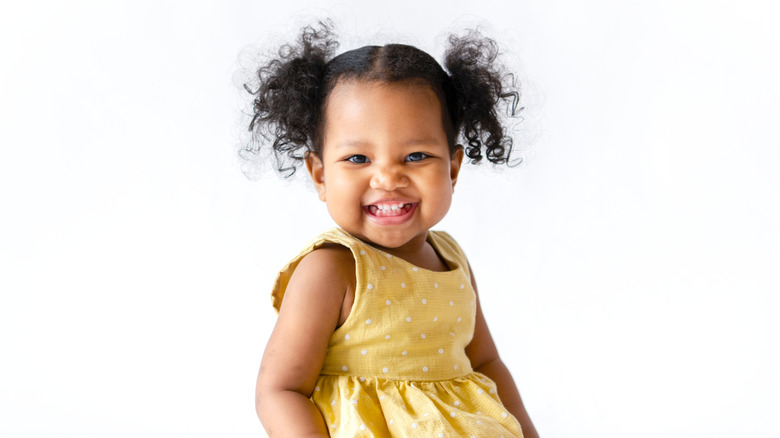 The name Catalina might bring to mind Catalina Island, a popular tourist destination off the coast of southern California. According to Love Catalina Island, this lovely locale boasts a "perfect climate" with an average summer temp of 75 degrees and sunny days for more than two-thirds of the year. Whether or not you've been to Catalina Island, the name Catalina is one that you might just want to snatch up for your baby girl.
As noted by Behind the Name, Catalina (pronounced "ka-ta-LEE-na") is a Spanish variation of the American name Katherine. While historians aren't exactly sure what the name means (some think it could be derived from the name of the Greek goddess, Hecate), we do know that it comes from the Greek name Aikaterine and that variations of Katherine have been popular in the English-speaking world for centuries. Catalina is a less commonly-used alternative (although it's on the rise in the U.S.) and it's just plain pretty. Plus, nicknames abound; try on Cate, Lina, or Tala for size.
Milagros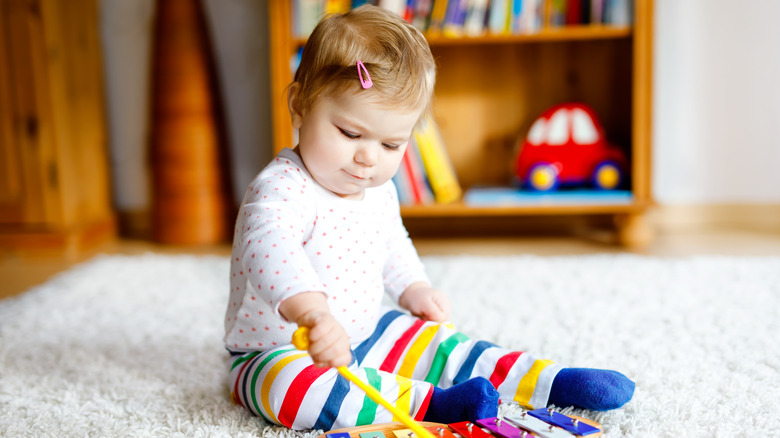 The name Miracle is one that is on the rise for baby girls in the U.S., and it's easy to see why. What name could be more apt to commemorate the miracle that is new life? The name's Spanish counterpart, Milagros, isn't as widely used in the country, but perhaps you can help to change that when picking out a name for your baby girl. Per Behind the Name, this lovely name is pronounced "mee-LA-ghros" and, while Nameberry notes that Milagros is considered to be a bit old-fashioned, the nickname Mila gives it a more modern update. And, besides, Milagros is pretty enough — and not to mention powerful — that it deserves a modern heyday of its own!
Milagros is a lovely name for any baby girl, but it would be especially fitting for parents who have lived through infertility or perhaps for a rainbow baby. Any baby is a miracle, of course, and any baby would be blessed to have such a lovely Spanish name bestowed upon her.
Alondra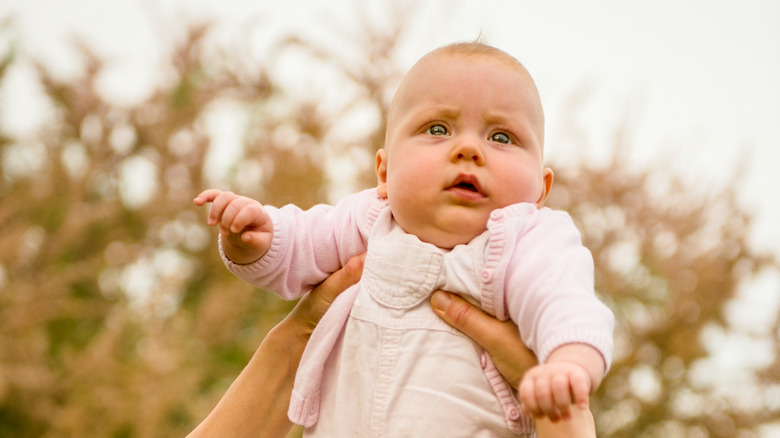 While your newborn baby girl's cries may not exactly sound like a bird's song, she may just grow into quite the musical talent if you name her Alondra. Pronounced "a-LON-dra," Behind the Name notes that this moniker means "lark" and, while it's not very popular in the U.S., it sees a fair amount of use in Latin America.
Alondra is a name that many parents might like purely for how beautiful it sounds, but it's also a good pick for those who are nature lovers or those who want to give their baby girl a musical name. In fact, it seems other parents have picked the name precisely because of its musical qualities, and the name just may have influenced their baby girls. Per The Bump, Alondra is the given name of quite a few musical people including Alondra, a Mexican singer whose pipes have garnered her a Grammy nod, and Alondra De La Perra, a conductor.
Telenovela fans might also remember the 1995 series "Alondra," a Mexican show which helped boost the popularity of the name decades ago.
Vida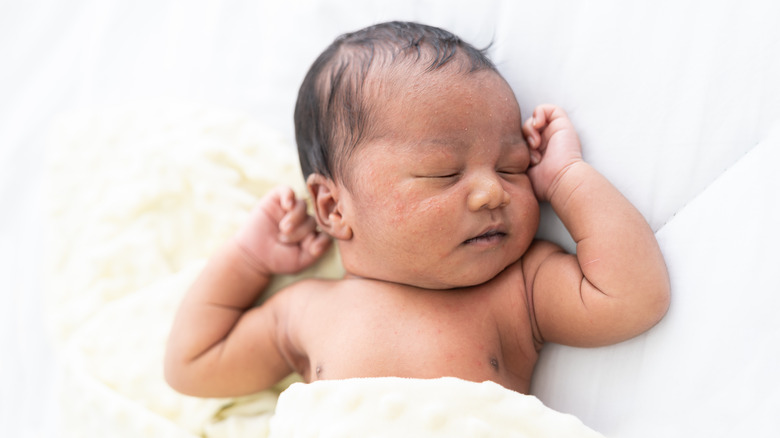 A new life is something to celebrate, and we're sure your baby girl is the center of yours. Your sweet bundle of joy is just starting out on this journey called life, so why not call her Vida, the Spanish word for "life"? Whether you choose to pronounce it as "VY-da" or "VEE-da," you can't go wrong with this moniker that is positively brimming with potential. As noted by Nameberry, Vida is often used as a nickname for Davida, which, per Behind the Name, is a rarely-used feminine variation of the popular name David.
You won't be alone in picking this lovely name for your little one, either. Matthew McConaughey and his wife, Camila, gave this name to their own little one. The name has a long history, too, and was borne by Australian suffragette and women's rights activist Vida Goldstein — quite the powerful legacy to inspire any young feminist!
Paloma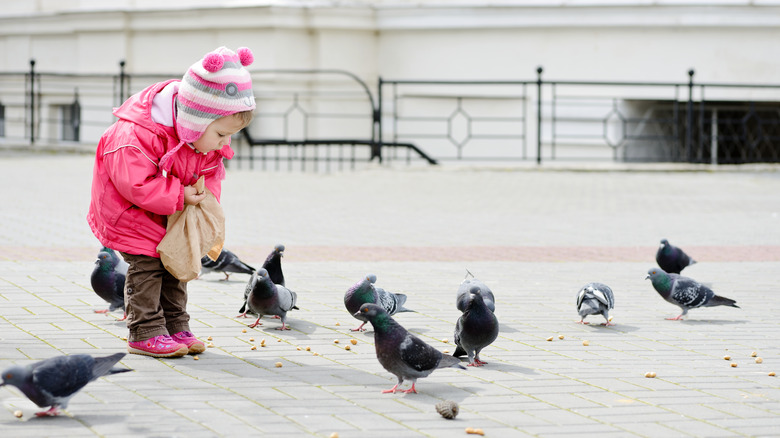 Per Behind the Name, the name Paloma means "dove" or "pigeon" in Spanish. While not especially popular in Spain, this name is slowly on the rise in the U.S. and has also seen a burst of usage in France.
Birds evoke freedom and possibility; just as they freely soar, so will your little girl with this name. Pronounced "pa-LO-ma," there's another good reason to name your baby girl after the dove. As noted by The History Press, this bird "has been a symbol of peace and innocence for thousands of years in many different cultures" from ancient Greece to modern times, when 20th-century painter Pablo Picasso's anti-war painting, "Dove of Peace" became an emblem of peace.
Picasso, himself, named one of his children Paloma, but he isn't the only one who was inspired by this beautiful name and all that it represents. Perhaps the best-known Paloma is British singer Paloma Faith, putting your own little Paloma in good company. 
Leticia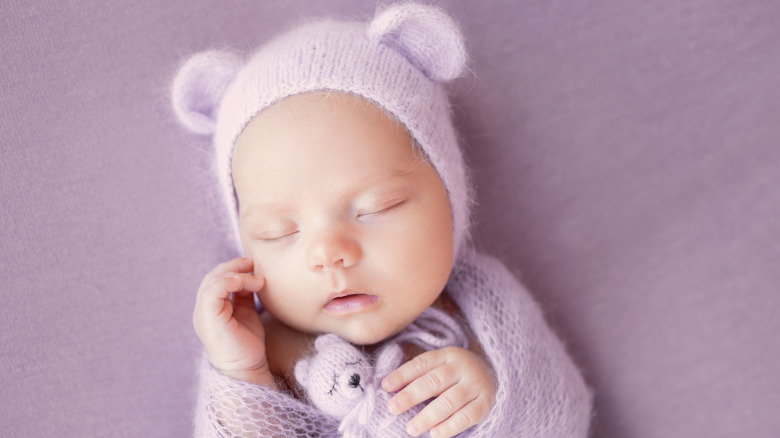 If you followed the 2020 Tokyo Olympics, you might recognize the name Leticia as the name of Brazilian skateboarder Leticia Bufoni. She might not have medaled at the Olympics but, per her X Games bio, her 12 X Games medals — including six gold — make her "one of the best-known and most influential action sports athletes in the world." And, while it might be a little too soon for your baby girl to take up skateboarding, Bufoni's legacy is sure to inspire her as she grows older.
Sports aside, this Spanish name is a lovely one. Per Behind the Name, Leticia is pronounced "leh-TEE-thya" in European Spanish and "leh-TEE-sya" with a Latin-American accent. However you pronounce this moniker, it's sure to bring you joy. In fact, that's exactly what the name means, as it's the Spanish form of Letitia which, in turn, comes from the Latin Laetitia which means "joy" or "happiness." Those are emotions we're sure you want your daughter to embody! If the name is a little long for your tastes, you could always call your little Leticia a nickname like Letty or Tisha.
Ria
Don't be put off by the brevity of the name Ria. It may be short, but big things do come in small packages, after all, and this Spanish baby girl name is no exception! Nameberry praises the "rhythmic flow" of this "short and feminine" name, which means "small river." Pronounced "ree-uh," this miniscule moniker could also be used as a nickname for the more traditional Maria which, per Behind the Name, can trace its roots all the way back to the Hebrew name Miryam. It's also a good alternative to Rhea, a name found in Greek and Roman mythology.
Ria isn't a particularly common name, but it could see more popularity soon with celebs like comedian Ria Lina, singer/songwriter Ria Mae, and activist Ria Sharma making major waves in the world. One thing is for sure: if you choose the name Ria for your baby girl, she's going to make her mark on the world!
Azul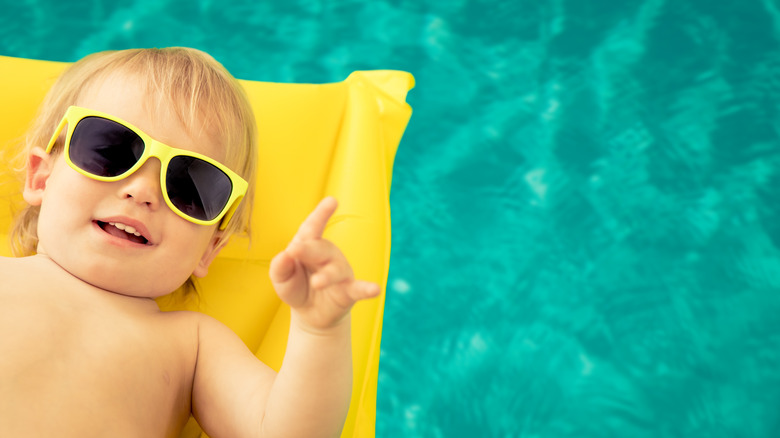 Whether your baby girl has blue eyes or you just want to give her a name that pays tribute to the vivid blue of the sky, Azul is a delightful Spanish name for your little one. Translating to "blue," Baby Names notes that this moniker works equally well for boys as it does for girls. Pronounced "ah-ZOOL," this short and sweet name is just plain hip and is sure to make your baby the cool kid on the playground — your baby's name may mean blue, but the other kids will be green with envy!
Azul is a nice alternative to the name Azure, a rare English name with the same meaning that can trace its roots to Persia. Azul has also been largely kept off the radar, with Oh Baby! Names noting that it has yet to make waves in pop culture, with no notable celebs bearing the name. Perhaps your own little Azul will be the one to change all that!
Adelita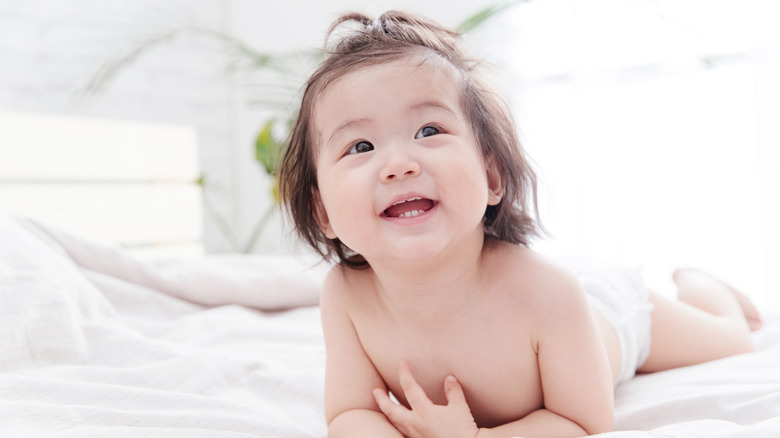 Adelita is yet another beautiful Spanish name that you and your daughter are sure to love. Pronounced "a-dheh-LEE-ta," Behind the Name notes that this name is a diminutive for the name Adela, which traces its roots to a German term meaning "noble."
Adelita is primarily used in Latin America and is particularly popular in Mexico, thanks to the song "La Adelita" — a ballad that became a hit during the Mexican Revolution. Per Inside Mexico, this song "was composed in honor of all the women who participated in the revolutionary war." The song is about a woman named Adelita, who follows a regiment to war. The name has now "come to signify a woman soldier," notes the outlet, "as well as a brave woman."
With such a fierce legacy and fascinating history behind the name, your own little Adelita is sure to grow up strong and empowered — and maybe with a talent for music, to boot!
Source: Read Full Article