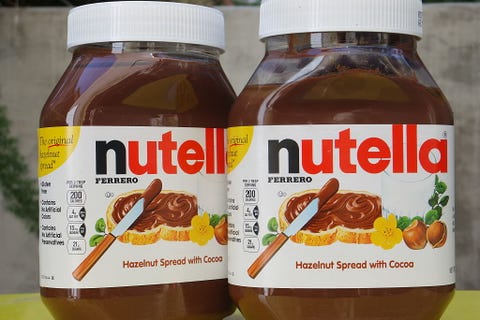 The company behind the chocolate-hazelnut heaven-in-a-jar that is Nutella is now officially seeking taste-testers. I repeat: People are going to get PAID to eat a lot of Nutella. Maybe adding "Nutella-eating" to the skills section of your resumé isn't such a bad idea, after all!
Before you ditch your job in pursuit of the Nutella life, you should know that the opening is in Italy, according to The Local. The Ferrero Group is looking for 60 "sensory judges" for "confectionery tasting activities." In other words, people who like to actually learn how to properly taste sweet treats.
The job description, posted on Open Job Metis (and written in Italian), says the three-month paid (!!) training course will teach the chosen candidates to hone their senses of taste and smell, and equip them with the vocabulary to best describe the tastes. "Delizioso" just won't cut it, I guess.
According to The Local, Ferrero hopes to employ "non-professionals", so no experience is required. Apparently, they're looking for regular consumers, and would prefer candidates aren't highly educated in nutrition or "the science of taste." Looks like I'm still a contender!
The only requirements, essentially, are that candidates have no allergies and can use a computer. The sixty lucky taste-testers will begin the training course on September 30. Then, twenty "suitable" candidates will be hired for a part-time contract position, working two days a week for two hours. So, Nutella-tasting can TOTALLY be a side hustle.
The job listing is here. You're welcome.
From: Delish
Source: Read Full Article