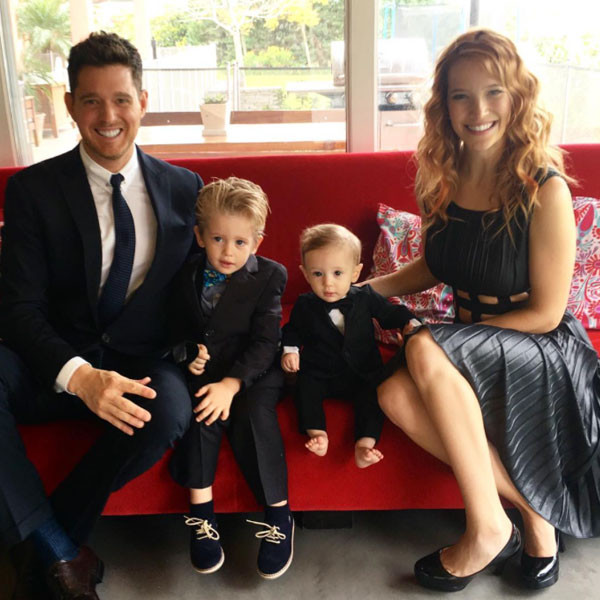 Instagram
Michael Bublé and his wife Luisana Lopilato are having a baby girl!
The singer and his wife are about to welcome Baby No. 3, and earlier this week, Bublé revealed the sex of their baby in an interview with Today FM. When asked about his family he said, "Everything's good, and I've got my first little girl coming in about three weeks. I've actually never said that before in public. I've got a daughter coming."
In February, Bublé confirmed another child was on the way.
Throughout the pregnancy, Lopilato has not been shy about sharing photos of her baby bump. The pair already has two children: 4-year-old Noah and 2-year-old Elias. Back in 2016, Noah was diagnosed with cancer, but seems to be doing better now.
Photos
2017 Celebrity Babies
In addition to talking about his beautiful family, Bublé revealed what being off-stage for a year has meant for him. "I'd love if I could get my toes back in the water, maybe something intimate and small," he said. "[Dublin's] Croke Park—great! What a way to dig your toe back in the water!"
The singer also got very candid about what his next concert will be like. "I've been through a lot. One of the things in going through something that my family has been through is that it gives you great perspective. One of those points of perspective is that it really allows you to appreciate the good things," the singer said. "I can't wait. I've missed being out there, I've missed that connection, I've missed singing my guts out, and laughing and really connecting with all those beautiful souls out there. And forget my life, the world's going through a lot of stuff, and not all of it is as positive as it could be. I'd love to go out there, stand in front of those people at Croke and take them away for a few hours."
Source: Read Full Article