Lost alum Maggie Grace confirmed she's given birth to her first child by posting a photo of the newborn's hand on Instagram. "#WhatImVotingFor," she captioned the image. See the post here.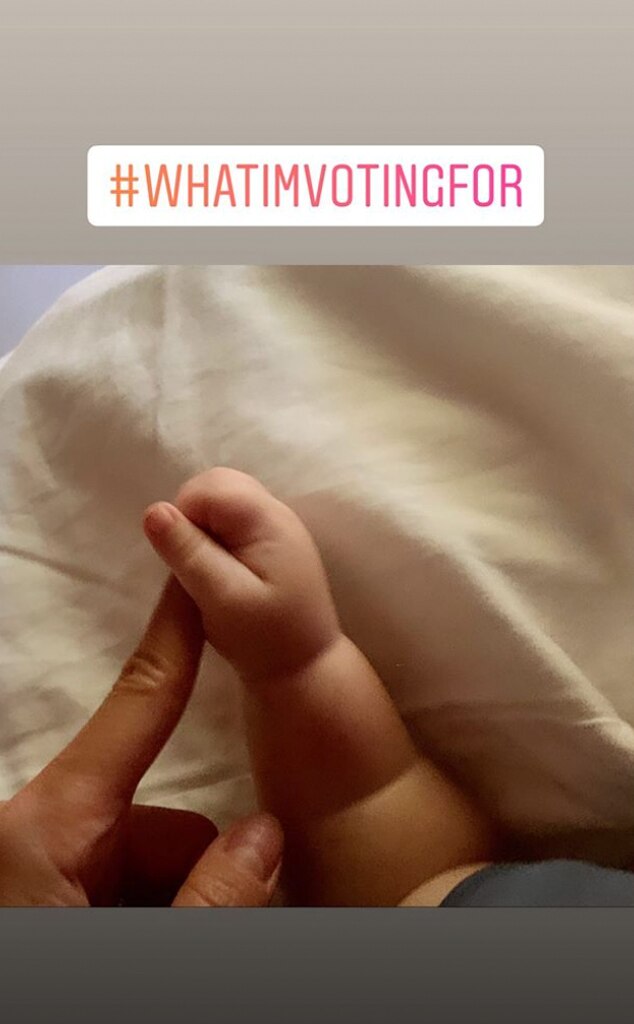 Maggie Grace is taking on a new role—mom!
The 37-year-old actress confirmed on Tuesday, Oct. 27 that she's welcomed her first child with husband Brent Bushnell. The Lost alum broke the baby news while encouraging her Instagram followers to vote. In one of her posts, she shared a photo of the newborn's hand and captioned the picture, "#WhatImVotingFor."
Grace did not reveal the name or sex of the child. It's also unclear when exactly she gave birth. Although, Grace had hinted at her due date when she announced her pregnancy back in March.
"In the midst of these uncertain times, we've been blessed with a joyful reminder of what's most important," she wrote on Instagram at the time. "Our first little one will be joining us this summer. Sending love to you and your families, may you stay safe and healthy."
In addition, the star posted a selfie from the Fear the Walking Dead set in Austin, Texas last week. "'I [heart] u from 6 ft,'" Grace wrote on Instagram. "Daily thanks to the badass @feartwd crew for all the covid protocols that let us come back to work—hopefully keeping each other safe at the same time!"
The baby's arrival comes three years after Grace and Bushnell tied the knot. As fans may recall, they exchanged vows in La Jolla, Calif. three months after fans learned about their engagement.
E! News has reached out to Grace's rep for comment on the little one's arrival.
Trending Stories
Gigi Hadid Shows Off Her Post Baby Body for the First Time
Ryan Phillippe Throws Major Shade Ellen DeGeneres' Way While On a Jog
Sasha Obama Proves She's Living Her Best Life in Viral TikTok
Congratulations to the family of three!
Source: Read Full Article