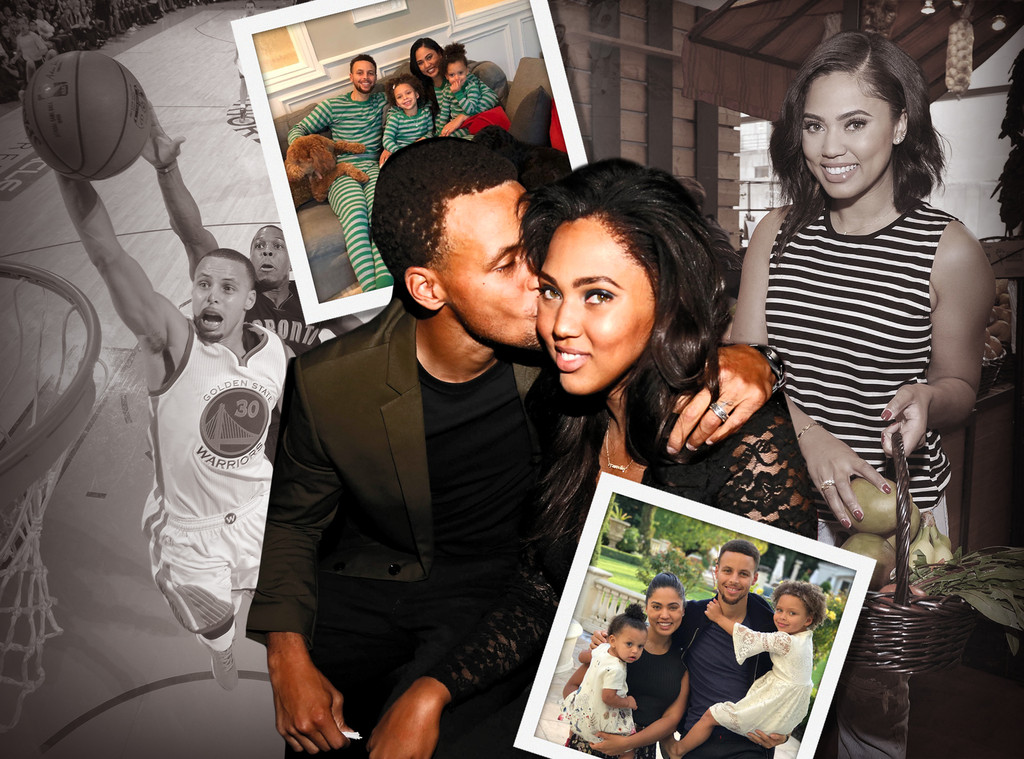 Melissa Herwitt / E! Illustration
A third NBA championship ring is on the way, a baby boy has just arrived, and Stephen and Ayesha Curry are counting their blessings.
In fact, like couldn't be sweeter for the couple.
Considering all the Basketball Wives who are no longer, or never were, wives of basketball stars, and all the drama that seems to cling to NBA players' personal lives like so much lint, the heartwarming story of Steph Curry and his wife of almost seven years is one to be savored.
But let's get one thing straight first.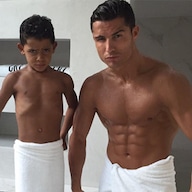 Photos
Sports Stars & Their Kids
"I don't like to call myself a basketball wife," Ayesha told ABC News' Robin Roberts in 2016. "I like to say I'm just a young woman who happened to marry somebody that ended up playing basketball. And for him, I don't think he would identify himself as a basketball player. He's a young man of God placed in a great position doing what he loves, playing basketball."
We won't forget.
When they got married, "I was 23; she was 22," Steph told Parents magazine in 2016. "But I knew I had found the right woman and I wanted to start a life with her."
"Yeah after all this time, I'm still into you"??
A post shared by Ayesha Curry (@ayeshacurry) on
The couple met when they were just 14 and 15 and members of the same church youth group in Charlotte, N.C. But the future Golden State Warriors super-star was apparently too shy to ask Ayesha out—and she wasn't allowed to date in high school.
"We always laugh that we were both focused on God," Ayesha, whose family moved to Charlotte from Toronto when she was 14, told Parents.
"He's actually one of the first people I laid eyes on when I moved to the States," Ayesha, whose family moved to Charlotte from Toronto when she was 14, told E! News' Jason Kennedy in October. "Didn't say two words to him." She did tell her sisters she'd spotted a cute guy, "and then they made fun of me because they said he looked like a relative." She shook her head. "Which I don't see it, but everybody else seems to think that! Maybe it's 'cause we're on the same wave-length, I don't know."
Steph, a son of former NBA player Dell Curry, went on to play basketball for Davidson College, where he was two-time Southern Conference Men's Player of the Year for 2007-'08 and 2008-'09 and appeared in three straight NCAA tournaments. On a trip out to Los Angeles to attend the ESPYs in 2008, he and Ayesha—who'd moved west to pursue acting—reconnected.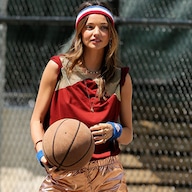 Photos
Stars Playing Basketball
"That was just kinda fate right there, two kids from Charlotte, meeting again in L.A. on a whim," Steph said in 2016 on In Depth With Graham Bensinger.
Ayesha remembered their re-meet-cute slightly differently…
"We were friends up until I was 19, and I thought we were just friends," Ayesha told Jason, admitting that she did dodge Steph's first attempt at a kiss. "I didn't know we had those feelings–I was flattered once I realized halfway through the dive-in that he had other feelings…Oh, he came all the way in and I went like"—she ducked back. "It was mid-conversation, it was very…" she shook her head. But "we had a do-over!"
Eventually they did have their first kiss—in the driveway of her parents' house back in North Carolina. Steph proposed in that very spot a few years later.
"Yeah, it was like The Notebook," Steph Curry told Parents (and thereby cementing his romantic bona fides forever with the reference). "The plan was to act like we were going to a family cookout. So we pulled up to the house, and I stopped in the middle of the driveway, got down on my knee, and went into my spiel. Little did I know the whole family was looking out the window, videotaping the moment."
Literal then and now! Happy 6th wedding anniversary my love! I don't know where the time has gone. It definitely feels like just yesterday, except we have two babies and lack of sleep to show for it! Not to mention a ton of bomb memories. I love you so darn much that there's not much I can say here because it won't nearly amount to how I feel. ? "The man is the head, the woman is the neck and she can turn the head anyway she like." ?? kidding! But goodness do you put up with my antics. And for that I love you 20x infinity.
A post shared by Ayesha Curry (@ayeshacurry) on
They got married on July 30, 2011, and a few months later found out they were going to have a baby. Ayesha admitted to Parents that she "struggled with that for awhile" because at the time she was still trying to figure out her own next career move. Curry was drafted by the Warriors in 2009, signing a four-year contract worth a reported $12.7 million, so they had moved to the Bay Area.
But when daughter Riley Curry, destined to become queen of the NBA press conference as well as the apple of her father's eye, was born on July 19, 2012—"Riley came so fast I almost didn't have time to get my scrubs on," Steph told Bensinger—they wouldn't have had it any other way.
Having a child "puts everything into perspective. I don't ever have a bad day," the athlete said. "When I go home, knowing I have a wife and daughter to enjoy life with…especially with basketball and having that as my career…that used to be my world. That was it…Now obviously I get frustrated when things don't go your way [on the court], but when I go home, there's nothing more gratifying…I don't really know what I used to do with my free time."
Riley Curry Celebrates Her 5th Birthday With a Unicorn-Themed Tea Party
And becoming a mom inspired Ayesha's next career move, which was to start her own lifestyle blog and launch a YouTube channel, Little Lights of Mine, to get her cooking game on in front of an audience.
"Food and my family, and making people through food" was her passion, she told E! News.
Luckily for everyone involved, her other big passion is basketball.
"I'm such a passionate fan. I can't help myself," Ayesha said while a guest on E!'s Daily Pop in November. "I'm such a fan."
While her third pregnancy has kept her sidelined for some of this year, Ayesha usually goes to almost every home game during the NBA season, often bringing Riley when she was a baby but not as much once she was older so as to not disrupt the growing young lady's bedtime routine. The couple have a swoon-worthy pregame ritual where Steph taps the tattoo on his left forearm, two arrows pointing at each other on his left forearm, and Ayesha does the same with her matching ink—but do not mistake Ayesha supporting her husband at work for a date night.
"We're in the same building, but it's all eye contact from the stands to the court. And then we have the drive home," Steph explained to Parents. "The drive home is the date," Ayesha added.
?
A post shared by Ayesha Curry (@ayeshacurry) on
The couple do make a point of stealing away for parents-only time when they can, such as last summer when they went to Paris and Lake Como for a romantic getaway. Ayesha agreed with Jason Kennedy's assessment that Steph Curry has helped maked it cool for an athlete to visibly be in love with his wife.
"I think he's just never been the stereotypical guy in that environment. I'm proud of him for making that cool," she said, laughing. A proud homebody, her ideal date night is getting the kids to bed early, staying at home, "and just hammering through wine, watching TV and just cuddling."
The most romantic thing Steph's ever done? Breakfast in bed on Mother's Day, preparing recipes out of Ayesha's cookbook. "And for him to wake up early is, like, a big deal," she told Jason. "So when he does that it's really, really special to me, and he puts so much effort into it."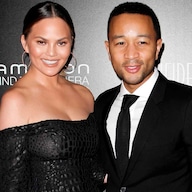 Photos
Celeb Couples Who Prove Love Isn't Dead
They welcomed their second child together, daughter Ryan Carson Curry, on July 10, 2015, after which Steph tweeted, "My wife is a champ!" Ayesha wrote on her blog, "The gift of life is truly an indescribable thing. We were fortunate enough to experience it all over again Friday night… Riley is completely enamored with her little sister and has taken on her role as big sister beautifully."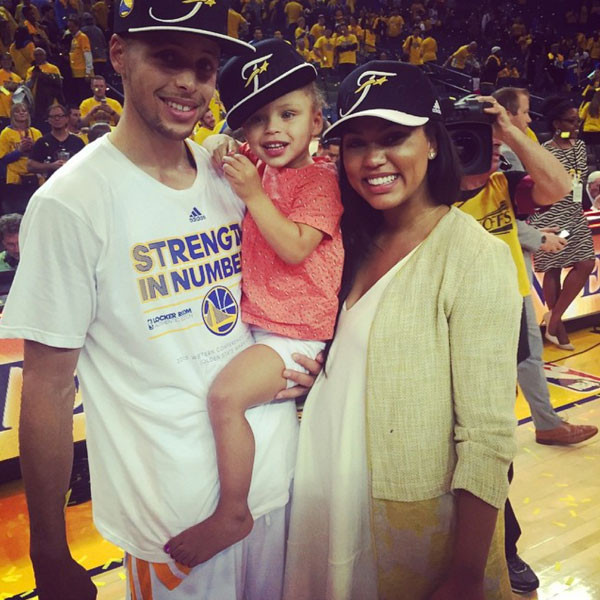 Instagram
When he's on the road, Steph relies on FaceTime to check in with his wife (who uses the opportunity to catch up on This Is Us) and daughters, and when he's home he's a hands-on dad, one who knows all the words to the Moana soundtrack as evidenced by his recent Carpool Karaoke appearance. And we're fairly certain that the family has stock in matching pajamas.
"The thing I love about him is that he's not too cool for school. He'll get down on the floor and play with the girls. He'll put on dress-up clothes if he has to, and he's very patient, which is something I'm not. We balance each other out," Ayesha told Parents.
After Riley stole the spotlight during one of her dad's postgame interviews (that came about when she spied her dad walking past the room where family members hang out to get to the interview room and insisted upon joining him), Steph said that the 3-year-old had automatically become more famous than him or his wife.
"People recognize her way faster than they do me or Ayesha," he said. "And if we go somewhere and she's not with us, that's the first question they ask, is 'where's Riley?'"
Nothing has changed—now 5-year-old Riley co-starred with her dad in an ESPN commercial last fall.
My little family! God is good. Can't believe there's only 3ish months until there's 5 of us. ?
A post shared by Ayesha Curry (@ayeshacurry) on
Ayesha—who's no casual basketball fan—also made her own sports-page-and-beyond headlines in June 2016 when she criticized the officiating during the NBA Finals, tweeting that Game 6 was "absolutely rigged for money…or ratings" and causing a debate in the sporting world about whether the players' partners were helping or hurting by weighing in like that. (Gabrielle Union is another wife who refuses to censor herself when she has an observation to make.)
Ayesha deleted that tweet about 30 minutes later and explained, "tweeted in the heat of the moment because the call was uncalled for." She added, "Police racial profiled my father and told him to remove credentials and tried to arrest him. It's been a long night for me. I apologize:" and "I'm okay that we lost… I just can't take people coming at my family for absolutely no reason. Something I don't understand or stand for."
"I may have to cut the Wi-Fi off at my house," Steph joked to reporters before Game 7 (which Cleveland went on to win, storming back from a 3-1 series deficit). Asked about his wife's comments, he said, "There's nothing really that's going to distract me from what's happening on the court. You're going to get asked about it and it's between me and Ayesha, the conversations about what happened.
"Other than that, it doesn't take any spotlight off of what my job is on the floor and what these next 48 minutes are going to be like in Game 7, so that's all I'm worried about."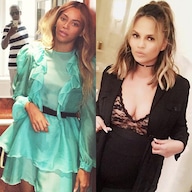 Photos
Celebrity Instagram Husbands
The Warriors may not have repeated as champions, but the Currys still looked like winners at the game of life when they jetted off to St. Tropez to unwind that July. And they still had plenty to celebrate: Steph won his second consecutive league MVP title and Ayesha had opened her first pop-up restaurant, International Smoke (now a three-location franchise), and was about to release her first cookbook, Seasons of Life.
Her own Food Network series, Ayesha's Home Kitchen, premiered in October 2016 (originally Ayesha Homemade) and she has since launched a line of signature kitchenware and her own meal-prep delivery service, Homemade. (Incidentally, she also hosted the latest season of The Great American Baking Show, but ABC pulled it after two episodes when past sexual harassment accusations against pastry chef and show judge Johnny Iuzzini came to light.)
Steph, who's returned the career support by appearing on her show and collaborating with her on a food-themed app game, has said that his wife really is always cooking at home, whipping up late-night snacks at a moment's notice and making family dinners. He told ABC News last year that he's happy to go to the grocery store—when Ayesha says he can.
"My wife doesn't let me do it that often, 'cause I always mess somethin' up," he said, laughing. "I'll forget one of the main ingredients for the recipe…So I'm on a short leash, when it comes to the grocery store runs. But I like doin' it."
"I'll forget one of the main ingredients for the– for the recipe … So, I'm on a short leash, when it comes to the grocery store runs. But I like doin' it," he added.
Ayehsa told FabFitFun, which featured her Homemade-brand mugs in its most recent Winter Box, "As a mom, I hit road bumps really often. There are days when you feel you aren't good enough or not doing enough. My husband is the one that keeps me going. [He] is my driving, motivating force, and I'm really appreciative of him for that."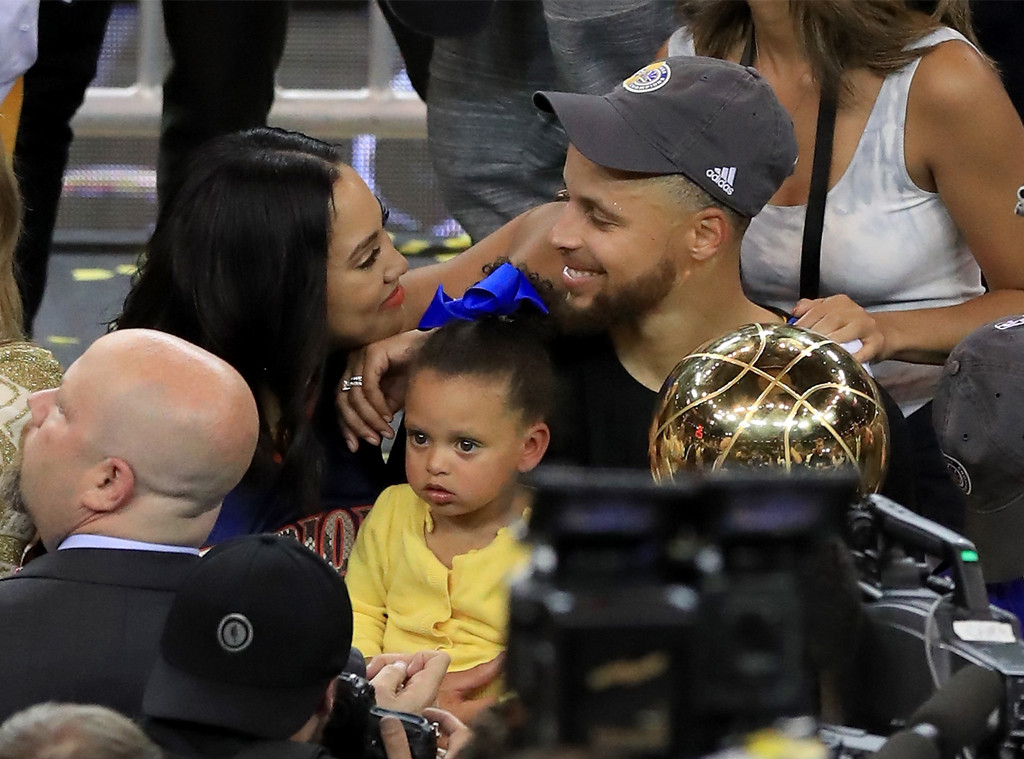 Ronald Martinez/Getty Images
Steph and the Warriors bounced back to win the 2017 NBA Championship and last July he signed a five-year contract extension worth a reported $201 million. Also last summer, a year after the drama, the two-time league MVP said that he really had no problem with what his wife tweeted in 2016.
"I encourage her to do her thing, to—to always speak her mind," he also told ABC News. "Like, never—never, you know—muffle any of that." Ayesha should "never, never not speak her mind in any situation."
Ayesha Curry's Tweets: Agree or Not, Stephen Curry's Wife Has Exposed Another Troubling Unwritten Rule in Professional Sports
Ayesha in turn was there for him once again last fall when President Trump called Steph out on Twitter after hearing that Curry would refuse an invitation to the White House. She replied with an "oh, well" face and a link to donate to UNICEF's earthquake relief efforts in Mexico. She didn't stand idly by in November, either, when Steph was slammed online for a video that purportedly showed him snubbing a young fan who was trying to get his attention after several other Warriors posed for pics with him. The video was first posted with the caption, "yo….Steph Curry ain't s— lol," and it turned into a big to-do.
"So tired of seeing this," Ayesha tweeted back. "He was looking for a family member in a crowd of 100 people which you can't see on the other side of the camera…" She continued, "He would never purposefully ignore a squirrel let alone a precious little boy. Demeaning someone to get your followers up much."
When another tweeter insisted that Steph saw the boy, she replied, peppering her response with tears-of-laughter emojis, "No he didn't. He does the same thing to me at least once a week. He has tunnel vision. If you had placed a bet you would've lost so bad."
But just because she has no qualms about calling a foul when she sees one, still do not call her a basketball wife.
She's a "mom and wife first," Ayesha happily clarified to ABC News earlier this year. "Those are the two most important titles." She did not say "NBA wife," because, "I mean, I don't think my husband would call himself 'chef's wife.'" She enjoyed a good laugh at that one.
However, do feel free to call the 29-year-old—who added CoverGirl model to her resume, partnered with farm-to-bottle juice company Züpa Noma, was given No Kid Hungry's Champion Award for her efforts to end childhood hunger, and landed on Forbes' "30 Under 30" list last year—a "mompreneur."
Check us out today on @theellenshow !!! So much fun. Ahhhhhh!
A post shared by Ayesha Curry (@ayeshacurry) on
"I'm like a chicken with my head cut off. There's always a million and five things going on," she mused in January.
Make that a million and six.
In early February Ayesha announced that their third child was on the way and a couple months later she revealed just how tough the pregnancy had been for her so far, having endured five hospital stays that left her feeling not that into cooking or eating.
But like a boss she was back at work in April, teasing a project with World Market and interior designer Taniya Nayak to her 5.5 million Instagram followers.
On this journey, on this quest… protect me… I'm bless! Canon W. Jack Curry
A post shared by Wardell Curry (@stephencurry30) on
Doing a five-minute Twitter Q&A with fans in February, she was asked how she balanced being a mom and mogul.
"you're so sweet thank you!" Ayesha replied. "The key is learning to thrive in the Chaos, realizing nobody has true balance. There is beauty in the chaos."
And while Steph Curry missed the last 10 games of the regular season and the beginning of the 2018 NBA playoffs with a knee injury, he didn't miss a step when he came back—and neither did the Warriors, who swept Cleveland in the Finals to win their second straight championship. And you know who was cheering the hardest once Steph was back on the court.
The confetti has since been swept away and there are still no plans to visit the White House anytime soon—but Steph and Ayesha Curry are once again having a summer to remember.
In June they celebrated at the Warriors' victory parade surrounded by fans in Oakland. Ayesha crushed "Fast Money" and won $25,000 for charity on Celebrity Family Feud. Steph played in a celebrity softball game for Jug Life and helped collect donations for Baby 2 Baby to give to immigrant children caught up in the crisis at the border. Steph's YouTube series "5 Minutes From Home" premiered and Ayesha's going to host (and executive-produce) the upcoming ABC series Family Food Fight.
Then to top it all off, just in time for the fireworks, Canon W. Jack Curry was born on July 2.
It runs in the family, the Currys know how to make an entrance.
(This story was originally published April 14, 2018, at 6 a.m. PT)
Source: Read Full Article