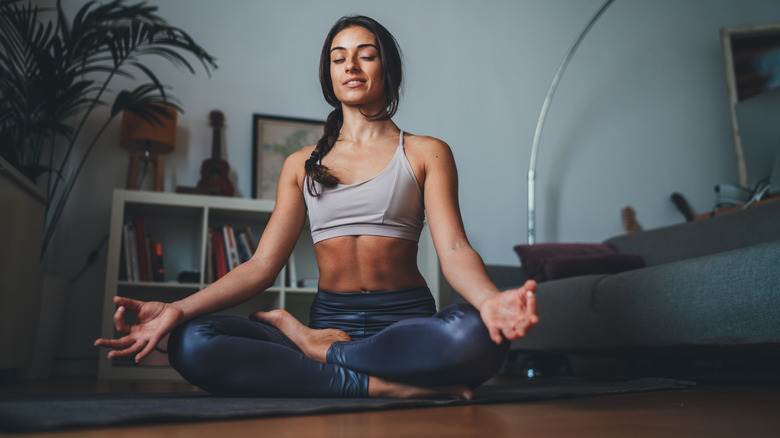 Im Yanis/Shutterstock
By Sam Cohen/Sept. 9, 2021 12:02 pm EDT
Mental health maintenance is an essential aspect of a healthy life. If your mental health is suffering, you're more likely to experience adverse emotions like anger, sadness, and feelings of helplessness, all of which are detrimental to your well-being (per Psych Guides). When you prioritize your state of mind, you allow yourself to lead a healthier, calmer existence. An easy way to incorporate mental health practices into your regular routine is by using a meditation app like Headspace or Calm.
Both Headspace and Calm offer a variety of stress-reducing options, including guided meditations, mindfulness programs, bedtime stories, calming music, and video lessons. You'll need an annual or monthly membership to access the full benefits of these apps, though free trials are available for new users. If this is your first time using a meditation app and you're unsure of which is the best option, we've broken down the similarities and differences to help you determine whether Headspace or Calm is best for you.
Headspace makes meditation more approachable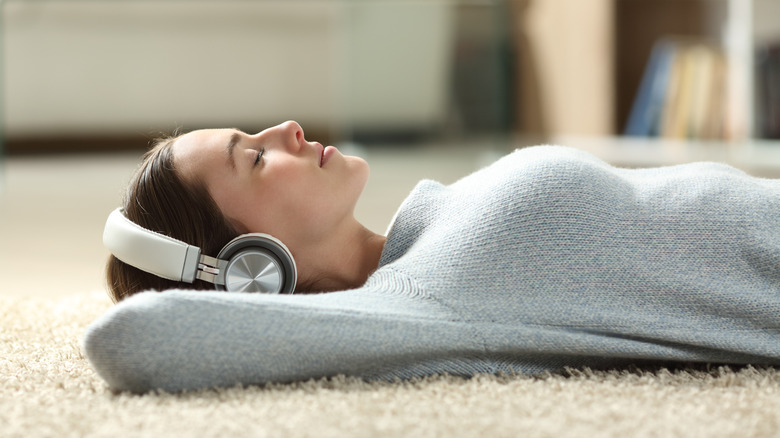 If you've ever wondered whether listening to mantras can make you feel better, or you've struggled with anxiety and have thought about pursuing meditation to address the issue, Headspace has you covered. According to PsychCentral, Headspace is intent on helping you approach meditation and mindfulness in a way that feels easy and joyful. The app boasts numerous features, including beginner meditation courses, bedtime stories, music tracks, exercise videos, and much more.
In terms of guided meditation, Headspace allows you to choose from a variety of lengths with some designed for brief, daily use and others designed for a longer commitment between 10 and 30 days. The lengthier options help you tackle emotions like anger and anxiety, and help you enhance your happiness, patience, and understanding of the world. Ease into the process by completing a few of the daily guides before delving into a 10-day or 30-day course to ensure you're practicing mindfulness effectively.
Headspace offers a seven-day free trial and a 14-day free trial for new users. After that, you'll need to pay either a monthly fee of $12.99 or an annual fee of $69.99 to retain access. If you're a student, you may qualify for an annual cost of only $9.99, and families of up to six people can create an account for one flat rate of $69.99 yearly (per PsychCentral).
Calm provides an all-around soothing experience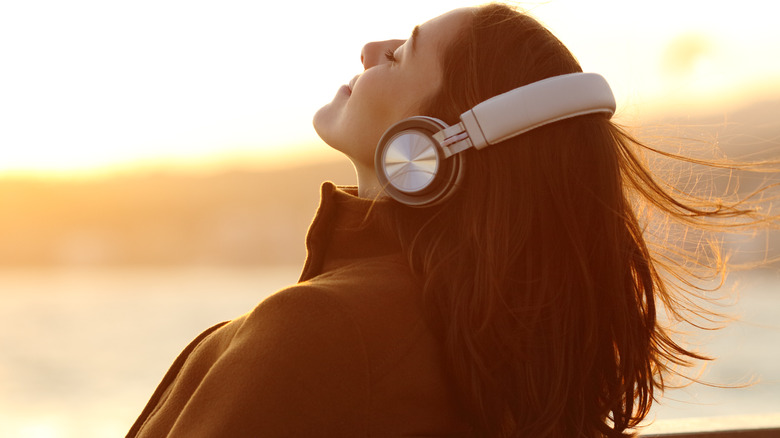 Calm is one of the most popular meditation apps on the market today. Though it's in the same category as Headspace, Calm offers a completely different experience and chooses to focus primarily on "soothing sounds and natural landscapes" per PsychCentral. Bird noises, ocean sounds, and forest noises are all available tracks for you to choose from through the app's soundscape category.
Calm's primary focus is to help users reduce stress, improve their self-compassion and mindfulness, and to get more sleep. The app offers quick 10-minute guided meditations for those who want to start by learning how to meditate before incorporating other aspects of mindfulness into their routines. Calm's soundscapes are great for those who want to reduce their anxiety and improve focus while working or studying, and the bedtime stories read by celebrities like Harry Styles and Matthew McConaughey are a huge hit among users. Who doesn't want Styles' voice guiding them into a deep and restful slumber every night?
An annual membership for Calm is comparable to Headspace and costs $69.99. If you fall in love with the app and you want to purchase a lifetime membership, you can pay a one-time fee of $399.99. If you notice a significant improvement in your overall mental health and well-being, it's definitely worth the investment.
Source: Read Full Article