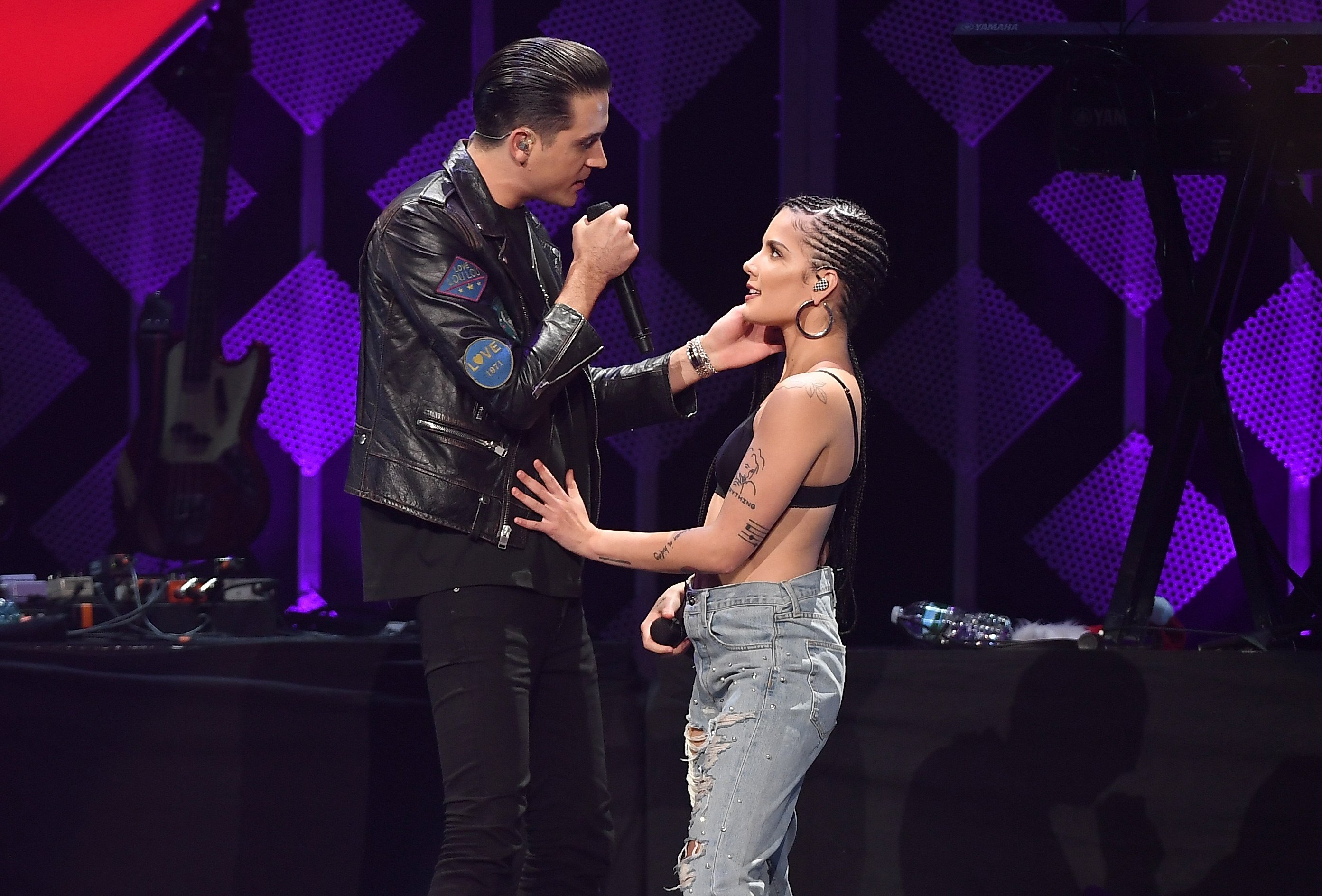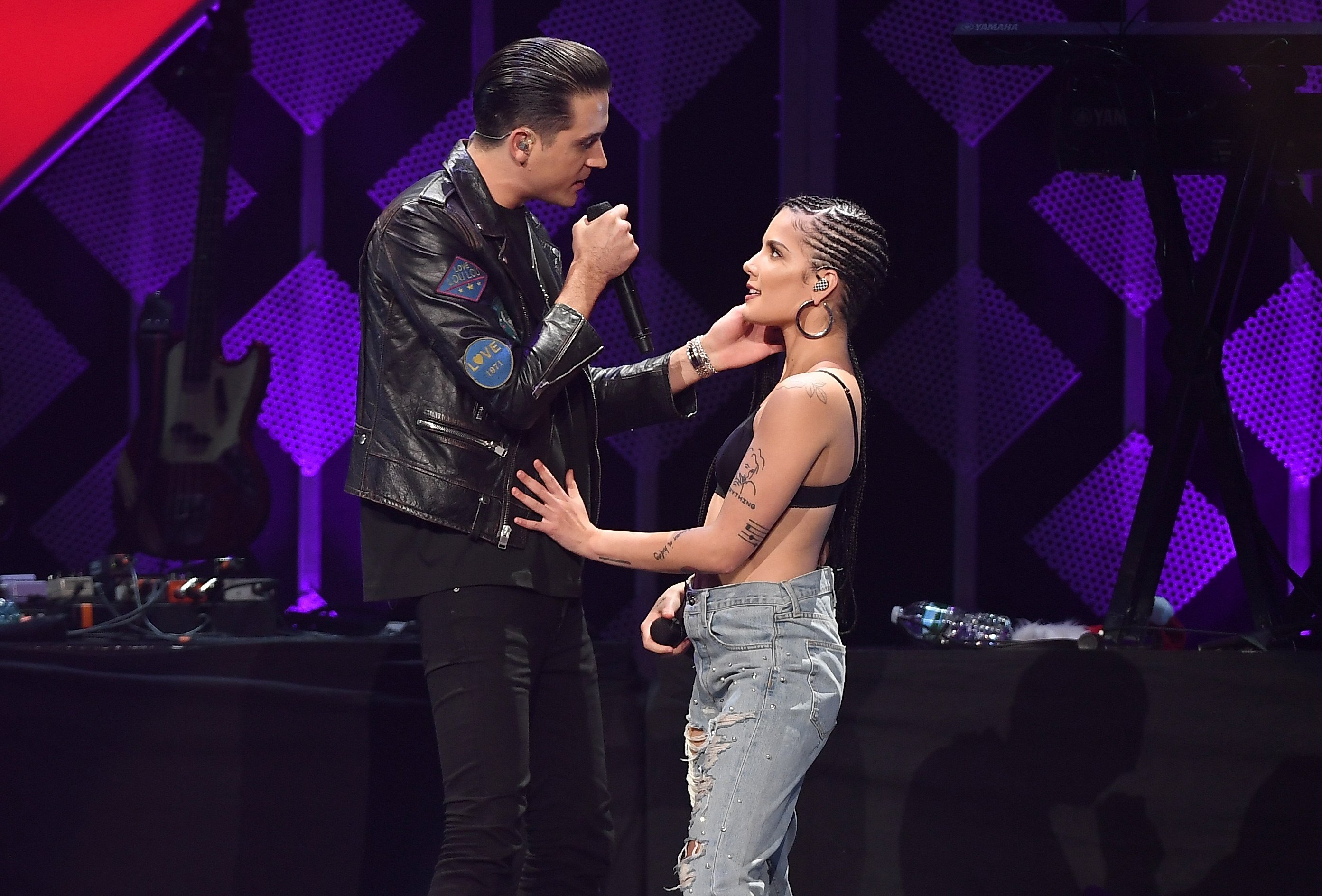 Halsey and G-Eazy |Angela Weiss/AFP/Getty Images)
Fans were shocked when they heard "Bad at Love" singer Halsey and rapper G-Eazy were breaking up after one year together. The two often gushed about each other during interviews and were frequently seen embracing and holding hands. What happened to this couple who looked so much in love?
The announcement
Halsey and G-Eazy were considered one of the music industry's hottest couples. Much to the surprise of her fans, Halsey announced on her Instagram account she and G-Eazy were taking time apart:
I normally keep this kind of thing private but provided our public nature I feel the need to inform my fans. G-Eazy and I are taking some time apart.  I'm eager to continue the upcoming passage of time dedicating myself to my art and my career, and the duration of my tour. I wish him the best. Thanks for respecting our privacy at this time.
How they met
Although details are unclear about how and when the couple met, G-Eazy says they met at a party. There are photos of them together as early as 2015 at the MTV Video Music Awards. In the caption next to the Instagram photo, Halsey says G-Eazy was her "everything." Said Halsey, "This pic is from the VMAs 2 years ago!!!! Had no idea he was gonna be errything to me one day."
It's hard to believe when you look at photos of them together, but Halsey reportedly said she didn't like G-Eazy when they first met. In an interview with Smallzy's Surgery on Nova 96.9, Halsey says she wasn't fond of him, but decided to give him a chance:
It's actually really funny, I didn't like him at all. He would come up to me at awards shows and stuff and say 'hey' [and it was like] 'ugh G-Eazy is trying to chat me up right now.' I'm making it sound kinda nerdy, but he was really smooth with it.
The couple has been rumored to do drugs together
Halsey and G-Eazy are rumored to have engaged in some troubling activity. Living on the edge might have negatively impacted the couple's relationship and could possibly be one reason for their separation. In January 2018, Halsey was photographed snorting what appears to be cocaine during a yacht party. In interviews, G-Eazy later seems to confirm that he and the singer do drugs together. He also rapped about doing drugs with Halsey in the song "Him and I."
G-Eazy's troubled past
The rapper reportedly had a clash with the law after he was accused of punching a bouncer at a bar in Sweden, according to TMZ. According to a source, G-Eazy and his security were attempting to confront a fan who was taking pictures in the VIP section, and the bouncer was punched accidentally. It was also reported that G-Eazy used a $100 bill to snort cocaine. According to the publication, police offers claim they found cocaine and a rolled up $100 bill on G-Eazy when they took him to jail.
He's quite fond of the ladies  
The rapper isn't afraid to express his interest in beautiful women in the entertainment industry. Two women he showed a liking for are Taylor Swift and Britney Spears. However, G-Easy took his interest a little too far when he tried to kiss Britney Spears during their 2016 Video Music Awards performance.
G-Eazy once said he was obsessed with Halsey
Apparently, obsession isn't enough to keep a relationship together. G-Eazy once told MTV News he was "obsessed" with Halsey, and that she's a beautiful person. He said this in response to a question about working with her. Said G-Eazy in the interview, "She's a really special person, a really beautiful person, a really beautiful artist, and she just sounds good on everything, I'm just obsessed with her."
We don't know what the future has in store for Halsey and G-Eazy, but considering their controversial relationship, it's probably best for them to spend some time apart.
Follow The Cheat Sheet on Facebook!
Source: Read Full Article