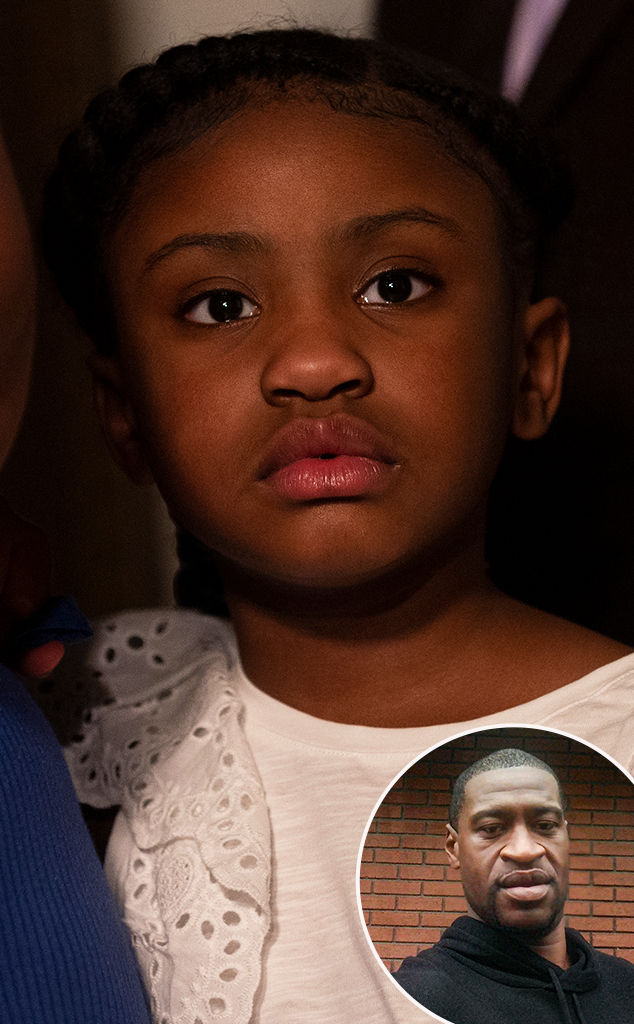 Stephen Maturen/Getty Images, Courtesy Ben Crump Law
George Floyd's daughter just received a generous gift.
Gianna Floyd, 6, has been offered a full scholarship to Texas Southern University in honor of her dad, who grew up in Houston, Texas.
"The Board of Regents of Texas Southern University (TSU) honors the memory of George Floyd on the day that he is laid to eternal rest," the University said in a statement following George's funeral on Tuesday. "Mr. Floyd was a lifelong citizen of the Third Ward and a revered graduate of Jack Yates High School. The Board, in conjunction with the TSU Foundation Board, has approved a fund to provide a full scholarship for Floyd's beloved daughter, Gianna. TSU's executive and academic staff will prepare a place for Miss Floyd if she wishes to attend the University."
This news comes days after E! News confirmed that Kanye West had created a college savings fund to cover tuition for Gianna. Additionally, the "Follow God" rapper donated to $2 million in relation to the deaths of George, Ahmaud Arbery and Breonna Taylor.
In the wake of George's passing, Gianna's mother Roxie Washington has opened up how her family is dealing with his loss.
"I don't have a lot to say because I can't get my words together right now, but I wanted everybody to know that this is what those officers took," Roxie said as she pointed to her young daughter during a June 2 press conference. "At the end of the day, they get to go home and be with their families. Gianna does not have a father."
The Board of Regents of Texas Southern University (TSU) honors the memory of George Floyd on the day that he is laid to…
She continued, "He will never see her grown up, graduate. He will never walk her down the aisle. If there's a problem and she needs a dad, she does not have that anymore."
"I'm here for my baby and I'm here for George because I want justice for him," she concluded. "I want justice for him because he was good no matter what anybody thinks. This is the proof. He was a good man."
The following day, during Roxie and Gianna's visit to Good Morning America, Gianna said that she misses her dad. Giving viewers a look at their relationship, she also shared that George "played with me."
Chiming in, Roxie added, "She didn't have to play with nobody else because daddy was going to play with her all day long. That was his baby. He loved his little girl."
"E! stands in solidarity with the black community against systemic racism and oppression experienced every day in America," the network said in a statement on May 31. "We owe it to our black staff, talent, production partners and viewers to demand change and accountability. To be silent is to be complicit. #BlackLivesMatter."
Source: Read Full Article