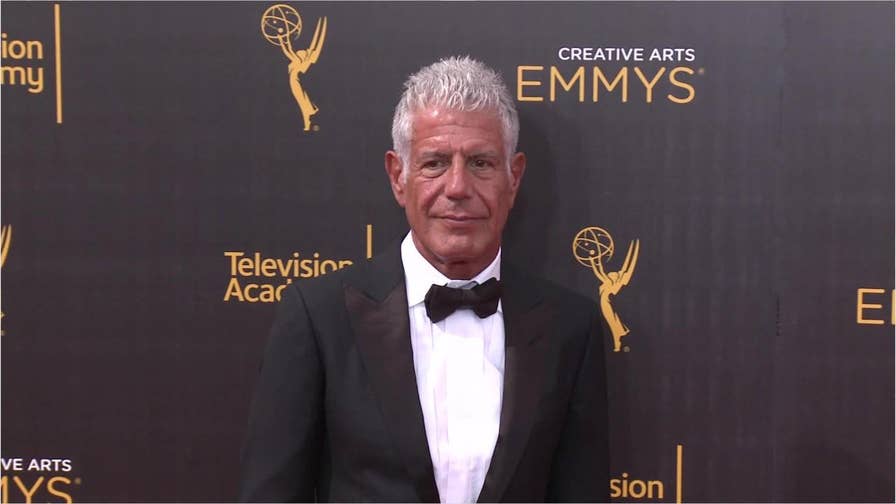 Emmy Viewers Angered Over Balvenie Scotch Ad Featuring Anthony Bourdain – HIRES
The scotch brand Balvenie is under fire for airing its recent ad featuring the late Anthony Bourdain during the Emmys. Fans went to social media to slam the company.
One of the biggest upsets from Monday night's Emmys didn't actually have anything to do with the awards show, but rather one of the commercials that aired during the primetime program.
Shortly after an "In Memoriam" segment remembering Anthony Bourdain who committed suicide in June, an ad for Balvenie Scotch played during the break featuring the late chef and TV personality.
The 30-second commercial features Bourdain sitting in what appears to be a workshop or studio, speaking to the camera. "It's not always a great idea to follow your passion if you're passionate about something you'll never be good at," he says.
"But if you feel in your heart, if you know, if you have reason to believe that you can be awesome at something, that you can do something unique that will shock, and astound, and terrify people and bewitch them — do that," he continues over a montage of clips showing Bourdain with various craftsmen, along with a shot of him drinking the Scotch.
At the end of the video, text runs across the screen that reads, "And so you did. We're proud to have shared the journey."
Balvenie Scotch also posted the video to its social media accounts, writing: "The Balvenie was fortunate enough to work with Anthony Bourdain on our YouTube series 'Raw Craft.' He challenged and inspired us every day and we miss him greatly."
While Bourdain had partnered with the Scotch brand in 2015, Bourdain's fans were quick to call out Balvenie for its "inappropriate" decision to use him to sell an alcoholic beverage.
FOLLOW US ON FACEBOOK FOR MORE FOX LIFESTYLE NEWS
The "Parts Unknown" host won two Emmys Monday — Outstanding Writing for a Nonfiction Program and Outstanding Informational Series or Special, for the critically-acclaimed travel show on CNN.
Michelle Gant is a writer and editor for Fox News Lifestyle.
Source: Read Full Article