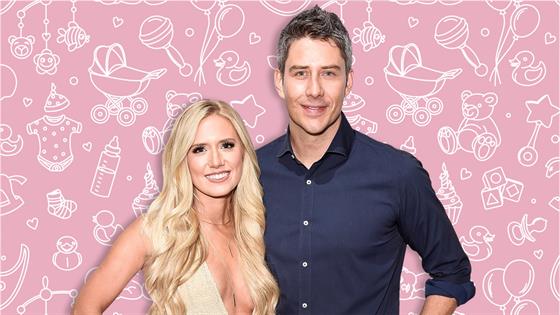 Last Wednesday, The Bachelor's Arie Luyendyk Jr. and Lauren Luyendyk welcomed their first child, daughter Alessi Ren Luyendyk. A week later, mom went out for lunch and left her with grandma. And the Internet had some thoughts.
Arie clapped back at the critics who mom-shamed his wife on Instagram after she wrote, alongside a photo of her hugging her sister, "First time out of the house without Alessi and I only cried one time. I'd say it's a win."
"To all the negative comments regarding leaving her with grandma for a 45min lunch, cut her some slack!" Arie commented. "It was my idea because she has been working so hard to keep up and quite frankly I commend her for 1. Being an incredible mom and getting the breast feeding down enough to make sure she had enough while she was at lunch. (Moms know that breastfeeding can be difficult) and 2. So much of being a good parent is making sure you take care of yourself. She wanted a healthy meal with her sister who is in town."
"I get so frustrated at the comments because she is such a kind soul and takes these comments to heart," he added. "Be kind people!"
View this post on Instagram
First time out of the house without Alessi and I only cried one time. I'd say it's a win.???‍♀️
A post shared by Lauren Luyendyk (@laureneburnham) on
"Lol I didn't leave my baby until she was 4 months old and I cried," commented one user.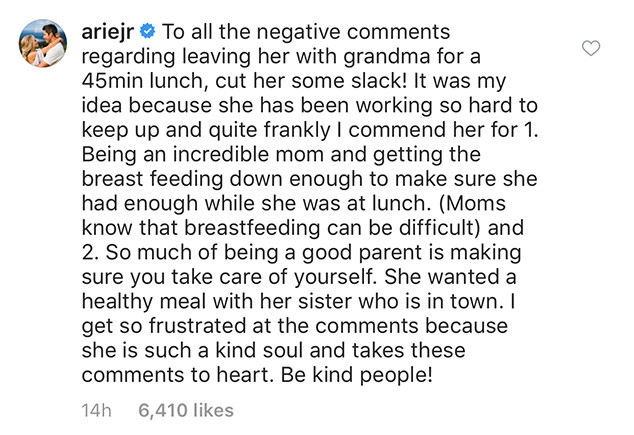 Instagram / Arie Luyendyk Jr.
"To be honest she did cry but grandma had it handled!" Arie replied.
View this post on Instagram
Fatherhood is the best. I think my heart just grew two sizes ❤️
A post shared by Arie Luyendyk (@ariejr) on
A couple of fellow Bachelor Nation alumni moms also commented on Lauren's post.
View this post on Instagram
HELLO WORLD! Made my grand entrance 6 days ago and wow it's bright out here. A couple of things…First off it's way easier to type on this iPhone (so much more room than last week) and HOW GOOD is milk?! Can't get enough of it. So many things to take in…I finally met Mom and Dad, the whole family as well and my room is sooooo cute! Right now I sleep in Mom and Dad's room and when I wake up in the middle of the night I catch Mom and Dad staring at me…I mean what are they looking at? This morning I gave them a small smile, I think Mom even cried. Now I know what you are all thinking, will I keep posting? Of course! Every Tuesday I'll fill you in and hopefully Dad can get my angles, because when you're this young, you never need the pretty filter ✨ Okay everyone time for more milk, chat soon xoxo
A post shared by Alessi Ren Luyendyk (@babyluyendyk) on
"Winning for sure! You look great!" wrote The Bachelorette's Desiree Hartsock, who gave birth to her and husband Chris Siegfried's second son in January. "And always take time for yourself. The first weeks are tough and it looks like you're doing amazing momma!"
"Omg how…i'm so jealous!! Ruth was on my t-t every 30 minutes and i was bleeding everywhere lmao," commented The Bachelor's Bekah Martinez, who gave birth to her first child and daughter in February.
Source: Read Full Article