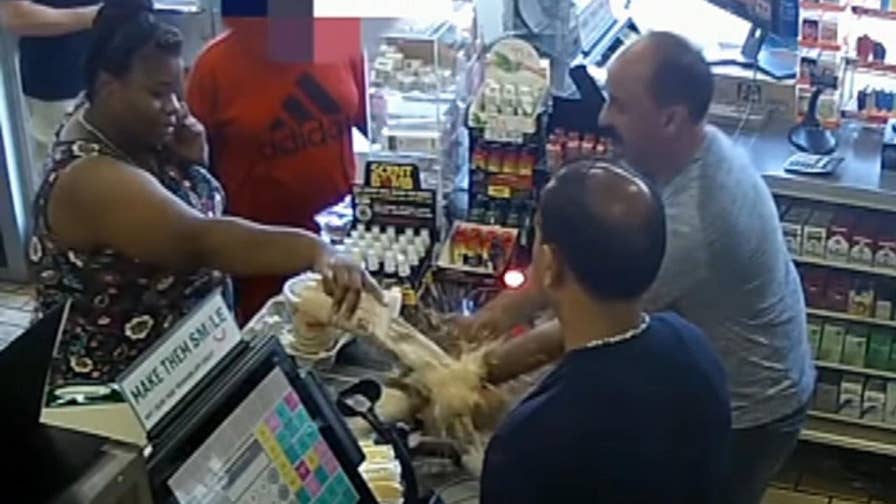 Angry customer pours iced coffee on New York store's counter
Raw video: Suffolk County Police asking for help to identify woman who poured beverage on 7-Eleven store counter because she was allegedly upset with the price.
A coffee a day may keep fatigue away, but New York police likely aren't thrilled to be searching for a woman who dramatically threw iced coffee across the register counter of a 7-Eleven after a reported squabble over the price of the drink.
On Aug. 30, an unnamed female customer became irate after learning the price for the three iced coffees she intended to purchase at 7-Eleven in Mastic, Long Island, WNBC reported.
In video footage obtained by Fox News, the customer chats on the phone as she attempts to buy the drinks at the register before the transaction quickly turns sour. Getting in an argument with the 7-Eleven staffer working the cashier, Long Island police say that the customer threw her drink after learning how much it all cost.
Storming out of the convenience store, the disgruntled woman proceeded to flee black in a GMC Yukon with New Jersey plates, according to the outlet.
FOLLOW US ON FACEBOOK FOR MORE FOX LIFESTYLE NEWS
The incident damaged $200 worth of cigarettes in the process, authorities said.
Now, the Suffolk County Crime Stoppers is offering a $5,000 cash reward as they urge witnesses to contact them with any tips on the crime.
Janine Puhak is an editor for Fox News Lifestyle. Follow her on Twitter at @JaninePuhak
Source: Read Full Article