Carrie Underwood has been through a lot of ups and downs in the past year—from her accident in November 2017 that left her with a broken wrist and required 47 facial stitches, to the happier news that she's expecting her second child with husband Mike Fisher. But it turns out there was a lot more going on behind the scenes in the singer's life.
In an emotional interview on Sunday with CBS Sunday Morning, Carrie revealed that before her latest pregnancy, she suffered from three miscarriages.
"I'd kind of planned that 2017 was, you know, going to be the year that I work on new music, and I have a baby," she said. "We got pregnant early 2017, and didn't work out."
Carrie said that at first, she just accepted this as God indicating that the timing wasn't right. But then she had another miscarriage in the spring of that year—and a third in early 2018.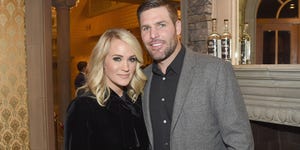 "I had always been afraid to be angry," Carrie said about that period in her life. "Because we are so blessed. And my son, Isaiah, is the sweetest thing. And he's the best thing in the world. And I'm like, 'If we can never have any other kids, that's okay, because he's amazing.' And I have this amazing life. Like, really, what can I complain about? I can't."
But despite that, Carrie said, "I got mad."
She said that she channeled her heartbreak and frustration into writing her latest album, "Cry Pretty"—which somewhat helped her process what was going on. "Cause I would literally have these horrible things going on in my life, and then have to go smile and, like, do some interviews or, like, do a photo shoot or something, you know?" she recalled.
View this post on Instagram
@ opry ❤️❤️❤️
A post shared by Carrie Underwood (@carrieunderwood) on
Things came to a head one night when she thought she was experiencing a miscarriage. Mike wasn't home, so Carrie said she curled up around her son Isaiah and cried—and began to pray. "And I was like, 'Why on Earth do I keep getting pregnant if I can't have a kid?'" she said. "'Like, do something. Either shut the door or let me have a kid.'"
But thankfully, Carrie said just a few days later her doctor confirmed that everything was okay with the baby. She said that she felt God heard her prayer. "Not that He hasn't in the past. But maybe, I don't know, He heard me."
View this post on Instagram
Ooh baby do we have a bundle of info to share with you! Click here for info on The Cry Pretty Tour 360! #CryPrettyTourBundle #CryPrettyTour360 #CryPrettyAlbum @CALIAbyCarrie http://www.carrieunderwoodofficial.com/
A post shared by Carrie Underwood (@carrieunderwood) on
Thankfully, Carrie now seems to be doing great. She hasn't confirmed her due date (or the sex of the baby), but she told CBS that she hopes that she will be able to bring her new child with her when she goes on tour in spring of 2019.
Watch the full CBS interview in the video above.
Source: Read Full Article