A MIGHTY bone-in pork chop has all the substance of a rib eye beef steak— and more than 30 grams of muscle-building protein—but is waaaay more versatile.
Here's proof: the following recipe for pork chops with cherries and oregano, developed by Gregory Gourdet, the author of the new cookbook Everyone's Table, and the chef and owner of Kaan, a wood-fired Haitian restaurant opening in Portland, Oregon, in 2022.
And the benefits of pork chops go way beyond flavor. One eight-ounce pork chop has a hefty 44 grams of protein for 361 calories and roughly 19 grams of fat. Like a beef rib eye steak, good pork chops cook up juicy and tender, and they're deeply meaty.
There are a few different kinds of pork chops at the meat counter. The "rib chop," like the one in the photo, has a large bone and no tenderloin meat, and the bone-in "center-cut chop" has tenderloin and loin. Both are great for grilling or searing. A "blade" cut, by comparison, comes from the tougher shoulder of the animal and is best used for recipes that involve slow cooking (so not this one).
The chop, combined with one of the sides that follow, provide the 30-10 protein-to-fiber ratio you need to build muscle and stay full. Want more? Click here.
The Protein: Pork Chops with Cherries and Oregano
What You'll Need:
4 bone-in pork-loin chops (about 1 1/2 inches thick and 10 oz each)
1/4 cup extra-virgin olive oil
4 large garlic cloves, thinly sliced
3-inch knob of ginger, peeled and finely chopped
1 1/2 lb fresh or frozen cherries, stemmed, halved, and pitted (about 4 1/2 cups)
1 large dried chipotle chile, soaked in warm water for 20 minutes and finely chopped
1/4 cup honey
2 Tbsp lime juice
1/4 cup ground coriander
1/4 ground cumin
Small handful mixed small cilantro sprigs and thinly sliced trimmed scallions
2 Tbsp fresh oregano leaves
How to Make It:
1. Heat half of the olive oil in a large pan over medium low. Add the garlic, ginger, and 1 tsp salt. Cook until the garlic is fragrant, about 1 minute. Add the cherries and chipotle, raise the heat to medium high, and cook, stirring frequently, until reduced to a glaze, 8 to 10 minutes. Remove the pan from the heat, stir in the honey and lime juice, and then return to the heat for 30 seconds to meld the flavors. Cover on warm.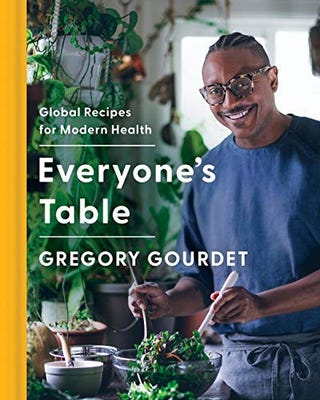 2. Preheat the oven to 350°F. On a large plate, mix the coriander, cumin, 2 Tbsp freshly ground black pepper, and 1 Tbsp salt. Dredge the pork chops in the spices, turning to coat them all over. Transfer to a plate.
3. Heat 1 Tbsp oil in a large pan over medium. Cook 2 of the chops, flipping once and using tongs to stand them on their fatty edge for a minute till well seared, about 6 minutes total. Transfer the chops to a sheet pan lined with a wire rack, wipe the skillet clean, and repeat with the remaining oil and chops.
4. Roast the chops until a thermometer inserted into the center of each chop registers 130°F to 135°F,* about 12 minutes. Let the chops rest for at least 10 minutes. Divide them among 4 plates, spoon on the cherries, and sprinkle on the cilantro, scallions, and oregano. Feeds 4
Nutrition per serving: 768 calories, 62g protein, 52g carbs (8g fiber), 35g fat
*Consuming raw or undercooked meats, poultry, seafood, shellfish, or eggs may increase your risk of foodborne illness.
The Fiber
Choose either of these sides to go with the pork chops and you'll hit that stomach-filling 10-gram fiber threshold.
Pan-Roasted Sweet Plantains with Onion and Thyme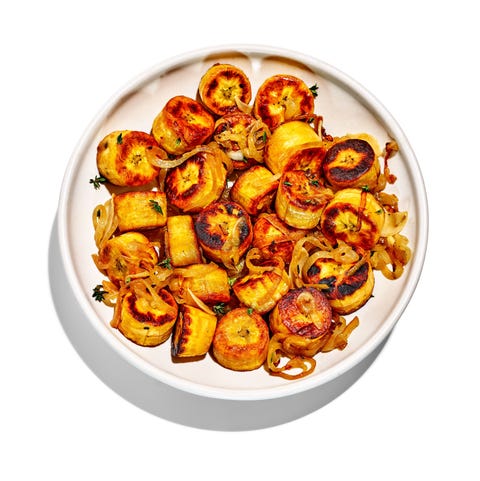 In a large pan over medium, heat 2 Tbsp olive oil. Add 3 very ripe large plantains (peeled and sliced into 1-inch-thick pieces), flat sides down. Cook until deep golden brown, 4 to 5 minutes per side. Flip the pieces onto their edges and cook, rolling them, until browned all over and soft, about 3 minutes more. Transfer to a plate. Add 2 Tbsp olive oil to the pan, plus 1 medium yellow onion (cut into 1⁄8-inch-thick half moons). Cook until softened, about 3 minutes. Reduce the heat to medium low, add 3 garlic cloves (sliced), and cook till golden, about 10 minutes. Stir in 1/2 tsp kosher salt, the plantains, and 1 Tbsp thyme leaves. Cook until the flavors meld, about 2 minutes. Feeds 4
Nutrition per serving: 305 calories, 2g protein, 46g carbs (4g fiber), 15g fat
Coconut-Creamed Collards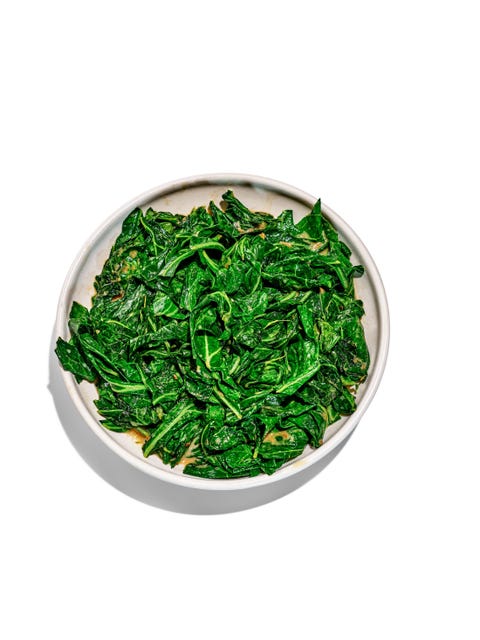 In a large pan, heat 1 Tbsp olive oil. Stir in 3 garlic cloves (thinly sliced), 1 inch of ginger (peeled and minced), and 1 tsp kosher salt. Cook, stirring occasionally, until the garlic turns golden, 1 to 2 minutes. Pour in 1 (13.5 oz) can of unsweetened coconut milk and 2 Tbsp coconut aminos or soy sauce. Bring to a boil, then lower the heat to simmer until the liquid has reduced to the texture of melted ice cream, about 12 minutes. Stir in 10 cups lightly packed collard greens (stemmed and torn), increase the heat to medium high, and cook, stirring frequently, until just wilted, about 3 minutes. Serve hot. Feeds 4
Nutrition per serving: 242 calories, 4g protein, 11g carbs (4g fiber), 21g fat
A version of this article appeared in the May 2021 issue of Men's Health.
Source: Read Full Article