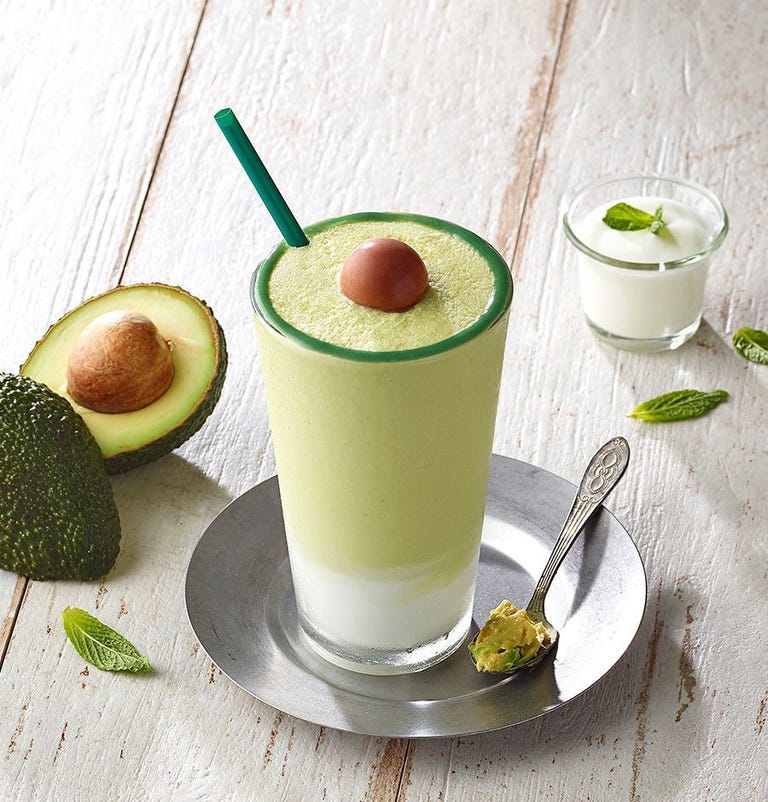 Rainbows, mermaids, unicorns? Nah, this summer's hottest (or coldest if you're the iced frapp type) coffee isall about Starbucks embracing the avocado.
Starbucks has just released an avocado frapp that literally like an avocado, complete with a dark green rim that looks like avocado peel, and a 'pit' made of chocolate! The drink is actually called the "Avocado Blended," but — and this is a big but — is (sadly) a seasonal item only available in South Korea.
In fact, according to news site Korea Daily, South Korea's way ahead of the game because avocad-outstanding coffee was actually first on the country's menus three years ago; the new frapp is a revamped version of the OG beverage. Starbucks recently confirmed that it was bringing the creamy drink back — better equipped for all your Instagram needs — along with another delicious-sounding summer chiller called the "Cool Pineapple Fizzio."
So if you're planning a trip to Seoul any time soon, don't forget to stop by a Starbucks! And also listen to K-Pop! Make #content with your avo coffee porn. Meanwhile, the rest of us will be chilling with our Stateside summer frap flavors. (And also listening to K-Pop!)
Still, this is a plea to Starbucks America to please GET ?ON ?THIS ? LEVEL.
Source: Read Full Article