NATALIA ALGAR, 28.
I AM IN Brunswick Street, Fitzroy.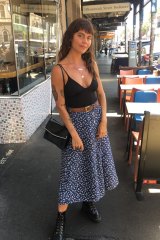 Natalia Algar, 28, on Brunswick Street, Fitzroy.
I WORK IN the communications department of a talent agency.
I AM WEARING a floral blue skirt and a black top that I got in Barcelona. My belt is my mother's and my boots are Doc Martens. My bag is from a secondhand shop. When I bought it, they told me it was real animal skin, but I don't think so.
MY STYLE IS mixed. If I go to the beach it is very hippie, comfortable and airy. But if I go to a party it is more disco; platforms and sparkles.
I ADMIRE THE STYLE OF Disco! Like in the TV show The Get Down.
MY FAVOURITE PLACES TO SHOP For items that have to be new, like underwear, I go to H&M. The rest of my clothes are from op shops. I especially love Fitzroy because it is full of vintage shops. I also sometimes shop online at places like Nasty Gal and ASOS.
MY BIGGEST FASHION MISTAKE WAS trying to be like Avril Lavigne, the Canadian pop punk singer. At one point I had a fringe, black nails and pants that touched the floor.
WHEN I WAS A KID I WORE I am very lucky because my mother knows how to design and make clothes, so she would make a lot of my pieces. I didn't want to look like anybody else. For example, I wanted my own dress, so I drew a design and my mum made it real for me.
I WOULD NEVER BE CAUGHT DEAD IN posh clothes, like Michael Kors or Tommy Hilfiger. It is not my style.
Source: Read Full Article