Just in case it hasn't yet been gushed about enough, I am here to gush just a teeny, tiny bit more about Jonathan Van Ness' 2018 Emmy Awards look. It takes a lot to outshine the gorgeous gowns and luscious locks so many red carpet regulars dish out with ease, but even though Van Ness' rise to fame has been fairly recent, he's already a natural when it comes to strutting his stuff and showing up looking — as he might say — totally gorg.
Here's the thing: I'd be obsessively supportive of Van Ness no matter what he wore, purely because he is such a pioneer for the movement of obsessively supporting others. He gives off only the most positive vibes, and through his work with the rest of the Fab Five on Queer Eye, he's making kindness cool again, both towards others as well as in regards to self-love. The fact that he is a beautiful, heavenly creature is just a bonus, people! His good looks are merely a physical representation of how good he is on the inside — they're the icing on the cake! Even so, Van Ness is a fan of glam, so I knew he'd be serving us looks at the Emmy Awards red carpet.
Words can't express how excited I was to see JVN do his thing in this little number. I mean, can you believe?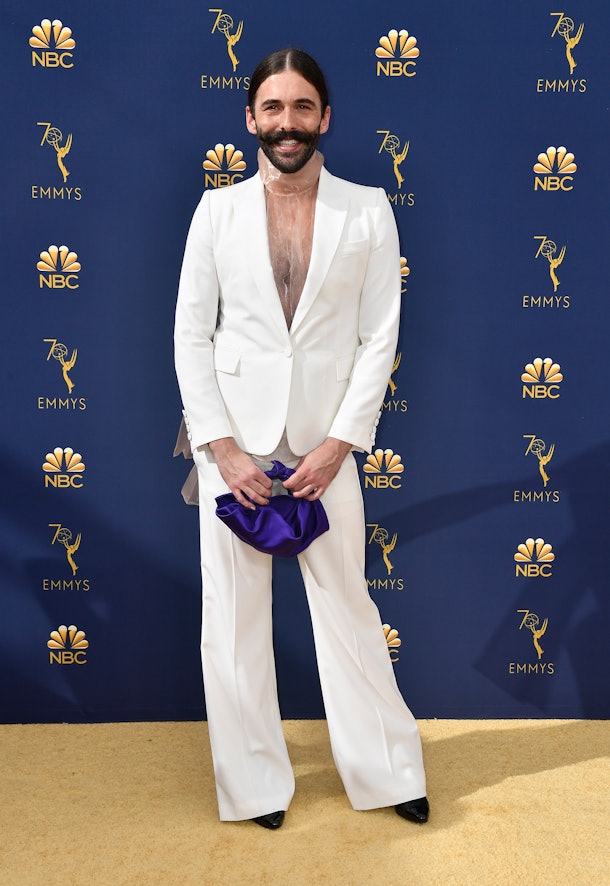 Apparently, Van Ness decided it wasn't enough to slay us with the most crisp, white suit we've ever seen — after Labor Day, mind you! We love a risk-taker! — so he added a gauzy, sheer shirt underneath featuring a fluffy turtleneck moment the likes of which I've never before seen. It was so, so gorg, and he totally owned it.
No really, Jonathan — who gave you permission to look so stunning?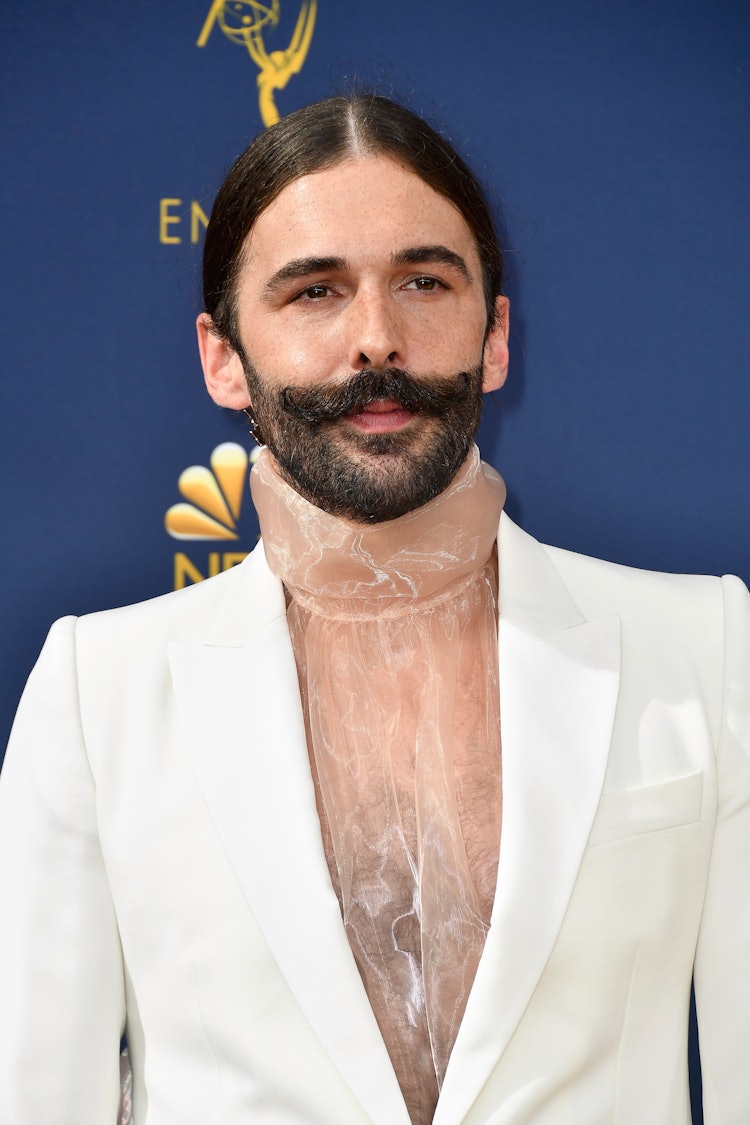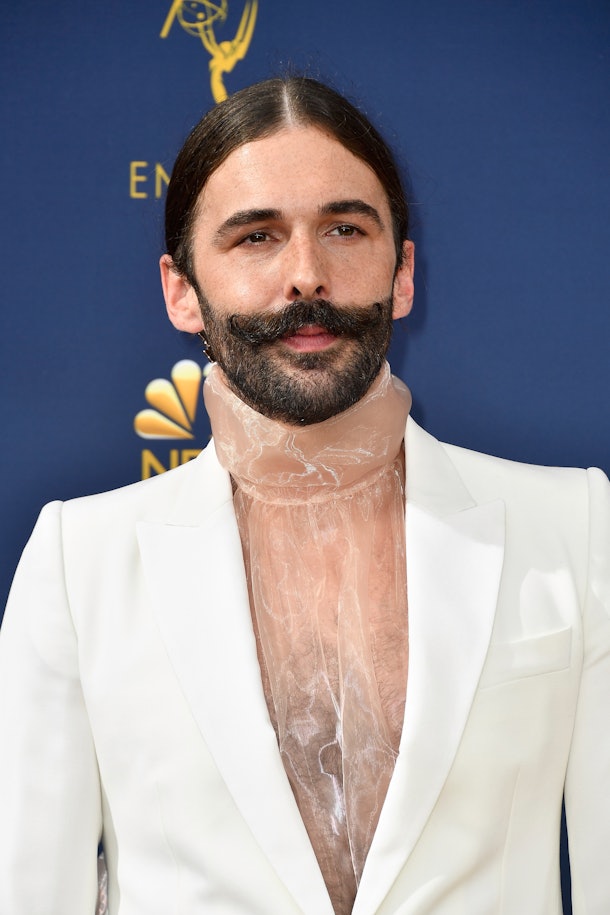 He paired the statement suit with a deep middle-part and low bun, along with perfectly coiffed facial hair and the most radiant, glowy skin one could imagine. On his Instagram, he thanked hairstylist Monique Northrop (his partner for @mojohair, Hair By Monique and Jonathan) and makeup artist Patty Carrillo for creating his look for the night.
The whole ensemble was styled by Alison Brooks, who shared details on the look in an Instagram post. According to Brooks, the suit was Stella McCartney, the sheer blouse was Prada, and the pop of color statement bag was designed by The Row: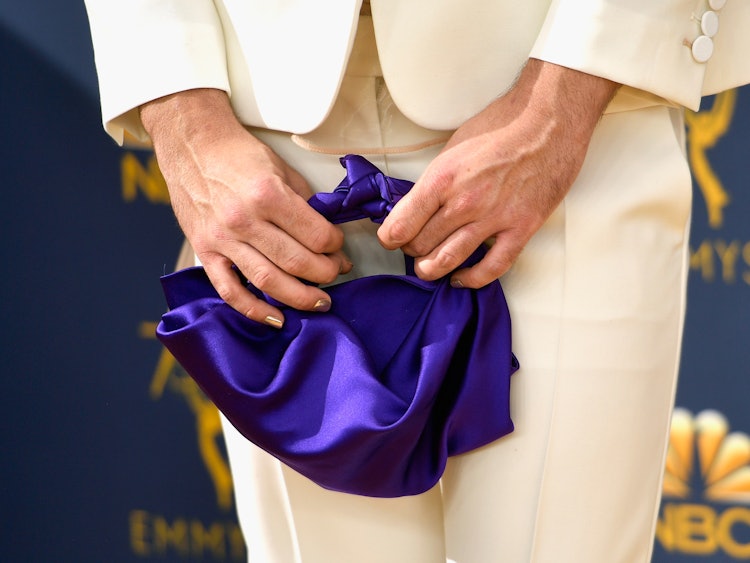 This lewk is Van Ness at his all-time most elegant, and I am such a fan of the entire fit. While the rest of the members of the Fab Five also slayed in their own unique suits, they all stuck to traditional white shirts underneath, so the choice to go for gauze and show a little chest hair definitely made Van Ness stand out.
I am here for the chest hair, honey! More sheer blouses for everyone!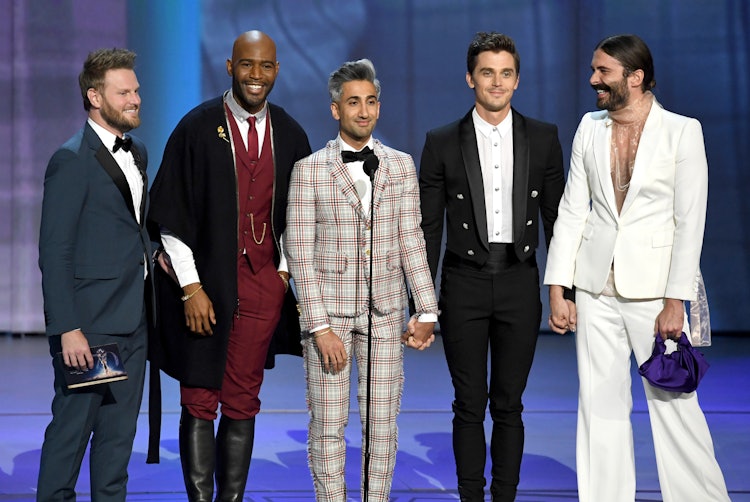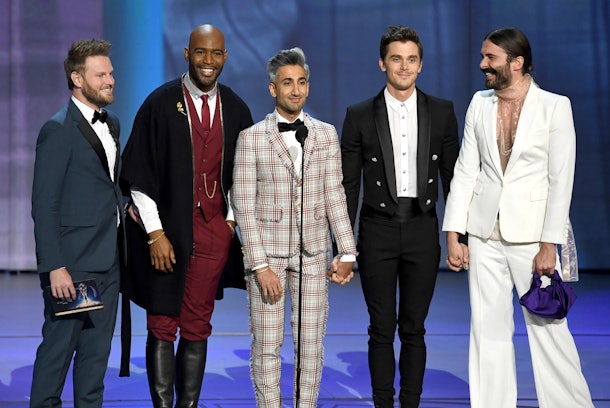 Tan France, are you listening? I'm going to need at least one sheer top to happen during a makeover on Queer Eye's third season. Van Ness has single-handedly made this a major trend for fall and winter — in fact, his dress for the Creative Arts Emmy Awards red carpet featured a sheer, black mesh top as well.
Apparently, Emmy Awards and sheer tops go hand in hand for JVN, and I'm so here for it.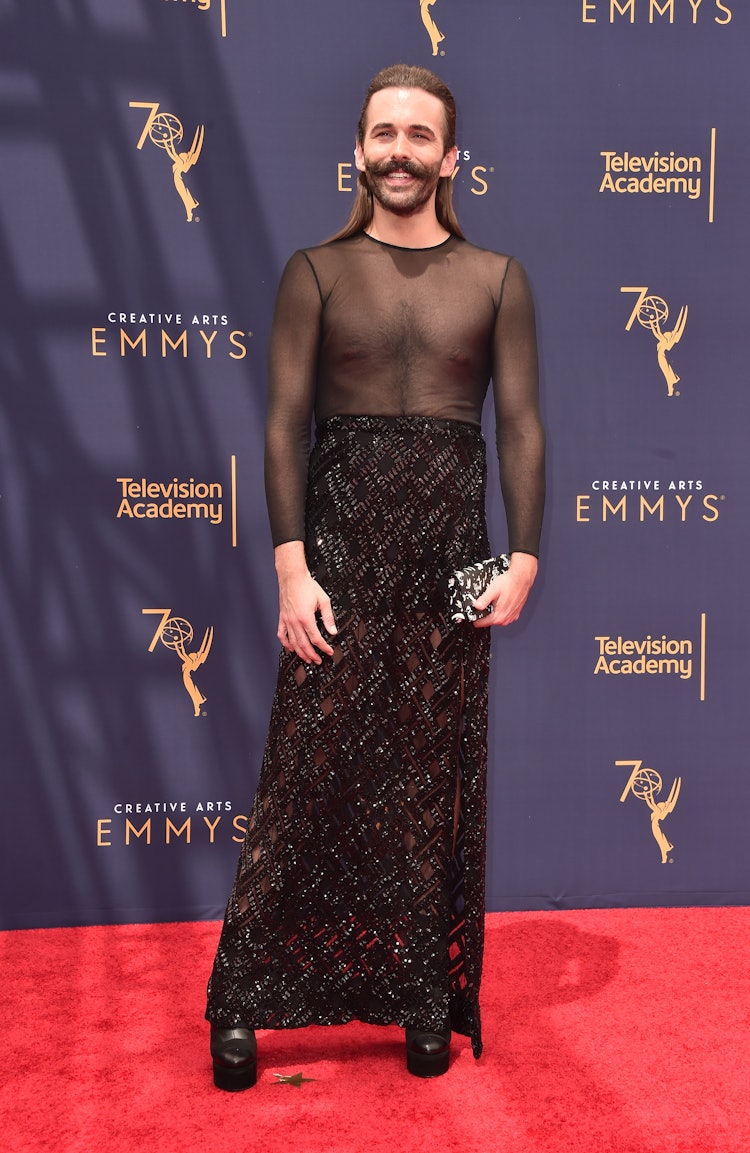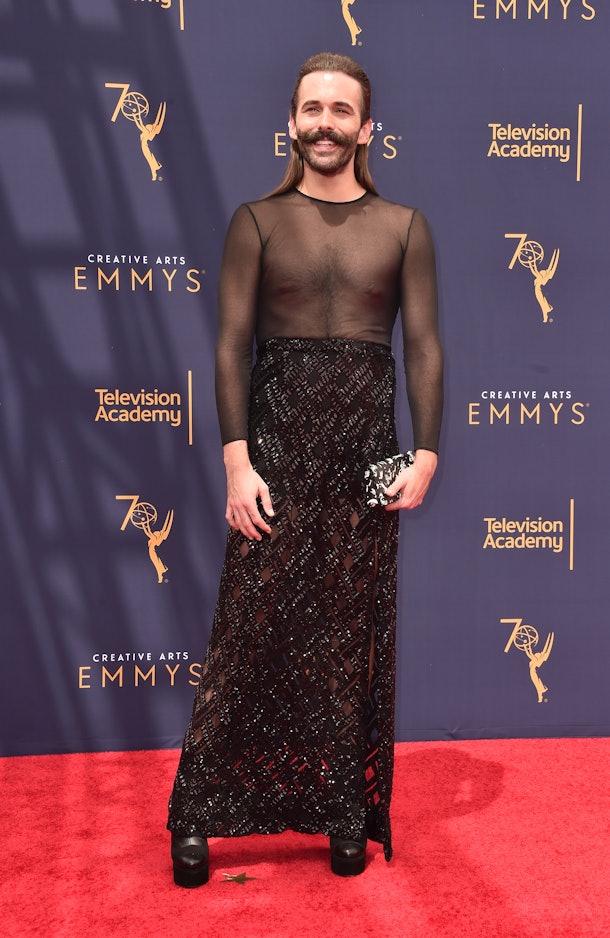 JVN, keep doing you. And by that I mean, keep serving looks, spreading kindness, and being an all-around shamazing human being. In my mind, regardless of nominations, Van Ness wins all the awards!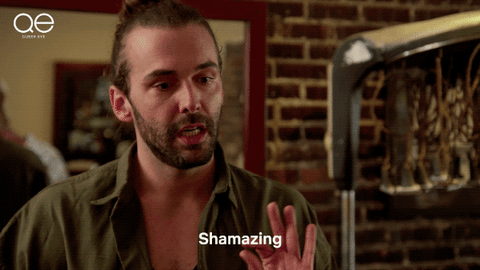 Source: Read Full Article