Just when you thought there couldn't be another twist in the story of Joe Exotic… in comes Marilyn Manson!
To recap… one of Joe's many endeavors depicted in the popular Netflix documentary series was running for Governor of Oklahoma. On Tuesday, Manson posted a screenshot of an Instagram direct message which apparently shows the Tiger King star asking for the controversial singer's political endorsement. 
Related: Carole Baskin Hits Back Over 'Absurd Claims' In Tiger King!
The message, sent in January 2018, read:
"Hey. Thanks for the follow. I'm running for Governor of Oklahoma and trying to speak for the real people for a change and get some people help with addiction in this State that no one cares about. Would you endorse me? Not asking for money. Just to use your name as an endorsement."
The screenshot didn't include a response from Manson (although we can see there's a message cut off from March 2018…), but the shock rocker made his feelings clear in the caption: 
"Nope. Don't F**k With Cats."
Well… maybe you did just a little bit Marilyn, considering you followed the Tiger King on IG!
Exotic (real name Joseph Maldonado-Passage) probably wanted to compare notes with a fellow artist… Oh, we almost forgot, Joe's music career was totally faked.
His campaign for governor was very real though. Despite eventually coming in third in the Libertarian primary, his campaign manager claimed in the docuseries that Joe "thought he was going to win." In the show, Exotic can be seen shaking hands and winning hearts; he even released a series of video messages promoting his campaign. 
In the first message (below), the caption stated Joe was the best person for the job, because:
"The State of Oklahoma needs a real working person, Joe lays it out so he can continue with no drama because he already admits to anything he has done in his past. Honesty is the best policy"
Seems like Joe had a really promising political career… if only it weren't for all the animal abuse and murder allegations getting in the way! Currently, the 57-year-old is serving a 22-year sentence for instigating a murder-for-hire plot against his rival Carole Baskin. Don't feel too bad for him, though: he still has time to sue the feds for almost $94 million dollars, and according to the doc's director Eric Goode, he's reveling in his newfound fame. 
Goode told the LA Times:
"Joe has called me quite a few times over the last few days and weeks. One, he is absolutely ecstatic about the series and the idea of being famous. He's absolutely thrilled."
It probably helps raise Exotic's spirits that stars like Manson are talking about him. Cardi B wanted to start a GoFundMe to support Joe's cause; Sylvester Stallone and his whole family even dressed up as characters from the series!
Sly posted the hilarious cosplay on IG with the caption, "Joe needs freedom and sitcom". 
With an endorsement like that, who needs Marilyn Manson???
Related Posts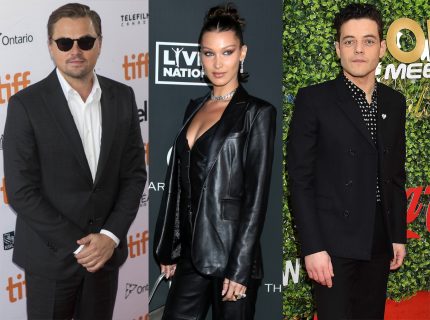 Source: Read Full Article