The resemblance is… uncanny??
Over the weekend, vlogger Alexis Stone shared a video where he totally transformed himself into Kylie Jenner's daughter, Stormi Webster, by using makeup!
The U.K.-based YouTube star — born Elliot Joseph Rentz — used a bunch of different products to capture the essence of the one-year-old!
WATCH the crazy clip (below):
After the video went viral, fans were both impressed… and disturbed!
Some even joked that this was Kylie's ex-BFF, Jordyn Woods, trying to disguise herself to get back into the makeup mogul's house!
They wrote:
"i watched this while completely baked and let me just say it's just as surreal and horrifying when im sober"
"There's a point in the video where it turns into a baby putting on make up and I CANNOT"
"This is disturbing…but in a interesting way"
"damn Jordyn Woods will try anything to get into that damn house"
"what the— this is easily one of the most talented yet scary makeups looks i've ever seen"
"As weird and lowkey creepy as this is, it's also pretty impressive how makeup can be used to do stuff like this"
As we reported earlier this month, the Life of Kylie star shared a sincere video on social media of her attempting to style her child's natural hair.
The "self-made" billionaire added the note:
"I love doing her hair. I'm not the best but I love learning. Some of my favorite memories are of my mom doing my hair. Can't wait till hair is long enough to all fit in the pony. Gotta make it work for now."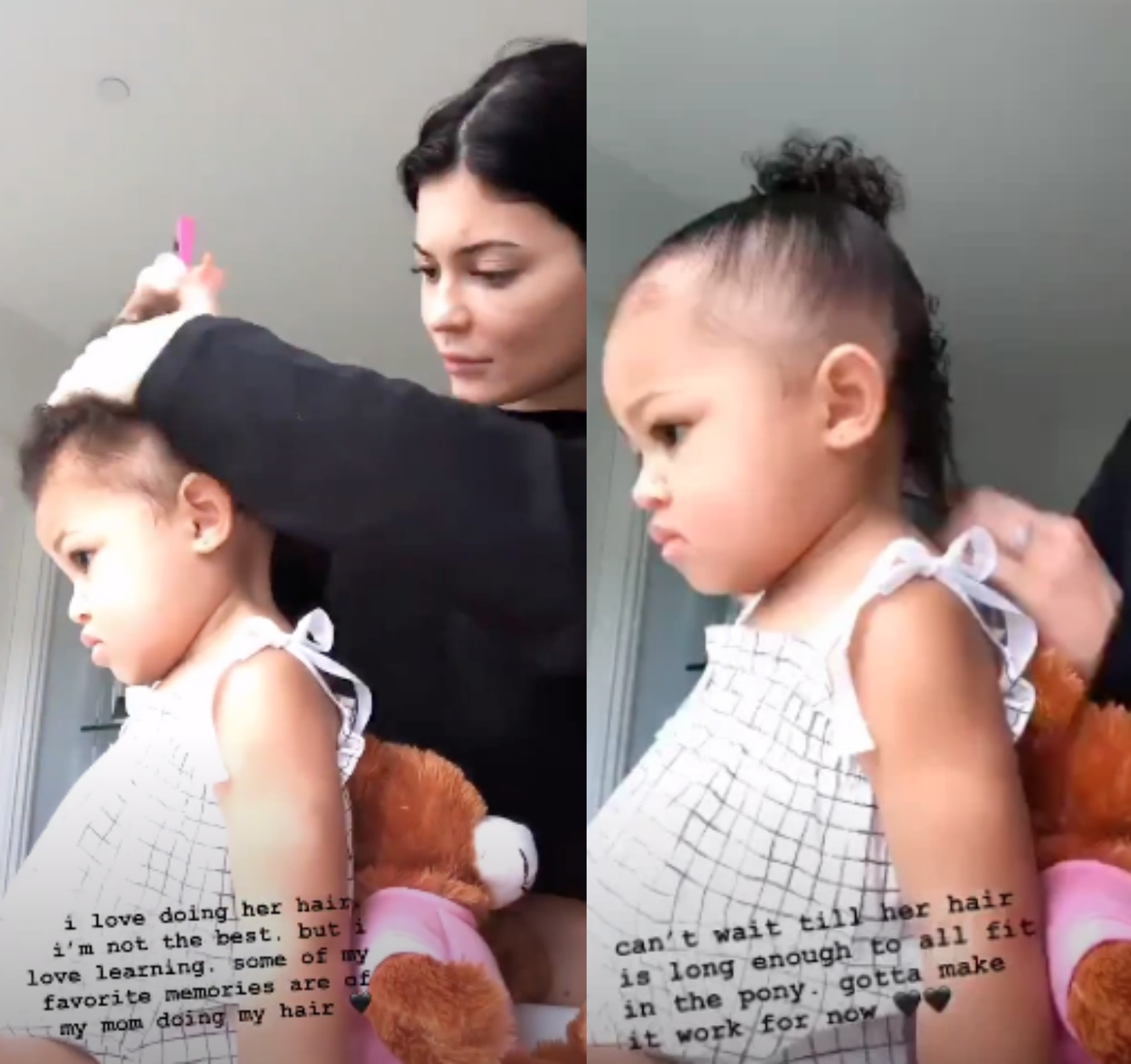 After the clip went viral, Internet users praised Jenner for making the effort to treat her daughter's locks.
They remarked:
"I'm very proud of @kyliejenner learning how to do her mixed race Daughter Stormi's hair! It grinds my gears when I see mixed babies with their hair not done properly. If you have a baby with kinky or curly hair please learn the basics to properly maintain it.
"
"You know what, I give her credit for actually learning how to do her daughters hair.
keep it "
"Watching Kylie detangle and moisturize baby Stormi's hair and then laying out her edges.
That shit was so cute. I really enjoy watching her as a mom."
"I actually applaud any non black mother who takes the time to learn how to do their half black daughter's hair. It's much better than seeing women pop out babies by black men just to say they have a mixed baby but not actually learn how to do their hair."
"I support. Majority of Caucasian moms don't even try to do their black children's hair. They take them to African/Black hair shops, let the dad's family do their children's hair, or don't even touch it at all. & she's a celebrity so you'd expect her to not do anything. Good for her."
"Miss Kylie Jenner had an edgebrush while she was doing Stormi's hair. I appreciate the growth, sis."
Kylie is totally winning at motherhood!
Source: Read Full Article