Podcaster, UFC commentator, comedian, and actor Joe Rogan is a man who wears many hats. Recently, however, he's been making headlines less for his work and more about his thoughts on COVID-19, the vaccine, and "cancel culture." 
For instance, the New York Post reported in July that many employers at Spotify were upset that the music service signed an exclusive deal with Rogan because of his troubling remarks, including his past transphobic comments. His demeaning remarks, made in a September 2020 episode of his podcast, "The Joe Rogan Experience," alluded that the Kardashians are the reason Caitlyn Jenner transitioned, according to Insider. The Wall Street Journal reported that there was enough uproar surrounding Rogan's deal that the company had a town hall with its employees discussing the controversial star. 
And while Rogan has always been a polarizing figure, he recently made the headlines not for his words, but because of his height. Keep scrolling to find out why.
Los Angeles residents got a surprise in the sky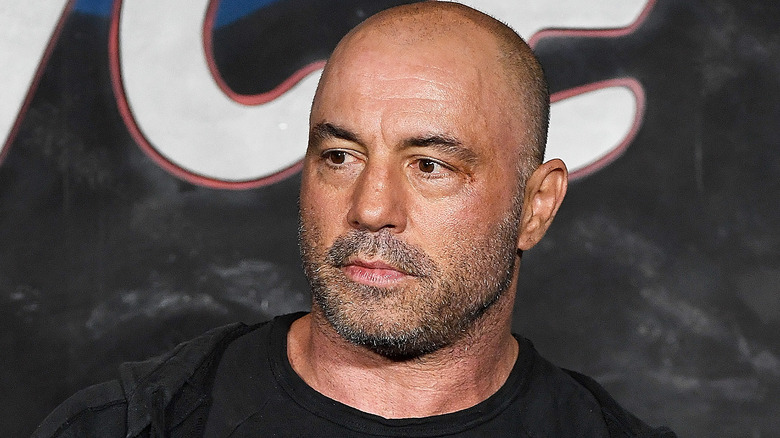 Joe Rogan was involved in a marriage proposal in June — but not in the way one would expect. Twitter and Reddit users in the Los Angeles area documented a proposal that used an airplane to write in the sky, noting that the last phrase ordered was, "Joe Rogan is literally 5 foot 3 [inches tall]."  No one has discovered exactly why the line was necessary during a proposal, but it certainly sent the internet into a frenzy. It also inspired Twitter and Reddit users to investigate the claim.
Rogan's height is listed on his IMDb profile as 5-foot-7-and-a-half. According to Snopes, who analyzed several photos of the comedian, he seems to be of average height and definitely taller than 5-foot-3. Plus, Rogan tweeted his height back in 2018 and said he was 5-foot-8. Clearly the message was just meant to be a joke — and potentially a dig — at the comedian. And the prank was well-received, as it spread like wildfire on the internet.
Joe Rogan isn't alone in having his height called out, though. Keep scrolling to learn about what other stars have had their heights questioned. 
Joe Rogan is not the only one who's been called out for his height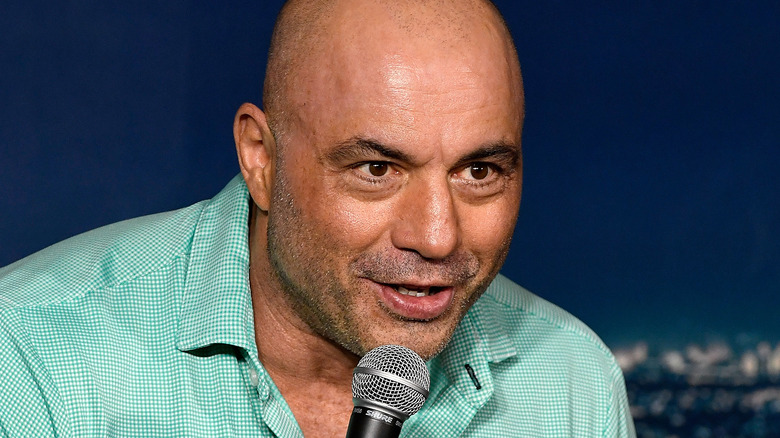 This latest episode with Joe Rogan is just one of many instances where problematic men have been called out for their height. When Tory Lanez and Megan Thee Stallion were involved in a messy shooting last July, during which Lanez allegedly shot Megan in the foot, the internet immediately tore Lanez apart because of his small stature, especially in comparison to Megan. Whereas Megan stands at an impressive 5-foot-10, per The Sun, Lanez is only 5-foot-3 inches, according to The Sun. This might make the message in the sky a bit more appropriate for the rapper than Rogan.
Twitter users did not hold back when calling out Lanez for his behavior, and made a ton of jokes about his height and weight. "Brahhhhhh they said this was the police taking Tory Lanez to jail," one person tweeted along with a video of a little boy being man-handled. Another quipped, "Tory Lanez talks a lot of s**t for someone who's 5'3 and weighs 120 pounds… sir I will step on u." A similar incident occurred with rapper DaBaby. After his homophobic remarks in early July, Twitter users roasted the rapper for a variety of reasons, his height being one of them.
No matter what you think about Rogan, it's clear his height — as well as the measurements of other celebrities — will continue to be hot topic of discussion.
Source: Read Full Article