Barbara Walters is known for many things throughout her impressive career. The television icon has been at the helm of several now-infamous interviews during her time on "20/20" (via IMDb), and there's no doubt that she is one of the most highly-respected journalists in the world. 
While she has had plenty of accomplishments in her career (like an Emmy), her inception of "The View" is one of her most significant accomplishments. In her 2008 book "Audition: A Memoir," Walters shared that her idea for the show "sneaked up" on her because daytime television was the last thing that she was thinking about. However, ABC needed to fill the 11 a.m. slot on the network, and that's where Walters stepped in. "I did have a concept," she wrote in the book. "That occasionally drifted through my head, and when the program finally made it to air, here is what I actually said: 'I've always wanted to do a show with women of different generations, backgrounds, and views.' These women, I imagined, could chat away on all sorts of subjects."
According to IMDb, the first season kicked off in 1997, and as of this writing, it's still on the air. It's seen many people walk through its doors, like Jenny McCarthy and Elisabeth Hasselbeck, but the most prominent name is undoubtedly its creator and once-regular. Keep scrolling to find out why she left after all those years.
She left on her own terms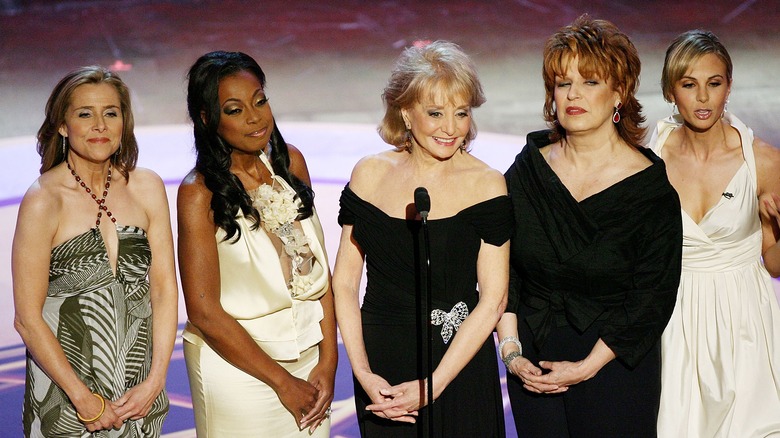 All good things must come to an end, which was undoubtedly the case with Barbara Walters' post at "The View." In 2014, Walters opted to leave the hit series at 84-years-old. She shared a few thoughts with Variety ahead of her exit. "I think Jay felt that he was pushed out," Walters dished while comparing herself to Jay Leno on his last day. "I don't feel like I'm being pushed out. This was my decision." She also noted that the retirement had been three years in the making as she had set a timeline for herself.
Sometimes, time just runs its course, and we can't blame Walters for wanting to take some time off to enjoy retirement. We mean, who works until they're 84 these days? It just doesn't happen. As for Walters? She wasn't as sad as many of her fans were about the exit. "I should really be depressed, but I'm not," she added. "So maybe there's something wrong with me. What's wrong with this woman that she's not depressed about leaving television?"
Walters remained the show's executive producer until 2016, and in true Babs fashion, she didn't close the door completely. "I don't want to say I will never come back," she dished. "If the president came on, depending on the circumstances, I might come back. If Fidel Castro said I will do an interview with you, which he has not in 25 years, I would go off and do it." 
Source: Read Full Article