So, Sarah Hyland and Wells Adams are getting married, and honestly, I have so many questions, including but not limited to: IS CHRIS HARRISON OFFICIATING? The Modern Family actress and Bachelor in Paradise star have been dating since October 2017 (after some casual Instagram DM sliding), and our dude popped the question with a crazy-expensive engagement ring last summer in a move that was straight out of BiP. Yep, all that was missing were some throw pillows, several dozen candles, and an emotionally traumatized crab.
Tragically, none of us are invited to Sarah and Wells' upcoming wedding (unless you are, in which case, hello/why are you reading this?), but we do have plenty of A's to your Q's about what to expect. Starting with….
Will It Be Televised on ABC?
No! At least, that's the vibe I'm getting from Wells telling ET, "I think they know I would never do that." Plus, only a handful of Bachelor Nation weddings have actually been televised, and since Wells was never the show's leading man, chances are ABC wouldn't throw down for his big day.
So, Like, When Is It?
Unclear. As of August 2019, Wells said he and Sarah didn't have a date in mind just yet: "Sarah is going to be, like, Pinterest boards and vision boards and a lot of Elmer's glue is going to be involved," he said. "So, I think we're just holding off on that."
But!!!! Wells also kinda implied the wedding could go down in 2020, telling Brandi Cyrus shortly after the engagement, "It will be, like, well over a year. I mean, we haven't figured out anything, you know? Phase one was just, like, get engaged. We're still in phase one."
Soooo, this coming fall, maybe? Either way, Sarah posted this photo of herself getting "Wedding body ready" in January, implying that the big day is comin' up: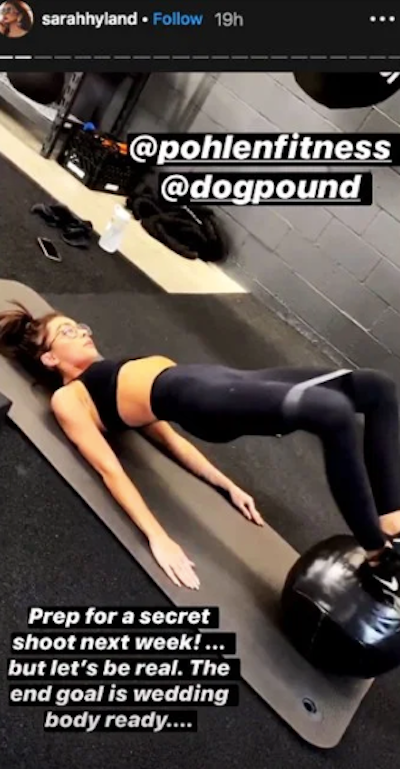 Who's in the Bridal Party?
So many people! Sarah revealed her "Bride Tribe" on Instagram, and they include a bunch of her non-celeb friends, plus actresses Vanessa Hudgens, Ashley Newbrough, and Ciara Robinson. Tragically, though, Wells' Bachelor buds don't appear to be in the picture. And I mean that quite literally, here is the picture in question:
Also, look how cute Sarah's "Will You Be My Bridesmaid" boxes were?!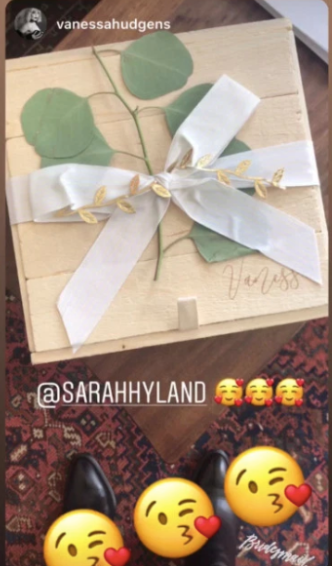 So, Is Chris Harrison Officiating?
Nah. But he is going to be a guest! Wells confirmed as much to E! News when he said that Chris is the one surefire member of Bachelor Nation who will be in attendance. "Let's be fair: If it weren't for Chris and a couple of the other executive producers, I would've never even met Sarah. So, Harrison is an integral part of my happiness in general and I love him and now I get to hang out with him every summer, so I want him to be there."
FYI, Chris did offer to officiate and Wells turned him down: "I want him to just have fun and have a good time and not have to be burned by any of that stuff. He was nice enough to offer, but I wouldn't do that. He's my friend. I don't want him to have to work at my wedding."
Cool-Cool-Cool, Let's Talk Location and Dress
Thus far, we don't have details on what Sarah's wearing (and we likely won't know until the actual wedding goes down). Meanwhile, the location is still TBD, but anyone else think they should get married in Paradise? Same.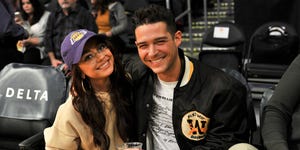 Source: Read Full Article