While Lori Loughlin's out here making court appearances for her alleged role in the college admissions bribery scandal, her daughter Olivia Jade, while obviously upset, is apparently trying to distract herself by rebuilding her ~brand~.
"Olivia is still distraught and embarrassed. She hasn't been home much," a source told People. "She is very angry with her parents. She just wants to figure out how she can rebuild her brand."
That brand has taken a little bit of a hit recently, with companies like Sephora and Lulus cutting ties with Olivia when the news of her mom and dad's alleged involvement in the scandal broke.
"After careful review of recent developments, we have made the decision to end the Sephora Collection partnership with Olivia Jade, effective immediately," Sephora said in a statement.
Sources add that Olivia's spending most of her time with her friends and her boyfriend, and she reportedly blames her parents for everything that went down.
"She would have never gone along with it if she thought this would happen. Her thing is that she trusted her parents," the source said.
And in case you're sitting here thinking, "Wait, but didn't she legit hate school?" you're not wrong! Olivia talked openly in her YouTube videos about how school was never really her thing, which is why now she's now like brand >> everything.
"She didn't care if she got into USC. She just wanted to focus on her business," a source told People. "She feels that she worked very hard for something that she loves, and she has no idea what will happen with her business in the future."
Yikes. Major yikes.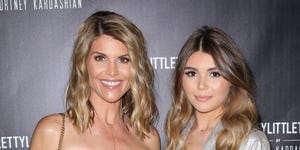 Source: Read Full Article