A few weeks before revealing the breakup on his social media account, the 'Walk Em Down' rapper claimed that men naturally will cheat, noting that 'it's literally in our DNA.'
AceShowbiz –NLE Choppa confirms that he is now single. The "Walk Em Down" spitter announced on social media that he and his girlfriend Marissa Da'Nae are no longer together and revealed that he fights "spiritual wars so often."
Making use of his Twitter account on Monday, September 12, the "Shotta Flow" rapper let his fans and followers know that he and Marissa had gone separate ways. "I Am Single, Im Man Enough To Admit I'm Not Ready, And I Have Some Growing To Do," so he wrote.
In a follow-up Twitter post, NLE Choppa, whose real name is Bryson Lashun Potts, shared, "I'm fighting spiritual wars so often." He added that his "physical reality don't even be the problem no more."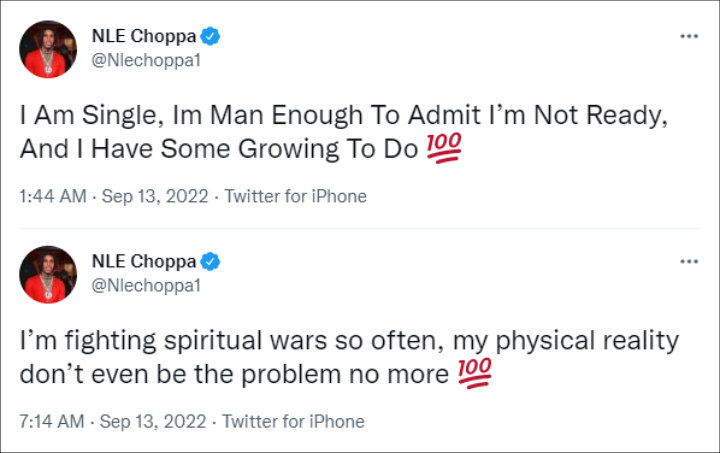 NLE Choppa announced that he is now single.
A few hours before announcing the split, NLE Choppa posted a cryptic message on Twitter. "It hurts my heart that a lot of people time is up with me," the "Final Warning" emcee penned, seemingly hinting that he's breaking up with Marissa. He stressed, "It really does, but I gotta do what's best for me."

NLE Choppa posted cryptic tweet, seemingly hinting that he and Marissa Da'Nae broke up.
Many fans believe that NLE Choppa broke up with Marissa due to an infidelity issue as last month, he stated that men naturally will cheat. "By nature men are going to cheat it's literally in our DNA To, Men are here to procreate," he tweeted at the time. "That doesn't mean he don't love you he's just doing what he was designed to do."
A few days before claiming that men will cheat naturally, NLE Choppa shared relationship advice, saying, "A lot of people hold on to relationships cause they don't want to feel that embarrassment on the internet when they break up." He further pointed out, "That's a dangerous trait."
Although it is unknown when and where NLE Choppa and Marissa first met, they have managed to remain on top of the headlines since their dating rumors emerged in 2021. Earlier this year, Marissa unveiled that she suffered a miscarriage after getting pregnant with her and the rapper's child. She shared the sad news via Instagram, writing in March, "Talking bout this is so hard. But with Bryson next to me and being my supporter, this has helped me more."
NLE Choppa later confirmed the heartbreaking news on his Twitter account. "Seven Da'Shun Potts. #FOREVER7 RIP My Lil One," the 19-year-old Memphis-based hip-hop artist simply tweeted.
Source: Read Full Article