Kamala Harris made history with her remarkable election win, becoming the first female, first Black, and first Asian vice president. And she has continued to keep people talking, no matter what she does. For example, she wore purple on Inauguration Day for a very special reason: it reportedly symbolized unity. There's also plenty of interest in her salary is as vice president (plus, it's worth noting that she has amassed an impressive net worth even before her historic victory).
And it's not just Harris who keeps making headlines. Her husband, Doug Emhoff, has also broken some new ground as the "second gentleman," a title he wears remarkably well. The duo keeps grabbing our attention with their adorable moments, clearly intended just for each other, but caught on camera by the world. That's the price of politics, baby!
While things seem to be positive overall and there is certainly lots to celebrate, some news has surfaced about Harris' office and staff morale. As it turns out, things aren't looking too good for Harris and others involved. Here's the scoop.
Kamala Harris' office is reportedly suffering from 'low morale'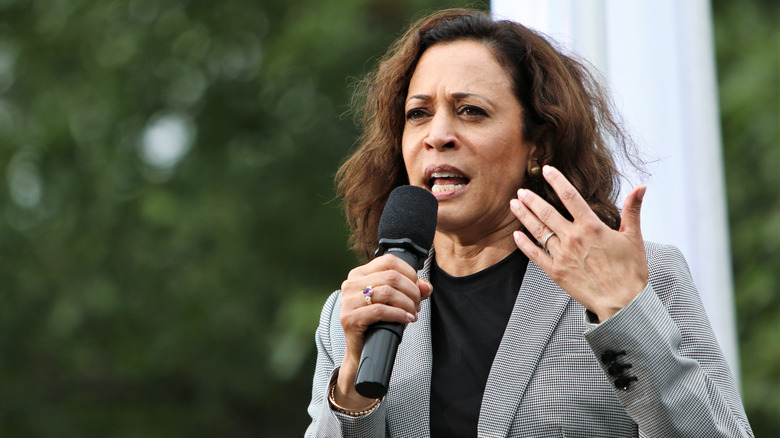 Reports have surfaced that Vice President Kamala Harris' office is suffering from "low morale," poor communication, and a growing feeling of dissent among staff, according to Politico.
It's actually Harris' chief of staff, Tina Flournoy, who is the cause of many of the complaints, according to the outlet. Flournoy became a respected name in Washington working for former President Bill Clinton. According to CNBC, Flournoy used "tough tactics" and appears to be using them still, much to the chagrin of staff and aides in Harris' office. As Politico notes, Flournoy reportedly has a tactic of keeping people away from Harris so that the vice president doesn't get inundated with too many tasks. However, staff who have asked to remain anonymous mentioned that it can also mean that "ideas are ignored or met with harsh dismissals and decisions are dragged out."
While Flournoy is catching the brunt of the criticism, it's also on Harris, as the outlet notes. She has the responsibility of creating an atmosphere of peace and support among the whole office — which one source even called an "abusive environment," per Politico. 
The issues in Kamala Harris' offices are a 'repeat problem'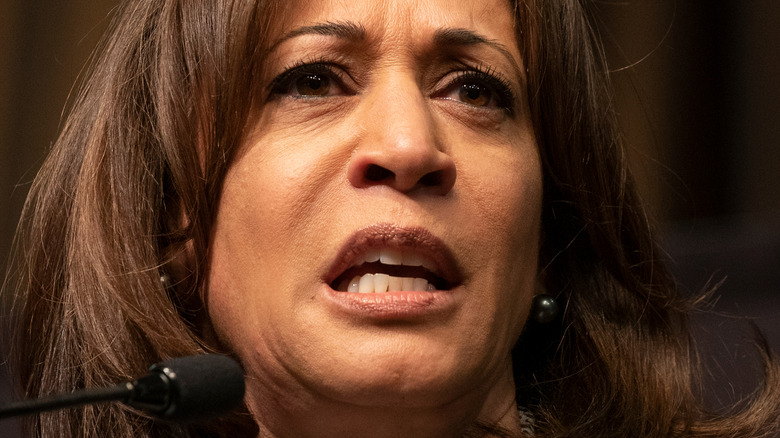 The issues plaguing Kamala Harris' staff are nothing new, according to a report from The Washington Examiner.
A "senior Democratic operative" seemed to allude to the outlet that these alleged issues are "not surprising." "This is a bottom-line business," they said. "And the bottom line is the vice president has challenges with staff — wherever she is." To make things even more challenging, president Joe Biden put her in charge of the nation's ongoing border crisis, as well as other projects that could cause friction with staff.
The source continued, "The Harris inner circles, and I'll use that plural, because they've been different inner circles in California, in her Senate office, on her presidential campaign, and now in her vice presidential-campaign-in-office, they've always been rife with a lot of dissension, and a lot of infighting." The source went on to say that although she shouldn't be fully to blame, Harris is a "common denominator" when these issues arise.
Two staffers left Kamala Harris' team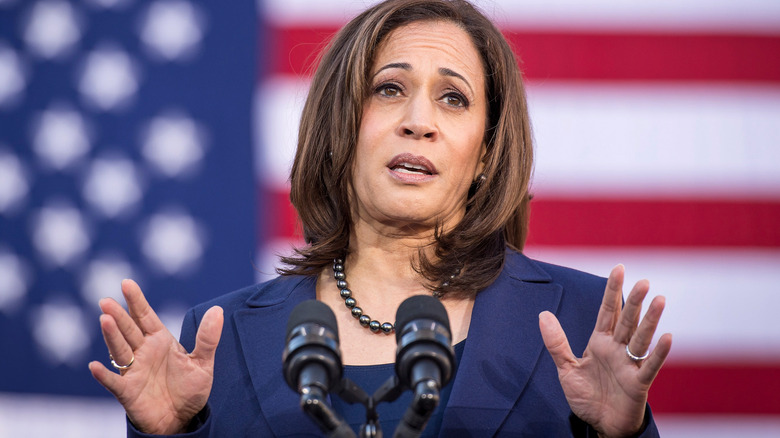 According to The New York Times, two aides who manage vice president Kamala Harris' travel have left their posts.
Their departure doesn't come at a great time for Harris, who is preparing for vaccine- and voting-focused trips throughout July. Director of advance Karly Satkowiak and deputy director of advance Gabrielle DeFranceschi reportedly gave notice to Harris' office and have been involved with looking for their replacements. A spokeswoman for Harris' reportedly claimed their departures were "long planned." Satkowiak and DeFranceschi are major players on Harris' team and not only plan where Harris is going, but work with local officials to get the venues looking right. To say this is an important job is an understatement!
Harris' office is allegedly "short on travel support staff" and it seems they are scrambling to fill these roles. "Advance associates" do not receive pay, but their "travel expenses are either paid for or reimbursed by the government," per the outlet. If you previously served as an advance associate, the Biden administration wants you to come back for another go-round. "We aim to onboard a critical mass of talented logistical experts," according to an email the administration sent. Although many officials on Harris' team understood their employment was "short-term," two key team members exiting amid reports of a toxic work environment certainly raises eyebrows.
Source: Read Full Article