Mario Lopez didn't show up for work at Extra after receiving backlash for saying it was "dangerous" for parents to support children who identify as transgender.
The host made the controversial (and frankly ignorant!) comments on The Candace Owens Show, saying "My God, if you're 3 years old and you're saying you're feeling a certain way, or you think you're a boy or a girl or whatever the case may be, I just think it's dangerous as a parent to make that determination then—'Okay, well then you're going to be a boy or a girl,' whatever the case may be. It's sort of alarming and my gosh, I just think about the repercussions later on."
Fans, celebrities, and GLAAD were quick to put Mario in check:
I'm disappointed to read @MarioLopezExtra comments about parent's who support their child's openes about their gender identity. As a social worker I am trained to identify abuse or neglect of a child. Healthy & safe dialogue w/ kids is neither abusive, neglectful or "dangerous." https://t.co/aTkL2sLm4u
If you're not raising a child who is part of the LGBTQ+ community you should really be quiet. You don't need to understand what you do not know. You both need to do better, your causal transphobia is par for the course. Christianity says leave judgment to god. @MarioLopezExtra
Medical and psychological experts, and parents of children who are transgender, have long discredited the ideas that @MarioLopezExtra shared. The real dangerous action is when someone with a public platform uses bad science to speak against a vulnerable group of children. https://t.co/kz2pEMWTBm
Mario apologized in a statement to People, saying "The comments I made were ignorant and insensitive, and I now have a deeper understanding of how hurtful they were. I have been and always will be an ardent supporter of the LGBTQ community, and I am going to use this opportunity to better educate myself. Moving forward I will be more informed and thoughtful."
Since he didn't show up for Extra on Wednesday night, hosts Renee Bargh and Tanika Ray addressed the controversy, bringing in GLAAD director Anthony Ramos and Adolescent Medicine physician Dr Johanna Olson Kennedy (who specializes in the care of gender non-conforming children and transgender youth).
Meanwhile, Extra released a statement making it clear they didn't support Lopez's comments: "While we have enjoyed a long relationship with Mario Lopez, who we know to be a caring person, the opinions he expressed in this interview do not reflect those of Extra. We wholeheartedly embrace our friends from the LGBTQ community and believe they need support and love. For more support on these issues you can go to GLAAD.org."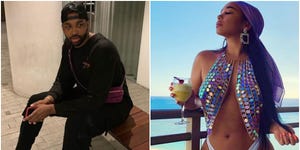 Source: Read Full Article