This weekend, Kristin Cavallari and former NFL player Jay Cutler announced their divorce after 10 years together, and things are getting dramatic fast. Despite posting joint statements to Instagram saying they "have nothing but love and respect for one another," Kristin cited "marital misconduct" and "irreconcilable differences" in divorce documents obtained by Entertainment Tonight, and alleged that Jay "is guilty of such inappropriate marital conduct as renders further cohabitation unsafe and improper." Uhhhhh.
Doesn't sound great, and now Us Weekly's out here reporting that the couple accused each other of cheating before their split. "The word around Nashville is they really just don't like each other anymore," a source said. "They would accuse each other of cheating, but nothing really solid. They are both very stubborn and bump heads a lot and neither backs down."
Per Entertainment Tonight, Kristin isasking for primary custody of their children, and wants Jay to pay child support. Meanwhile, Jay is fighting for joint custody and claims he's always been "the available at-home parent and primary caretaker of the parties' minor children."
Yikes, here's to hoping things don't get any messier.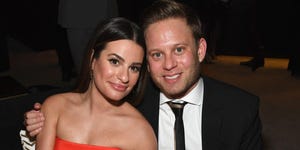 Source: Read Full Article