We may have been privy to some pretty wild feuds between Kim and Kourtney Kardashian, but according to the latter, we haven't seen the worst of 'em.
On Saturday, the SKIMS founder celebrated her 43rd birthday and tons of friends and family made sure to wish her well on Instagram… yes, even her big sis. Despite all their recent drama over Kim's partnership with Dolce & Gabbana, which Kourt felt ripped off her 2022 wedding to Travis Barker, the Lemme owner still found it in her to shout out her little sis on the 'gram. She wrote over an old selfie of the two:
"Happy birthday to my first sister @kimkardashian ! Thank you for all those years of bossing you around and you actually listening to all of my crazy ideas. People think the fights they've seen on tv are bad if only they got to witness the hair pulling, nail digging ones from early high school. They joys of sisterhood."
LOLz! Some "joys"!
That said, there was that ONE "hair pulling, nail digging" fight we got to see back in 2020…
That was certainly one for the books… but that's beside the point! Kourtney concluded her post:
"I love you deeply forever and always. May God bless this year with love and happiness and abundant joy.

"
Ch-ch-check out the full post (below)!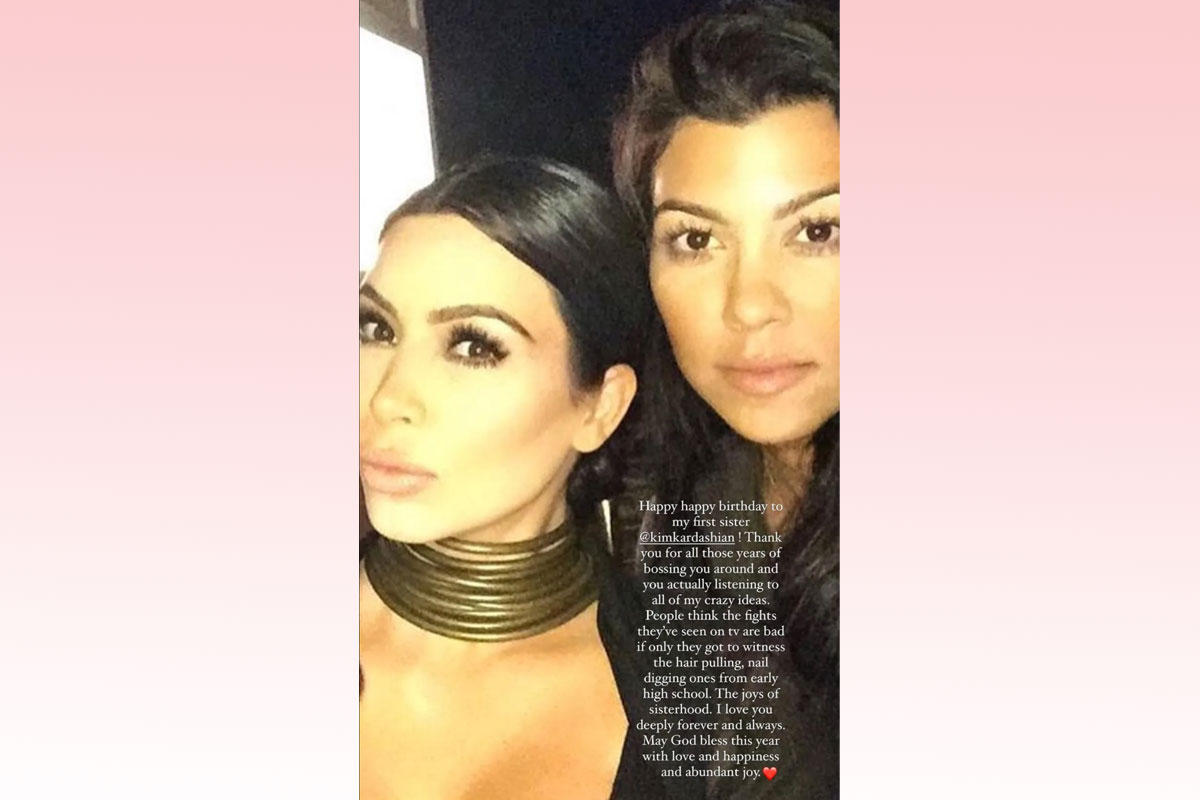 Awww! Sisterly love!
As we got to see on season four of The Kardashians, the two finally made a "step" in the right direction of reconciliation, and by the sound of this post, they've certainly come a long way!
But will the peace last?? That's the real question — and Kourtney's noticeable absence from  Kim's actual birthday party has us wondering if this feud is still alive and well. The event was enjoyed by sisters Khloé, Kendall, and Kylie, as well as momager Kris Jenner, and many others. No Kourtney is sight! But don't worry, her absence was for a good reason! The SKKN founder explained in her own birthday post:
"So blessed to have hit the jackpot of friends! I couldn't have ever dreamed I would be so lucky to call these girls my friends thank you for all the birthday love

and Kourt I'm jumping in bed with you next week for our bed rest picnic"
Kourt's on bed rest?? Well, as we know, she's had a difficult pregnancy, so it's probably not a bad idea!
https://www.instagram.com/p/Cytno3cyEeI/
A post shared by Kim Kardashian (@kimkardashian)
We're just happy to see these celeb sisters finally burying the hatchet! Thoughts, Perezcious readers?? Let us know in the comments!
Source: Read Full Article