After being accused of making her derriere larger in a social media post, the former star of 'Keeping Up with the Kardashians' deletes the alleged photoshopped image.
AceShowbiz –Kourtney Kardashian has defended herself after facing backlash over her alleged photoshopped racy snapshot. Responding to the accusations, the "Keeping Up with the Kardashians" alum insisted that it was "a fan edit."
On Friday, January 28, the 42-year-old reality TV star reshared a now-deleted image of herself on her Instagram Story. In the photo, the Poosh founder, who sat with a glass of wine in hand, posed with her back to the camera while dressed in a leopard print dress. She appeared to have made her butt look larger than normal in the alleged photoshopped snap.
"OMG R U SERIOUS THIS IS A FAN EDIT," Kourtney wrote over the picture, responding to the criticism. The TV personality then used the opportunity to promote her brand, saying, "FOR BETTER WAYS TO USE YOUR TIME, INSTEAD OF ANALYZING EDITS OF ME, follow @poosh," along with a bunch of laughing with tears emoji.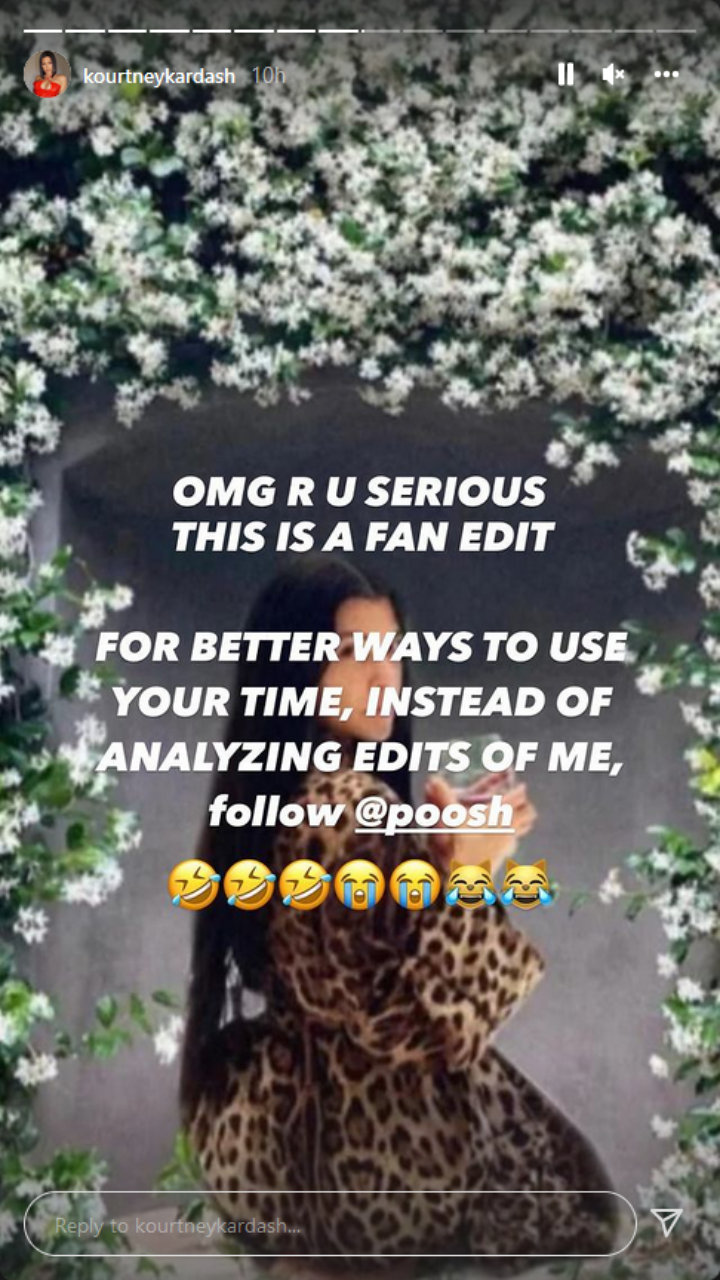 Kourtney Kardashian denied claims that she photoshopped her sexy snap.
Kourtney decided to delete the initial photo shortly after she faced backlash from social media critics, with many accusing her of heavily editing her body. "What in the what, whyyyy? This has to be a joke," wrote one person, while another added, "At this point the bad photoshop must be intentional."
"She really thought she would get away with this and everyone would be like, 'Yeah that's real Kourtney!' " a separate person pointed out. "This is embarrassing," agreed another. Someone else said, "She has the weirdest body shape, and she did it on purpose."
Kourtney's sexy Instagram post came two days after her sister Kim Kardashian quickly deleted one of her sizzling Instagram snaps after being accused of photoshopping her figure. At the time, the SKIMS founder treated her fans to a series of her bikini images from her recent Bahamas getaway with Pete Davidson.
However, eagle-eyed followers were quick to notice that her back leg looked distorted in one image, with a curve appearing behind her knee. After Kim reuploaded her post without the picture in question, fans flocked to the comment section. "She deleted it on her post that s**t is a diaper," one person remarked. Another added, "She really did and all the comments associated with the tweaked leg. Lol."
Source: Read Full Article