Khloé Kardashian and Tristan Thompson kept their distance.
As we reported, over the weekend, the Kardashian-Jenner family celebrated True Thompson's first birthday with a lavish outdoor party — complete with butterfly decorations, cotton-candy vendors, a dessert table, "unicorns" with colorful horns, and pink manes that kids could ride around.
Despite allegedly cheating on the Revenge Body host, the basketball player attended, and was seen on social media holding his daughter as guests sang her happy birthday.
According to a People source on Monday, KoKo was adamant that her ex was invited, despite their apparent bad blood.
The source revealed:
"Tristan attended the birthday party with some friends… Khloé seemed a bit nervous about having him there, but there was never a question if he would be invited."
In fact, Khloé wants Tristan in True's life as much as possible.
"It's super important to Khloé that True spends as much time with Tristan as possible. Khloé wants True to have a great relationship with Tristan."
To avoid awkwardness between Thompson and her family, she asked the KUWTK stars "to behave and leave Tristan alone."
Although the two appeared to be amicable, Khloé and Tristan had limited contact throughout the event.
"Khloé and Tristan posed for some pictures together with True, but otherwise had very little interaction… Khloé let Tristan spend some alone time with True."
Overall, the party was a success as "everything went smoothly."
"Khloé was very excited how the party turned out… It was all over the top and insane of course. But It was very important to Khloé to have this party. True is her life and she just wanted the most special day with her girl."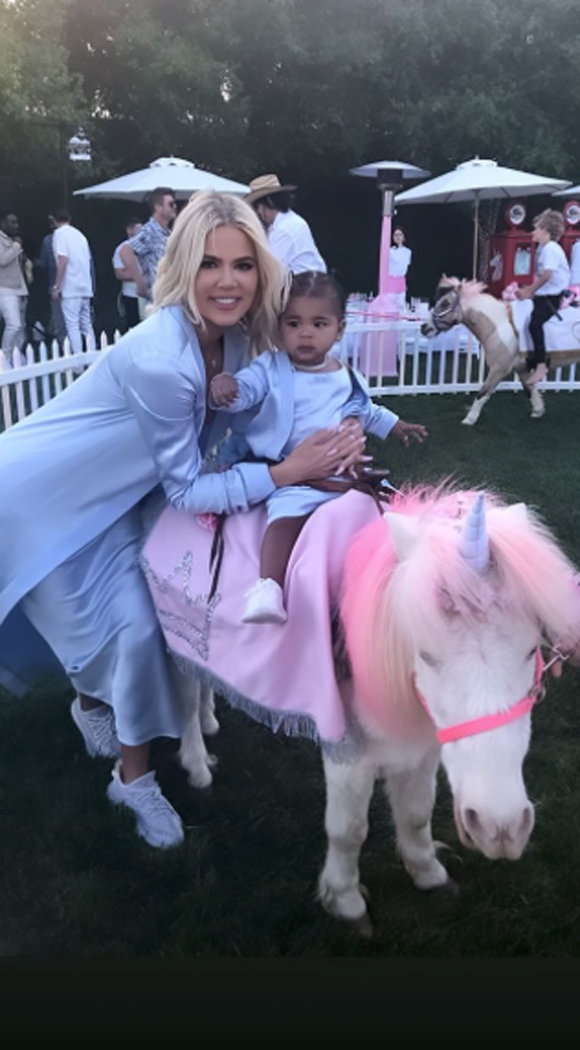 As we reported, Khloé reportedly broke up with Tristan for good after he allegedly had an affair with Jordyn Woods.
In an interview with Red Table Talk's Jada Pinkett Smith, Jordyn denied hooking up with Thompson, except for a goodbye kiss that he allegedly initiated.
Although Khloé initially said "lying" Woods was "the reason family broke up," Kardashian reversed her position and said Tristan is "to be blamed." She wrote on Twitter:
"This has been an awful week & I know everyone is sick of hearing about it all (as am I). I'm a rollercoaster of emotions & have said things I shouldn't have. Honestly, Tristan cheating on me & humiliating me, wasn't such a shock as the first time… What's been harder & more painful is being hurt by someone so close to me. Someone whom I love & treat like a little sister. But Jordyn is not to be blamed for the breakup of my family. This was Tristan's fault… I have to move on with my life & count my blessings, my family, my health, & my beautiful baby True."
In March, Khloé shut down rumors that the athlete is an absent father by writing on social media:
" is a good dad to . My sweet and special baby True will NEVER be put in the middle of him and I. I can promise that."
Source: Read Full Article