Drew Barrymore has addressed rumours that she "hates sex" by candidly claiming she doesn't need sex to be happy.
The accusations come after recent comments she made in August towards Andrew Garfield's approach to Method acting – a technique used by actors aspiring to transform and fully commit to a part. When Andrew Garfield claimed he abstained from sex for six months to prepare for his role as a Jesuit priest in the 2016 historical drama, Silence, Drew wasn't too impressed.
Drew admitted to Ross Matthews during an episode of The Drew Barrymore Show: "What's wrong with me that six months doesn't seem like a very long time?" she asked.
The truth is Drew doesn't hate sex at all – which she confirmed in a blog post named REBELS WHO LOVE – and her lack of sex and relationships since her split from Will Kopelman in 2016 is rather inspiring.
Writing on her website, Drew started by acknowledging that her previous comment towards Garfield had been received by fans in the wrong context. Drew then went on to explain how, at the age of 48, she has "different feelings about intimacy" than she did when she was growing up.
"I did not have role model parents," she says. "I engaged with people in grown up ways since a tender age. I was looking for companionship! validation! pleasure!"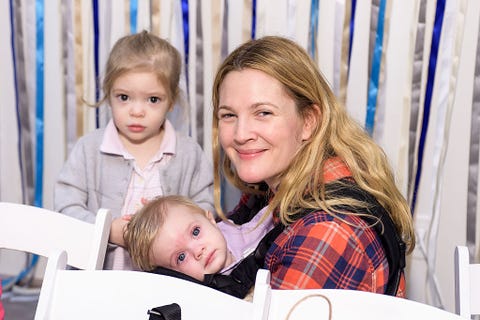 She confirms finding a new partner isn't a priority for her right now. After two kids and a separation from their father, Drew admits it has made her cautious. To combat these feelings, she wrote: "I have had the pleasure of shifting my focus when it comes to love for myself and my two daughters.
"I know that does not include a man nor has it for a while."
Instead, Drew has been spending time working on herself and her daughters. "I have had the honour to actually work on myself and learn what parenting is, something I was not exactly clear on growing up, and I've had many learning curves thrown my way," she wrote.
Drew commented further on her girls and how raising them is extra important to her in the current world we live in. she said: "I'm raising two daughters, so how we raise girls to be appropriate and empowered and to love themselves and to realise that we live in an age where the images and messages that they will see will also contradict what I have come to believe intimacy is! Intimacy is something that makes you feel good about yourself!"
Drew, Amen to that!
Source: Read Full Article