Responding to apparent homophobic comments on his Instagram post showing his gender fluid style, the former NBA star lets the trolls know his history of wearing daring outfits.
AceShowbiz –Dennis Rodman is no stranger to his bold choice of outfits, but some people are apparently still not used to it. The former NBA star has been forced to silence the haters after he was seemingly criticized for wearing a skirt to a Pride event.
Showing his support for the LGBTQ+ community, the 62-year-old turned up at Houston's Pride parade on Sunday, June 25 rocking a green pleated schoolgirl skirt, which he teamed with a black T-shirt featuring a photo of Dennis' head complete with his rainbow hair. He accessorized with a black cap, which he wore backward, and sunglasses.
"Live and Love," read a message on the backside of his shirt. In a video and photos he shared on his Instagram account, the former professional football player greeted his fans as he marched at the event. "Love will Always Win, Happy Pride #gaypride #loveislove #pridemonth," he captioned the post.
Despite his clear message with the post, Dennis apparently received hateful comments for his outfit at the Pride event, prompting him to respond via his Story. The former Chicago Bulls player shared a whimsical post showing his daring outfits in the past and wrote, "Do your research guys #beenhim."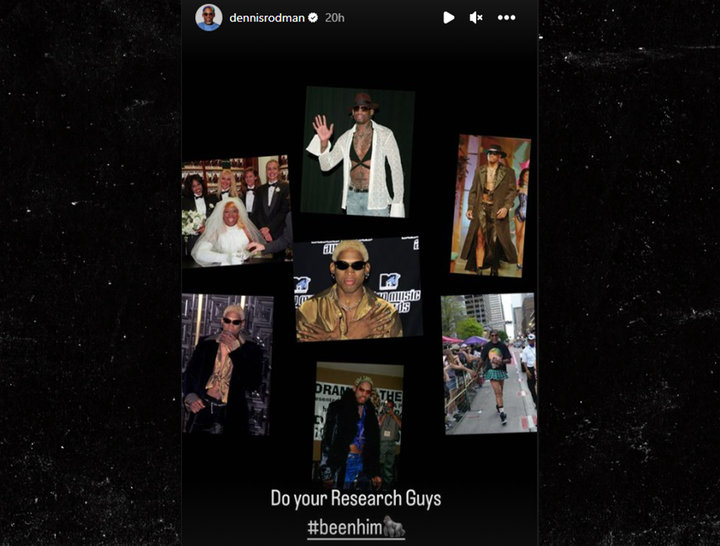 Dennis Rodman clapped back at trolls criticizing him for wearing a skirt at a Pride event.
Dennis was quickly defended by his followers in the comments section of his original post. "Some of yall are too young to remember when this man literally MARRIED himself in full makeup and a wedding dress lol," one person noted.
A second user wrote, "Imagine following Dennis Rodman and being homophobic," while a third added, "Literally don't understand how you hating on rodman for this. Like why you even following rodman and this comes as a surprise ? He was doing this 20 years ago." Someone else chimed in, "Dude wore wedding dresses and nba fans are surprised he's an ally."
You can share this post!
Source: Read Full Article